Toyo Tires' tyre business improves in H1 2018, results muted by 'dampner scandal'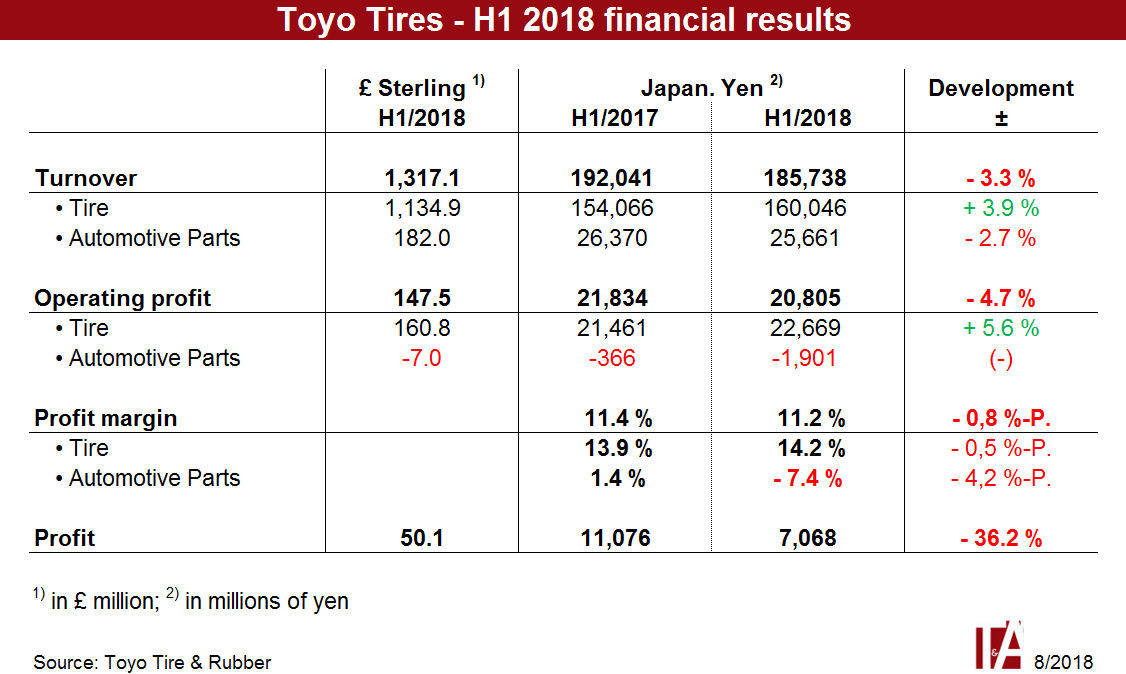 For Toyo Tire & Rubber, the first half of 2018 was a period of mixed fortunes. The manufacturer reports that turnover and earnings within its core tyre business increased 3.9 per cent during the six months to 30 June, with sales of 160,046 million yen (£1.1 billion) and operating income of 22,669 million yen (£160.8 million) resulting in a slightly improved profit margin of 14.2 per cent. Overall sales were down 3.3 per cent, to 185,738 million yen (£1.3 billion), due to decreased turnover within the company's automotive parts business.
Yet the 'dampner scandal' of 2015 continued to place a burden upon the company's results. As the company wrote in a report submitted to the Tokyo Stock Exchange on 10 August, "in the fiscal year ending in December 2015, various facts came to light, including that some of the products we had shipped were not compliant with performance criteria set by the Ministry of Land, Infrastructure, Transport and Tourism." Toyo also stated that by the second quarter of 2018 it had become possible to make calculations regarding compensation for this issue, and thus during the quarter posted an extraordinary loss of 10,844 million yen (product compensation response measure expenses of 2,312 million yen and a provision of reserves for product compensation of 8,531 million yen). This extraordinary loss ate into the company's bottom line – profit attributable to owners of parent came to 7,068 million yen (£50.1) in the first half of 2018, a year-on-year decline of 36.2 per cent. This was 43.0 per cent lower than the projected profit of 12,400 million yen announced in May.
Further details about Toyo Tires' H1 2018 results can be read here.