Toyo Tires unveils noise reduction technology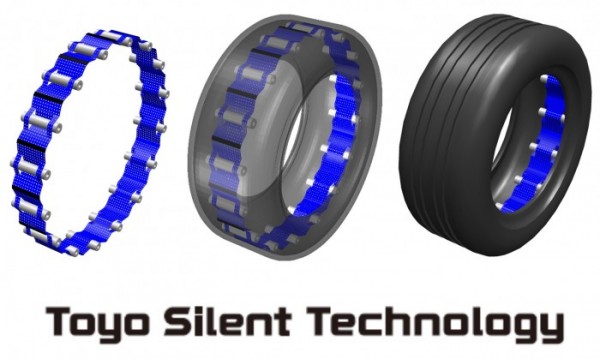 In recent years we've seen a number of tyre makers introduce noise reduction technologies that utilise foam insulation, with Continental, Hankook, Bridgestone, Sumitomo Rubber, Goodyear amongst those bringing their own version of the concept to market. Toyo Tire & Rubber Co. Ltd. has taken a different approach and sought instead to cut noise by modifying airflow within the tyre cavity. It calls its solution Toyo Silent Technology.
Noise is generated when air vibrates, and this is bad news for pneumatic tyres. Contact between a moving tyre and the road surface causes the air inside to vibrate. Cavity resonance, the noise created by these vibrations, is transmitted to the vehicle interior as noise via the axle.
To begin with, Toyo Tires conducted simulations depicting how air inside the tyre cavity of a moving vehicle behaves. Through these simulations, the tyre maker's researchers ascertained that the air generated flowed both circumferentially and vertically. This discovery prompted Toyo Tires to attempt to cut noise by manipulating this flow of air.
The resulting solution, Toyo Silent Technology, features a thin film affixed to the tyre's inner circumference. The film contains a series of apertures; Toyo Tires explains that noise is attenuated when air passes through these holes and also via a vortex that is generated by the sound passing through the hole. In order to manipulate both vertical and circumferential air flows, the film is affixed to the tyre in a wave-like pattern. This wave form is supported by 16 cylindrical sponges positioned around the tyre's circumference. As an added bonus, Toyo Tires states that the sponges' hollow form also helps attenuate noise.
Tyre cavity noise occurs in the 200 Hz to 250 Hz frequency band. Toyo Tires reports that vehicle interior noise measurements taken during tests conducted on commercially-available Toyo tyres equipped with Toyo Silent Technology were up to 12 dB lower in the 200 Hz to 250 Hz frequency band than comparable measurements taken when using standard tyres.
Toyo Silent Technology's suitability for commercialisation is now being investigated.