Maxxis MaxxCross MX-SM motocross sand tyre available now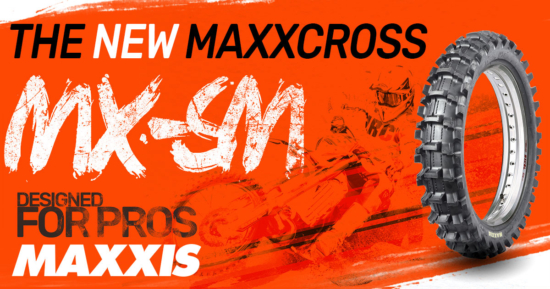 Maxxis's new sand motocross tyre is now in stock and available to buy today from distributor Bickers. The MaxxCross MX-SM is a sand and mud tyre designed to offer the performance expected by professionals to the everyday rider. Used on sand tracks in the 2019 MXGP season, the MaxxCross MX-SM has two championship titles to its belt already; the Junior Motocross World Championship 125cc and the European 125cc Motocross Championship.
Designed to excel in sand and mud conditions, the new sand tyre features a reinforced centre block which is a scoop or paddle shape. This provides traction in sand or mud, propelling the rider forward throughout the duration of a sand track or beach race.
The shoulder blocks stand proud of the base of the tyre, providing improved confidence in sandy corners where riders would otherwise have to stay off the throttle until they exited the corner. This extreme cornering traction allows riders to find speed in corners their competitors can't, Maxxis says.
The tread is designed with a hard compound with good self-cleaning properties and high durability for everyday riders.
Maxxis says the tyre is suited to dealers whose customers are professional riders who frequently visit sand tracks or compete in beach races. It adds that the MaxxCross MX-SM is also an affordable, high-margin solution for dealers within a comfortable radius of a UK-based sand track.
"When we get to a sand track, I really notice how the MX-SM has been designed for sandy terrain, and I can trust both tyres to deliver the results they were designed for," says Alberto Forato, Maddii Racing, MX2 Championship 2020 (2019 third place, European 250cc Motocross Championship).