Petlas launches 1st all-season car tyre, following SUV 3PMSF certification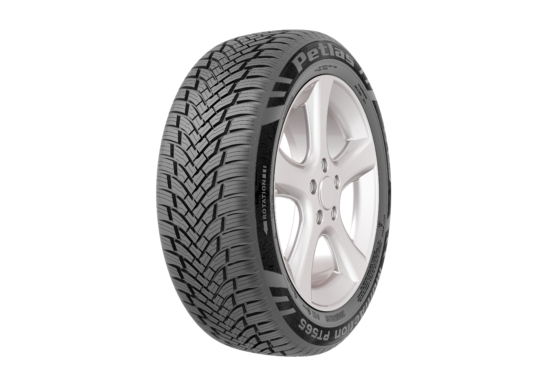 Petlas is to launch its first all-season car tyre, the PT565 MultiAction. The leading Turkish brand says the new tyre has targeted both performance in all weather conditions and sustainability. Its R&D engineers developed the PT565 with lower rolling resistance to help reduce emissions. The tyre has a V-shaped block patten with its optimised sipe density to offer better grip and traction on dry, wet, and snowy surfaces. The manufacturer said the tyre represents the distillation of its manufacturing expertise accumulated over more than 40 years.
The PT565 MultiAction has addressed traction in all conditions with optimised rubber compounds. These promote grip and offer precise response, increasing stability on a variety of surfaces. The tyre addresses the growing demand for a year-round fitment in European markets, Petlas adds, while simultaneously reducing fuel consumption. The manufacturer has therefore developed the tyre to offer both an increased level of road safety, and a contribution to reducing motoring costs. All-season tyres' growing popularity, it notes, is tied to the reduction in replacement costs between seasons and the requirement of space to keep off-season tyres.
The tyre has also been tuned to offer a comfortable ride. The PT565 MultiAction has a low void ratio – the proportion of rubber to space provided by grooves –to improve ride quality on dry surfaces and increase grip on snowy surfaces. Petlas said the V-shaped tread also helped it to address comfort, in addition to safety and efficiency. The design provides excellent water and snow drainage potential to prevent aquaplaning, while simultaneously promoting stability in high-speed driving, even on the snowy roads.
Tyre development
The Petlas PT565 MultiAction was designed and developed in Petlas's production facilities in Kırşehir, located in the heart of the Anatolian steppe. The continental climate conditions here provide a wide variance in temperatures, even between day and night, making it an appropriate region in which to develop an all-season product. The PT565 MultiAction also proved its performance in harsh winter conditions at Testworld's Finland facilities.
The Petlas PT565 MultiAction is available in 26 sizes between 14 and 18 inches.
Explero PT411 A/S now 3PMSF certified
Earlier in the year Petlas successfully acquired three peak mountain snowflake certification for the Explero PT411 SUV, 4×4, and crossover tyre range. The marking proves the tyre's compatibility with European winter conditions. "Our R&D team is constantly working on developing new ways to guarantee uninterrupted mobility," said Oguz Ay, international sales & marketing director at Petlas. "And our Explero series symbolise our ambition to make sure that precious moments and unforgettable memories are always within reach for our customers."
The Explero A/S PT411 has proved capable of responding to various motorist demands, delivering traction on a wide variety of road surfaces. The tyre's circumferential grooves improve traction by discharging water effectively. The tread contributes to the precision and responsiveness of steering, as a result of wide and strong shoulder structure. The pattern also offers a quiet and comfortable ride with its optimally arranged block array. Petlas says its under-tread construction improves uniformity for a smooth driving experience. Like the PT565, the footprint of the PT411 is also optimised to minimise rolling resistance, saving on resources and cost of ownership.
The Explero PT411 A/S is available in 21 sizes between 15 and 17 inch, including reinforced sidewall options.
Petlas also offers four more SUV and crossover patterns, developed to cover urban to off-road applications, with the Explero H/T PT431 and Explero A/T PT421 respectively. The Explero Winter W671 and Explero Ice W681 extend SUV performance into the most extreme winter conditions.