Kent Police are the most tyre-hungry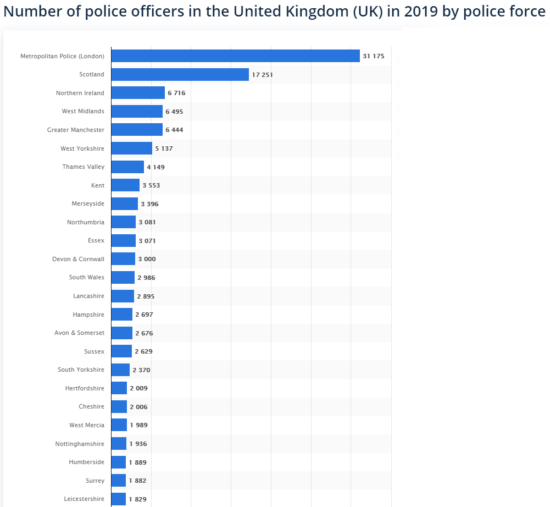 Continuing our series investigating UK Police fleet tyre demand, we looked a little closer at the differences between the various regional forces tyre preferences. Despite the fact that, as we have seen, tyre purchasing is based on a national framework agreement, there was a surprising amount of variety in both tyre policy and what actually happened when the rubber hit the road, so to speak.
For example, the larger Police forces such as the Metropolitan Police either don't stock tyres or didn't disclose their stocks. When you consider that the Met went through 12,300 tyres in 2019, that much is remarkable on its own. However, when you look at the data a little closer, subtracting the number of tyres bought from the number of tyres replaced reveals that there are – in some cases – surpluses. Kent, for example, bought 3667 tyres in 2019, but only replaced 3199, meaning there must be 468 tyres in stock or otherwise accounted for. The most transparent force, when it came to stock policy, was West Yorkshire. West Yorkshire Police replaced 4319 tyres in 2019 and, according to the constabulary, keeps "minimal stocks".
So far, the largest tyre-consuming force by volume is clear to see – the Metropolitan police. And when you consider just how large London's constabulary is, it is no great surprise to see that its 31,175 officers consumed 12,300 tyres in 2019. However, it is much more remarkable to note that the far smaller Kent force (3,553 officers) was the second-largest consumer of tyres in our research. One might argue that our five-force sample was not comprehensive, but who can ignore the fact that the much larger West Midlands Police (6,495 officers) consumed 2932 tyres. Indeed, when tyre consumption is divided by the number of officers, Kent police – one of the smallest constabularies – are shown to be more than twice as tyre-hungry as any other force (see chart 2). Scotland, at the other end of the spectrum is shown to be the most frugal, consuming just 0.15 tyres per officer.

Tyre scene investigations? – our methodology
Of course, if you walked up to a panda car in the street and started taking notes on what tyres it was wearing, you would be in danger of raising more than a few eyebrows. But the fact is that under lockdown that would have been impossible and such a hit-and-miss approach wouldn't be too reliable either.
Instead, Tyres & Accessories submitted Freedom of Information (FOI) requests to the 11 largest UK Police forces in order to request data relating to: Tyres bought, Tyres replaced, Tyres in stock, Fleet size and make-up, Minimum tread depth at change (mm), Maximum tread depth at change (mm), Tyre selection policy, Tyre collection policy, Part worn sales and more. Six of forces replied with clear answers. Five more forces used legal arguments such as "Whilst [such] information…is held…it is exempt from disclosure…". The good news is that three of the top four largest Police Forces gave T&A access to detailed information relating to their tyre consumption habits.
Indeed, together London's Metropolitan Police, Police Scotland and Birmingham-based West Midlands Police Force dwarf the smaller constabularies in terms of size (see chart 1). And therefore, while we weren't able to get as much data as we wanted what we have analysed represents an excellent sample that helps us draw conclusions about the national Police fleet's tyre trends.
Look out for further coverage – including analysis of volume and brand demand – at tyrepress.com and in the June edition of Tyres & Accessories magazine.