Exide enters bankruptcy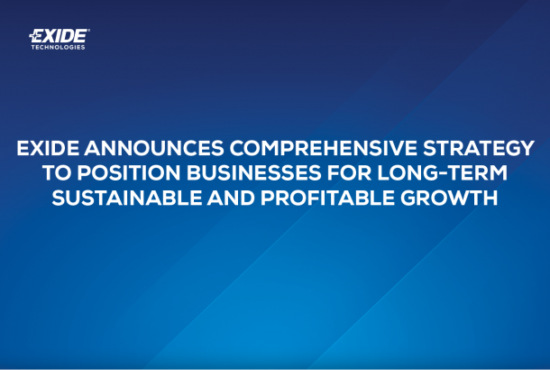 On 19 May battery manufacturer Exide Technologies entered chapter 11 bankruptcy protection, announcing "a comprehensive strategy to best position its businesses in North America, EMEA, and Asia-Pacific to benefit its employees, customers, suppliers, and other stakeholders across the globe." In short, the strategy puts the Exide's US business in chapter 11 and sells the Europe Middle East and Africa (EMEA) to the firm's long-term lenders.
According to the company, the strategy is designed to "restore the company's liquidity, which had deteriorated further as a result of the unprecedented global health and economic impact of the COVID-19 pandemic, while the company pursues a sale of its assets." Coronavirus, it seems, pushed the battery maker over the edge.
To facilitate a value-maximizing sale of its North America, EMEA, and Asia-Pacific businesses and further advance ongoing discussions with potential buyers, Exide and "certain of its US subsidiaries" have filed voluntary petitions for relief under Chapter 11 of the US Bankruptcy Code in the United States Bankruptcy Court for the District of Delaware.
Meanwhile, the EMEA and Asia-Pacific businesses' new owners appear to be an ad hoc group of the operations' "noteholders, subject to certain conditions outlined in the transaction documents, and subject to higher or better offers".
"Today's actions are intended to position our businesses around the world for future growth and profitability while also providing the greatest benefit to our employees, customers, and other stakeholders," said Tim Vargo, chairman, president, and chief executive officer of Exide. "Our Board of Directors determined that, given the continued, unsustainable impact on our cost structure resulting from legacy liabilities in North America, and in light of the global economic COVID-19 slowdown that has amplified these pressures, a sale of our North American operations through a court-supervised process provides the best opportunity to continue delivering high-quality energy storage solutions and service to our customers.
"We believe this is an attractive business, and we are already advanced in a robust marketing process that includes active engagement with a number of potential strategic and financial buyers," Vargo continued. "We are pleased with the interest to date and look forward to continued discussions about new ownership that will drive forward our businesses in North America, EMEA, and Asia-Pacific. I'd like to thank all of our employees for their unwavering commitment and hard work during this time of transition."
Exide has obtained a commitment for debtor-in-possession (DIP) financing of $40 million from a group of lenders, including certain of its existing noteholders. Two days after Exide Technologies entered chapter 11, on 21 May 2020 Judge Christopher S. Sontchi of the US Bankruptcy Court for the District of Delaware approved on an interim basis the DIP financing. The court scheduled further hearings to consider the final orders regarding Exide's first day motions, including the final approval of the DIP financing for 18 June 2020.
In the interim, Exide reports that it is cooperating with state and federal US officials in order to sell or transfer its former battery recycling facility in Vernon, California, and "ensure they are maintained in a safe and responsible manner."