Tesla considering UK Gigafactory site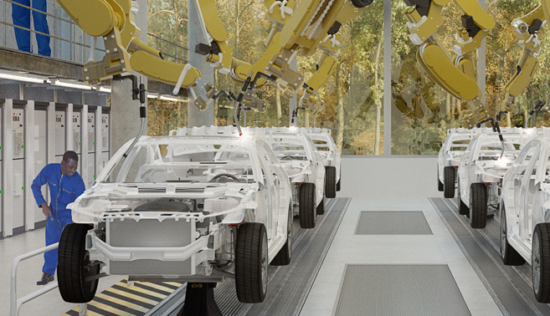 The UK government is searching for 4 million square feet of industrial space to house an electric vehicle Gigafactory. According to Property Week, the Department for International Trade (DIT) has made the request for "an electric vehicle research, development and manufacturing plant in the UK". In addition, the 650-acre Gravity site in Somerset has been specifically linked as prospective location for the apparent Gigafactory project. And what's more Property Week has linked Tesla to the search for the site. Taken together, the scale of the project, DIT's confirmation that it is for vehicle research, development and manufacturing, and the suggestion that it is all for Tesla mean the project is a prospective Gigafactory.
Tyres & Accessories asked Tesla if the reports were accurate, but a Tesla spokesperson declined to comment, pointing out that the electric vehicle marque doesn't comment on "rumours".
Nevertheless, Property Week quoted a DIT spokesperson as saying: "The government is working with industry to help make the UK the location of choice to develop world-class electric vehicle technologies. DIT is working closely with partners to scope out sites for new investment into electric vehicle research, development and manufacturing across the UK".
However, the project remains incomplete. And Elon Musk's earlier suggestions that he would rather build a Gigafactory in Berlin than the UK because "Brexit made it too risky to put a gigafactory in the UK" (comments he made to Auto Express) suggest that his commitment to the UK project is far from secure.
Still, numerous reports from Germany suggest Tesla has completed site preparation at Gigafactory Berlin ahead of the official groundbreaking. In 2019 CEO Elon Musk confirmed that Tesla would build Gigafactory 4 in the "Berlin area". Vehicle production is slated for July 2021. The site is a 300-hectare (32 million square feet) plot of land next to the GVZ Berlin-Ost Freienbrink industrial park, which Tesla has bought for 40 million euros. This makes the Berlin site roughly nine times bigger than the apparent UK project.
Since Tesla intends to build "batteries, powertrains, and vehicles, starting with Model Y" at Gigafactory Berlin in Germany, the relatively small size of the UK project could suggest that only a selection of these functions would take place here. Battery production is perhaps the most likely focus of any scaled down site, since battery transportation is complex and relatively risky.
News of the apparent Tesla project comes roughly a fortnight after AMTE Power and Britishvolt announced plans to investigate collaborating to build the UK's first full cycle battery cell GigaPlant, servicing the automotive and energy storage markets. Both parties have signed a memorandum of understanding (MoU) focussed on each other`s complementary ambitions to create and expand an onshore manufacturing supply chain. When Tyres & Accessories reported on this news in the June edition of the magazine, we concluded that while the concept of a £4.4 billion business entering the UK automotive market at this time sound like good news for an embattled business, gaining fundraising and carving out a position in a competitive market remain foremost concerns.
However, other sources suggest there is enough demand to go round. The Faraday Institution estimates that the UK will need one gigafactory by 2022, two gigafactories by 2025 and eight gigafactories by 2040 to meet demand for electric vehicles and batteries. And when you consider that funding is far less of a problem for companies like Tesla than others, the chances that either Tesla or both Tesla and another operation such as AMTE Power and Britishvolt will be successful are much higher.