Goodyear Proactive Solutions finding favour with safety-aware OTR operators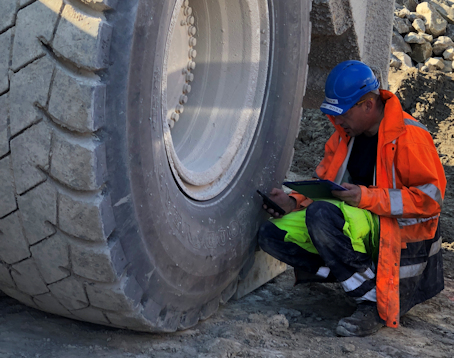 Health and safety gone mad! This refrain of outrage, often served together with a pint or three, is a staple UK gripe. But such tabloid-fuelled indignation is based upon a truth that benefits us all: HSE regulations ensure our workplaces are amongst the safest in the world. This aim to minimise potential danger is driving UK demand for a solution from Goodyear that offers the additional advantage of substantial cost savings.
Officially unveiled at the most recent Bauma trade fair, Goodyear Proactive Solutions TPMS Heavy Duty monitors the pressure and temperature of tyres used in most off-the-road applications. It also does much, much more. TPMS Heavy Duty offers a clairvoyant-like ability to identify issues with tyres even before operators are aware of any problem. Goodyear's Eric Ghirelli explains how this is possible: "The algorithms we employ – what we call our G-Predict technology – are the brains behind our solution."
Like many TPMS solutions on the market, Goodyear's system utilises sensors for reading tyre temperature and inflation pressure together with an on-board router and GPS. This sends data to Goodyear's server, where algorithms analyse the data and then return it in a customer-relevant form that end users can access via a mobile app or a more comprehensive online platform.
Ghirelli, an 18-year Goodyear veteran who became OTR product manager for Proactive Solutions at the start of 2018, stresses the significant benefits gained from the company's experience when working on and then launching similar technology for commercial vehicles in recent years; this experience helped it develop something specific for OTR much more quickly than would otherwise have been possible.
As you'd expect, the hardware used for OTR applications needs to be much more robust than the sensors and other equipment fitted to road going trucks and trailers. "But the greatest challenge for us was developing an algorithm suited to OTR. While truck tyres almost invariably operate at between 8 and 10 bar (116 to 145 psi), OTR tyre pressures can start at 3.5 bar and go up to 12 (51 to 174 psi). Tuning this to perfection was complicated."
When it came to market in 2016, the Proactive Solutions portfolio for truck fleets was supported by a wealth of data derived from the more than 350,000 vehicles serviced by Goodyear's commercial business. Far fewer vehicles operate in OTR applications across Europe, yet Ghirelli stresses that a smaller pool of data by no means equates to less accurate algorithms. "There is clearly no difference between being able to predict a tyre event in the OTR business when we compare it to the truck business."
Data is sent from vehicles to Goodyear's servers every couple of seconds. The tyre events that TPMS Heavy Duty can identify include issues that rival systems don't pick up on. "Most TPMS solutions on the market tell when a tyre will fall under a certain threshold. Our greatest advantage is that we're able to give alerts as soon as we see an irregularity in the data." comments the OTR product manager. He explains that the Goodyear solution will even identify a slow leak of less than 1 bar or 14.5 psi a day long before it reaches the threshold where the problem becomes apparent to the end user.
"We can tell the customer to take care if a tyre is slowly losing air, even if they don't need to act immediately. We do this even if the tyre's values are still within an acceptable range, and this is something unique to Goodyear. It gives our customers the freedom to schedule any necessary repair work for a time that suits them."
Early notification saves money
Ghirelli attributes the sensitivity of G-Predict Technology algorithms to such minor issues to Goodyear's decades of tyre-making experience. "We have a great deal of insight into how tyres work, tyre properties and the influence that inflation and temperature have on tyres. We can use this knowledge to detect when something is wrong as soon as possible."
Early notification of one problem can also prevent other problems arising further down the track. "Working with a tyre that is even just a little bit under-inflated doesn't only have an impact upon that tyre, it has an impact upon the other tyres fitted to the vehicle," Ghirelli explains. "The load stays the same, but the tyres that are properly inflated must carry a greater load."
Safety plays a big role
As of this month, the European Union requires all trucks and trailers registered since May 2018 to be fitted with TPMS. Legislation of this nature has driven the adoption of monitoring solutions within the commercial vehicle sector, and Ghirelli notes with amusement that TPMS technology is much more prevalent on vehicles fitted with tyres each costing around £400 than on vehicles where a single tyre can cost upwards of £20,000. "Adoption of TPMS isn't yet as widespread in the OTR sector, but many customers have approached us over the past year. We've seen a clear and increasing demand."
Some of this growing demand is being pushed by a desire to optimise cost per hour performance. Goodyear can outline potential savings to customers using a Value at Risk calculator. This was a factor motivating Breedon Cement, the first user to adopt Goodyear Proactive Solutions TPMS Heavy Duty in the UK. Breedon Cement commenced its contract in August 2018, initially with just six vehicles. Goodyear has now fitted the company's entire fleet of wheel loaders and rigid dump trucks with TPMS Heavy Duty.
But cost optimisation is just one benefit for operators like Breedon Cement. As mentioned at the start, HSE requirements make Goodyear Proactive Solutions TPMS Heavy Duty particularly attractive for UK-based operators. Eric Ghirelli opines that customers in the UK consider safety a more important factor than money when implementing TPMS.
"We especially see this with our UK customers. Safety is very important," he shares. "Many customers in the UK come to us strictly from a safety point of view." Goodyear has witnessed, for example, strong interest from operators of vehicles used at airports, such as tow tractors. "Gaining remote information about a machine that's a couple of miles away is especially critical in terms of safety for operations where people are transported. Both safety and timing – the ability to achieve a pre-arranged timeslot – are very important. A large part of our business is airport tow tractor-related, everywhere where safety plays a big role."
Regular updates, new features
TPMS Heavy Duty software for both mobile and web applications has been updated several times since its launch and now includes extra features. Ghirelli says Goodyear already has further new features in the wings. These will be rolled out in scheduled twice-yearly software releases for both the mobile app and the web platform.
Goodyear Proactive Solutions TPMS Heavy Duty is currently available for all OTR applications aside from underground mining. An operating area beyond the range of mobile phone signals has precluded the solution's use there so far, however Goodyear is now working on a solution that will enable TPMS Heavy Duty to go below the surface.
OTR activity to normalise in H2 2020
As it has for many industries, COVID-19 has impacted upon overall OTR activity. In a statement released late in April, Goodyear said it anticipated the restart of production at key OEMs in "the coming days"; a number of the tyre maker's most important original equipment partners paused production towards the end of March.
Work towards implementing additional OTR tyre production capacity and process improvements at Goodyear's factory in Colmar-Berg, Luxembourg, a US$36 investment project announced last year, is currently at around the halfway point. Ghirelli foresees this project will continue to completion as planned despite the coronavirus crisis: "The industry is still working."
Most OTR sectors, including construction sites, ports and underground mines, are still operating in Europe, albeit at a (as of April 2020) lower level than normal, as are mining activities around the world, excepting South Africa. In light of this, Goodyear expects activity within the OTR industry to "normalise steadily" as of the second half of 2020.
"We expect future megatrends will remain the same as pre-COVID, however we expect some delay depending on how the actual exit scenario will evolve within the different markets," states the tyre maker. Goodyear anticipates four key future megatrends for the OTR sector: Green technology, such as the rise of hybrid technologies and increased recycling; globalisation, which will impact upon port utilisation; connectivity and digitalisation, including big data, connectivity and artificial intelligence; and new business models such as new logistics solutions and a growth in machinery rental.
Starting with just 6 vehicles in August 2018, Goodyear has now fitted Breedon Cement's entire fleet of wheel loaders and rigid dump trucks with TPMS Heavy Duty