BBS appoints Markus Wartosch as global head of sales and marketing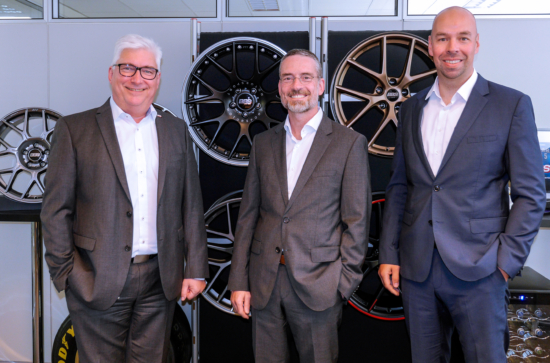 While production has now resumed at BBS's Schiltach and Herbolzheim wheel plants, the crisis and the wheel manufacturer's adapted 50th-anniversary celebrations have given Markus Wartosch a tricky start as the newly appointed global head of sales and marketing at BBS. He is supported in this role by Erwin Eigel, who continues as Head of the IAM division at BBS.
A graduate in business administration (FH), Markus Wartosch was born in 1977 and knows the automotive aftermarket industry like the back of his hand. This native Allgäuer brings his many years of experience in the global OEM and aftermarket businesses to the Black Forest-based alloy wheel giant.
Prior to his appointment as global head of sales and marketing at BBS, Markus Wartosch spent seven and a half years at ABT Sportsline in Kempten, most recently as sales director overseas.
Well acquainted with the challenges in the tough Asian and US business environments, Markus Wartosch is optimistic about the future and he and his team are working on innovative ideas that will keep BBS at the cutting edge of alloy wheel design and technology.
"I am pleased to welcome Markus Wartosch to our team," says Jürgen Klingelmeyer, CEO of BBS GmbH. "He is a world-class professional in the premium automotive segment whose wealth of knowledge and experience will help us further develop and expand the BBS brand."
"In this current period of great uncertainty, it is especially important to send a positive signal to our customers and fans, and I am convinced that Markus Wartosch has the right stuff to take the BBS brand to the next level."
"BBS. Established 1970." As part of this year's commemorative celebrations a book is being published to mark the 50th Anniversary of the cult alloy wheel brand from the Black Forest. The publication date is late summer/early autumn 2020.
The BBS 50th Anniversary merchandise collection will also be rolled out during the year. The CH-R II (Performance Line) wheel design, which made its debut on the company's 50th birthday as a 'Bronze Edition' with the patented BBS collision protection, has turned out to be a best-seller.
This Anniversary edition two-piece variant of the legendary cross-spoke CH-R alloy wheel features not only a bronze silk matt paint finish and an exclusive hub cap, but also a special touch in the form of screw heads with a black motorsport-inspired ultra-hard DLC coating (Diamond Like Carbon).