Continental CraneMaster OE on Freerider RTG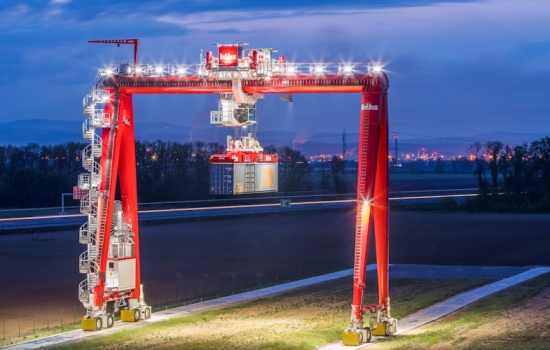 Conditions encountered when working in ports operations pose particular challenges to tyres. They need to cope with significant variations in load weights, extremely tight turning circles, long periods of vehicle inactivity and sustained exposure to ultraviolet light. For this reason, Continental offers a wide range of tailor-made solutions for portside fleet operators, with pneumatic and solid tyres available for all types of vehicles used in port logistics. Crane manufacturer Kuenz has selected the Continental CraneMaster as the original equipment tyre for its new Freerider rubber tyred gantry (RTG) crane.
With the Freerider, Kuenz has introduced a crane that can handle containers more quickly and efficiently. It can be driven at higher speeds than previous models, even when carrying loads. Operator comfort has been improved, too. The crane is equipped with a total of 16 Continental CraneMaster tyres.
"Tyres are exposed to enormous stresses during day-to-day operations within the port. We selected CraneMaster tyres because they are up to the challenge," states Walter Schönecker from Kuenz. Julian Alexander, Continental's Material Handling product line manager, adds: "RTG cranes lift extremely heavy loads, and this places particular demands upon the tyres. Flat spots and casing damage aren't uncommon. The CraneMaster features an extremely robust design specifically developed for these challenges, which makes it ideal for the Freerider."
Safety is further enhanced by the ContiPressureCheck TPMS system. Integrated into the Kuenz Crane Management System, it informs operators about tyre pressure and temperature.
Continental CraneMaster
Continental says its developmental goal with the CraneMaster was to improve the efficiency and mileage potential of port tyres used under extreme loads. The tyre's robust design reduces wear and damage resulting from loads upon the tread area and sidewall. In comparison to standard designs, the tyre maker reports excellent manoeuvrability, even when turning on the spot, as well as high stability, low rolling resistance, optimised wear and enhanced resistance to ageing.