Dave Thorpe opts for 'amazing' Bridgestone tyres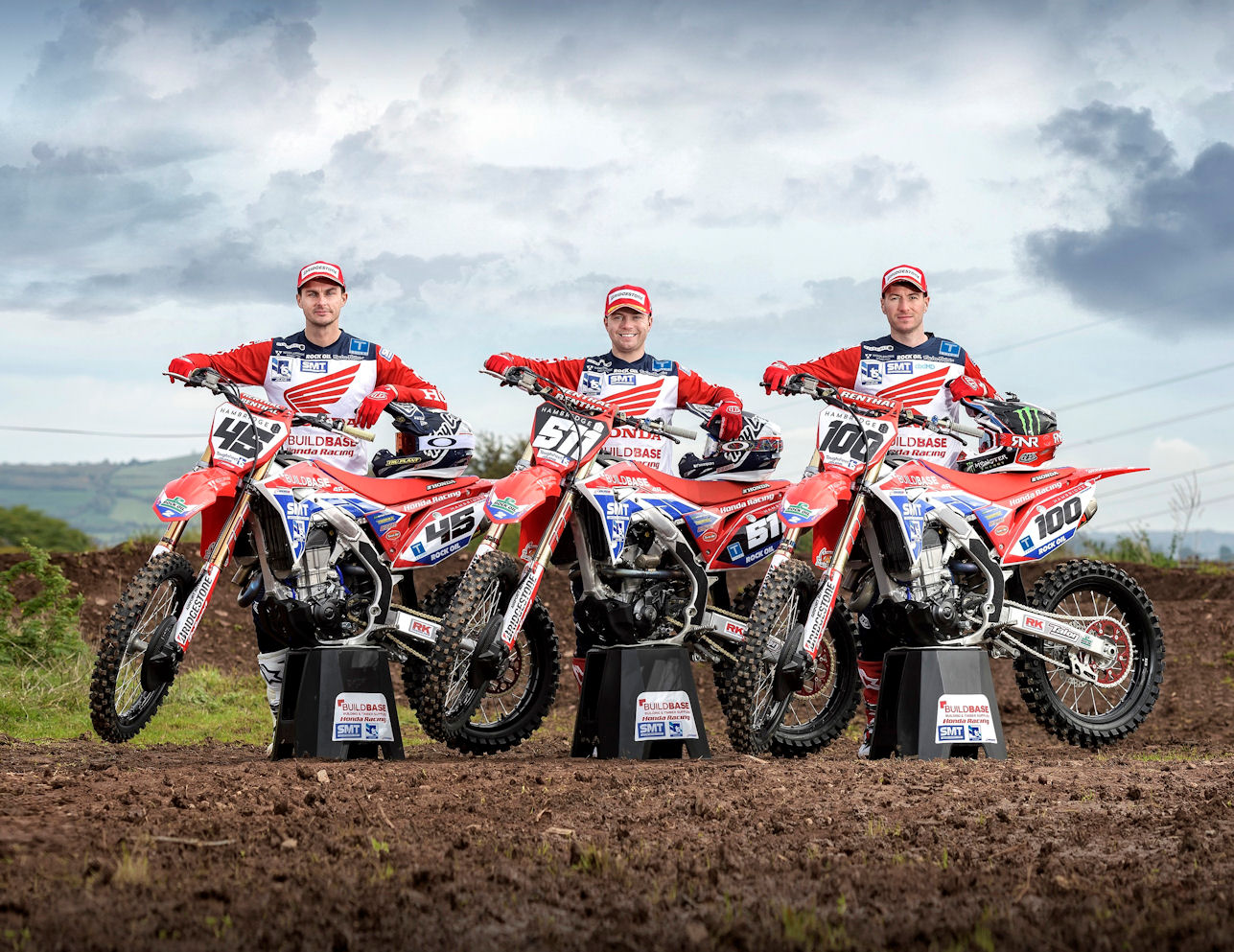 Bridgestone's position within the motocross tyre segment has been strengthened by its selection by Britain's most decorated rider of all time, who labelled the range as "amazing". In what Bridgestone describes as a "huge breakthrough", the brand will be fitted to all bikes at Dave Thorpe's Honda Off-Road Centre as well as to each bike at his Honda Adventure Centre.
In addition, every rider at the three-time world champion's Buildbase Honda Motocross Team will compete on Bridgestone's range of Battlecross products, with Tommy Searle, Jake Nicholls (MX1) and Steven Clarke (MX2) all inflating the brand's presence at the highest level of the sport.
This Honda Buildbase association alone represents Bridgestone's biggest ever association in the sport, as Tommy Searle is Britain's most decorated current-day GP rider with 14 career GP wins in the MX2 class, ranking third in total victories across all classes to multiple world champions Jeff Smith and Dave Thorpe himself.
Teammate Jake Nicholls has also raced World Championship motocross since 2007 and the 29-year-old is firmly established as one of the most talented riders in the sport.
Dave Thorpe's decision to embark on a partnership with Bridgestone was confirmed after Buildbase Honda recorded a series of impressive results in the MX2 class last season on the Battlecross X10, X20 and X30.
All of Dave Thorpe Honda Off-Road Centre bikes will be shod on the new Battlecross E50, which feature a soft compound specially developed for superior grip and high traction power. The tread pattern incorporates advanced block positioning and works with the E50's Castle Block technology to maximise edge effect and deliver extra traction.
Meanwhile, all bikes at the Honda Adventure Centre will be fitted with Bridgestone's other recent addition, the Battlax Adventurecross AX41. This updated trail off-road tyre has been designed to respond to adventure riders' requirements. Off-road traction has been upgraded and the grip increased through state-of-the-art block design and positioning, while the use of a high-strength compound ensures durability and a long lifespan.
"Bridgestone impressed us most because their tyres assist riders of all abilities – from beginners at the off-road centre right up to Tommy (Searle) and Jake (Nicholls) at the elite level of the sport," said Dave Thorpe. "We invest a lot of time and money in our Honda Buildbase bikes to be as competitive as possible and all of that means nothing if you can't put the power to the ground – and that is why tyres are so important and why we are working with Bridgestone.
"We just think that Bridgestone has gone about things in the right way for some time. They have got some great new products and a great team around them," Thorpe continued. "When they feel that they have developed something special is when we decide to get involved, because we don't use anything that is sub-standard.
"We want to bring any technology that is advantageous to the team and Bridgestone's tyres fit into that category. It is exciting times for Buildbase Honda and it is exciting times for Bridgestone too.
"Whether it is the AX41 for the adventure school, the E50 for the off-road centre or the Battlecross range for the team, the tyres will assist us in getting the results we want. The X10, for example, has been amazing on the sand and testing for the next year has also underlined the qualities of the X20 and X30 products, which are similarly notable."
Bridgestone was barely present in the motocross tyre sector as recently as five years ago, but has grown exponentially to assume a significant share. The tyre maker expects its share of the market to rise further in the years ahead. It already boasts more winners on its Battlecross range than ever before, thanks to some astute individual rider partnerships, while its title sponsorship of the Bridgestone British Masters was the best attended to date – averaging 350 riders across every race weekend.
"To be working with a legend of the sport in Dave Thorpe is hugely significant for everyone at Bridgestone," said Mark Fereday, Bridgestone's marketing team leader. "To then receive so much positive feedback about our products cannot be underestimated and is something we don't take for granted. It is the ultimate endorsement and reinforces our claim to be a leading player in the motocross world with some of the best premium products available.
"The future looks bright and we are so excited to be working with Dave at his Honda Off-Road Centre, his Honda Adventure Centre and the Buildbase Honda Motocross Team. To see our name on the sidewalls of so many incredible bikes will be a red-letter day for everyone associated with the business."