European commission approves 3.2 billion euros of battery research support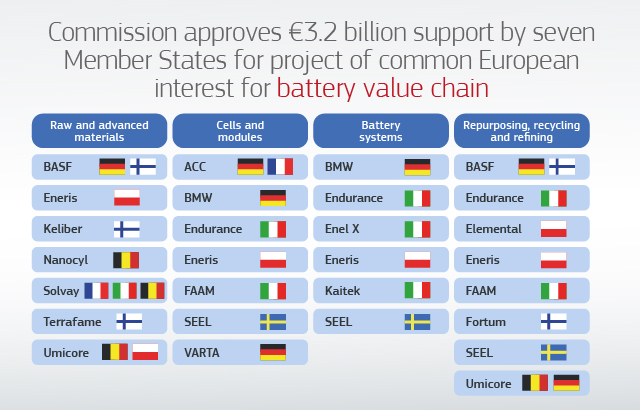 The European Commission has approved 3.2 billion euros of battery research and development support under EU State aid rules. The funding comes as the result of an Important Project of Common European interest (IPCEI) application jointly notified by Belgium, Finland, France, Germany, Italy, Poland and Sweden to support research and innovation in the common European priority area of batteries.
In addition to the roughly 3.2 billion euros of funding attached to the project, those involved expect the funding will attract an additional 5 billion euros of private investments. The completion of the overall project is planned for 2031 (with differing timelines for each sub-project).
The investment follows the European Commission launch of the "European Battery Alliance" at the end of 2017, with interested member states and industrial actors and adopting a Strategic Action Plan for Batteries in May 2018.
The latest project supports the sustainable development of lithium-ion batteries (liquid electrolyte and solid state) that "last longer, have shorter charging times, are safer and more environmentally friendly than those currently available". Innovation will also specifically aim at improving the environmental sustainability in all segments of the battery value chain. It aims to reduce the CO2 footprint and the waste generated along the different production processes as well as develop environmentally friendly and sustainable dismantling, recycling and refining in line with circular economy principles.
The project participants and their partners will focus their work on raw and advanced materials; cells and modules; battery systems; and repurposing, recycling and refining.
Margrethe Vestager, Executive Vice-President "Europe fit for the Digital Age" and Commissioner in charge of competition policy, said: "Battery production in Europe is of strategic interest for our economy and society because of its potential in terms of clean mobility and energy, job creation, sustainability and competitiveness. Our Important Projects of Common European Interest smooth the way for public authorities and industries from several Member States to come together and design ambitious innovation projects with positive spill-over effects across industrial sectors and regions. The approved aid will ensure that this important project can go ahead without unduly distorting competition."
Maroš Šefčovič, Vice-President for Interinstitutional Relations and Foresight, said: "Our focus on scaling up innovation under the European Battery Alliance is yielding strong industrial partnerships. Thanks to intensive efforts by seven Member States, industry and the Commission, Europe's first major pan-European battery ecosystem is emerging, with lead projects in all segments of this strategic value chain. We have found the right recipe for our 21st century industrial policy: strong cooperation between industrial actors, concerted action to accelerate lab-to-market innovation, joined-up financial instruments from both, private and public sectors, and a fit-for-future regulatory framework to underpin a stronger European knowledge-based economy."