Textar powers Newell & Wright to third place in truck racing finale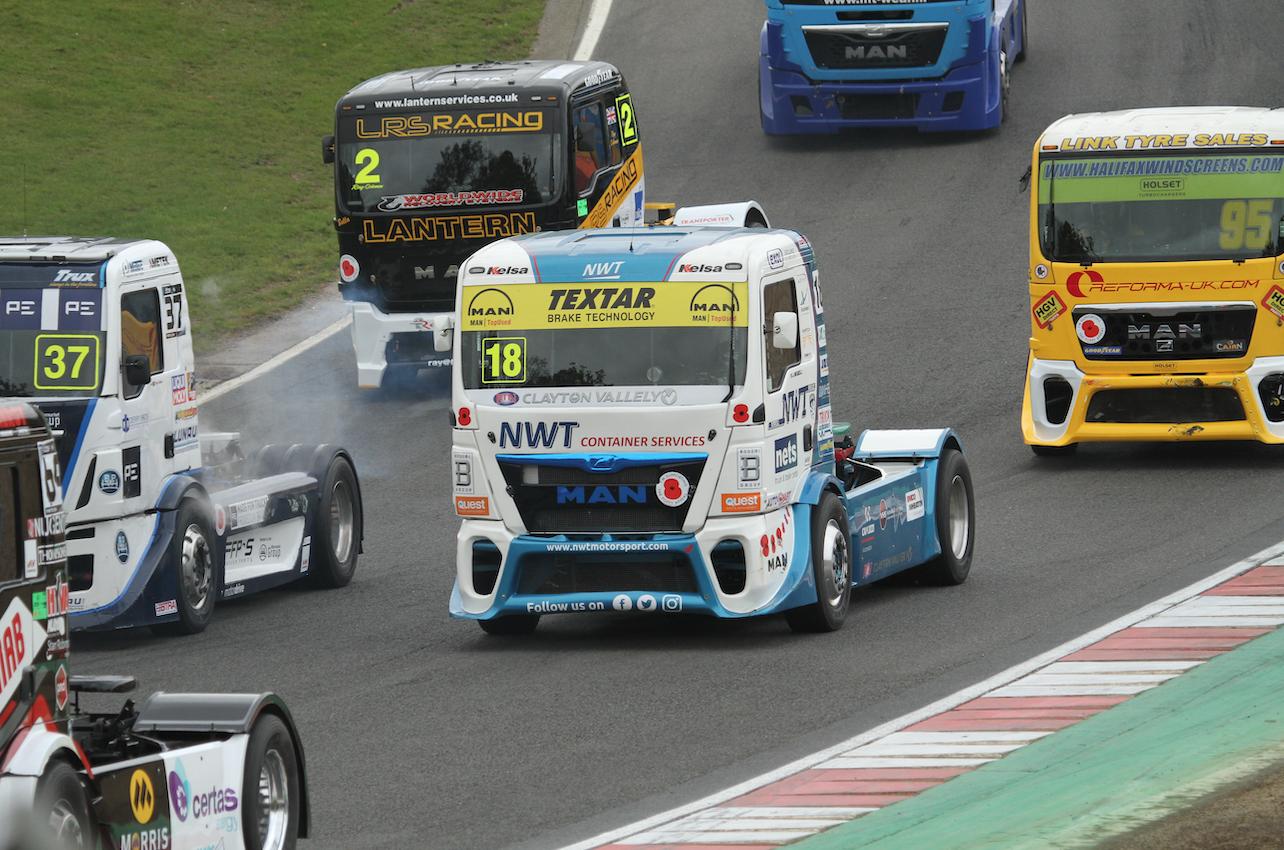 Textar sponsored Newell & Wright Motorsport achieved third place in the British Truck Racing Championship Division one. In the season-ending Brands Hatch meet, driver John Newell battled all weathers to finish ahead of his rival and consolidate third place.
With more trucks competing in the final race weekend of the season, the Newell & Wright Motorsport truck – fitted with Textar's market leading brake pads and discs – was put through its paces in treacherous conditions during the first race on Saturday, with Newell coming home in sixth position.
The next day saw a complete turnaround in conditions with blue skies, a still damp track and 40,000 spectators greeting the drivers for the final three races of the season. Newell managed to stay ahead of his nearest rival in the first two races meaning that third place in the championship was secured ahead of the final race of the day.
Newell said: "I'm delighted to have finished third in the championship and a big thank you to all our supporters and sponsors Textar for their support."
With trucks coming off Clark Curve and hitting speeds of up to 100mph on the Brabham Straight, before braking at Paddock Hill Bend, drivers have to be confident in their brakes. As Newell explained: "Brands Hatch is such an exciting circuit for truck racing. While it's not as demanding on the brakes as other tracks, we have to have complete confidence going into the braking zones. With Textar brake pads and discs, we are able to brake later and stop quicker than other drivers, giving us a competitive edge."
John Newell started using Textar brake pads and discs in motorsport in 1999 and has never looked back. Thanks to their durability and performance, Textar brake pads perform solidly over the entire race weekend and even afterwards, as Newell & Wright use the brake pads on their haulage fleet.
Immediately following the truck racing action, Brands Hatch hosted its annual fireworks display, alongside a twilight convoy of 100+ HGVs on the race circuit.
Sue McKay, global category manager CV, TMD Friction UK Ltd, said: "We're delighted with the role Textar has played in helping Newell & Wright Motorsport secure third place in the championship. Working with the team this year, we have gathered a vast amount of information and proven the exceptional performance of Textar brake pads and discs in such a demanding environment as truck racing."