UK motorists want a full-size spare tyre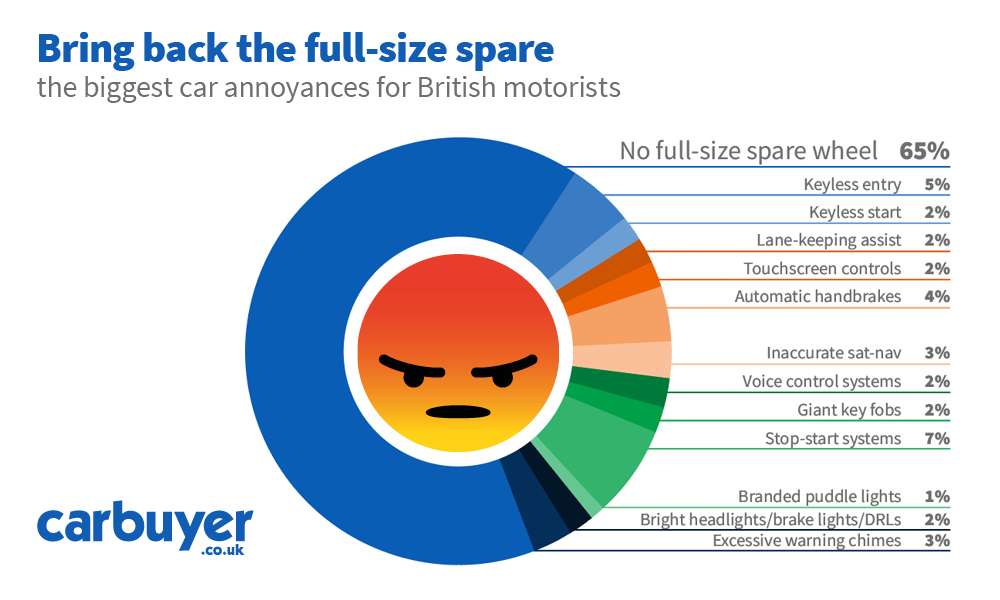 Car review website Carbuyer.co.uk says UK motorists have given space saver spare wheels and puncture repair kits an "overwhelming thumbs down". When it asked a sample group of more than a thousand motorists which modern car features annoy them most, two out of three responded that the lack of a full-size spare tyre was their biggest gripe.
Space saver tyres and puncture kits were introduced to provide extra boot space and to help meet EU emissions targets by cutting down weight. But they can also restrict a car's performance and, in some cases, result in an emergency breakdown service being called to deal with a puncture.
"Modern cars bristle with innovations designed for efficiency and convenience, but our research proves the adage that you can't please all of the people all of the time," comments Carbuyer editor-at-large, James Batchelor. "The absence of a full-size spare appears to be overwhelmingly unpopular with drivers, doubtless because both alternative solutions are such inconvenient temporary solutions to a flat tyre. Removing the standard spare does allow for more storage space and helps to cut CO2 emissions by reducing weight, but these benefits don't impress most motorists.
"Continuing your journey on a speed-limited wheel – or using a temporary repair kit – are deeply unpopular options for an overwhelming majority of drivers."
Ranking second in the list of annoyances was another feature aimed at improving fuel efficiency – the engine stop-start system. Some features introduced for driver convenience also turn out to annoy a significant number of motorists. Automatic handbrakes came third on the list, followed by keyless entry, inaccurate satellite navigation systems and interior hazard warning sounds.