Peace of mind in a can – Michelin introduces 'Tyre Sealant'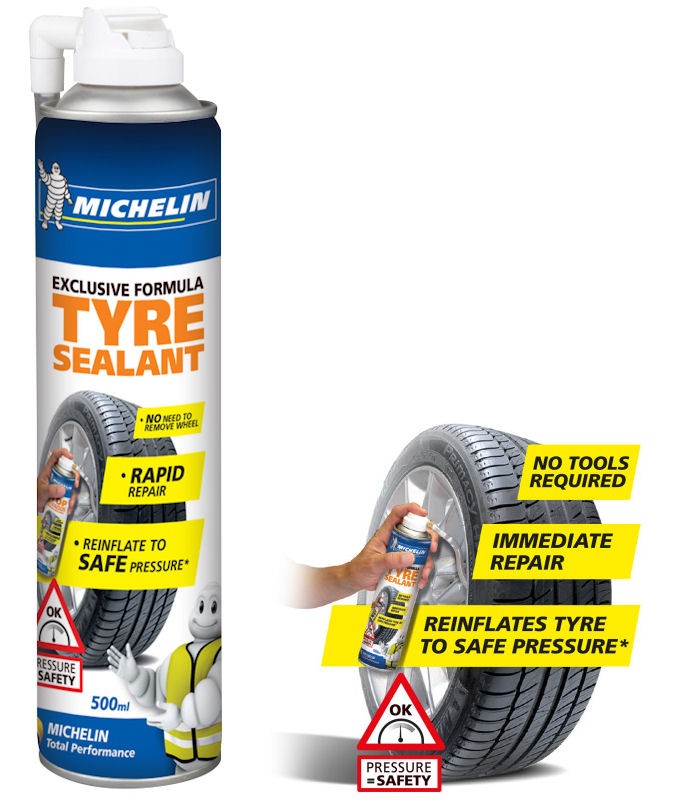 A new Michelin product offers motorists a means of continuing a journey when stopped by a puncture and workshops a better chance of permanently repairing the tyre later on. Michelin Tyre Sealant is an emergency product that can repair certain punctures and then re-inflate the tyre to 0.8 bar – an amount Michelin calls a "safe pressure". The tyre maker says the 500ml Michelin Tyre Sealant can is suitable for use on all tyres up to size 245/45 R17 and requires neither additional tools nor a separate compressor.
Tyre Sealant comes with protective gloves, a mat to kneel on whilst using it, a box for simple disposal of the used can afterwards and easy-to-follow instructions. Following re-inflation the tyre can be driven at speeds of up to 50 mph or 80 km/h, and once at the workshop the sealant can be washed away with warm water; no thick or sticky residue remains inside the tyre, increasing the likelihood that it can be permanently repaired.
"We know that many motorists dread getting punctures – especially with the increase in the number of cars with a space saver spare tyre or no spare tyre at all," comments Simon Bates, marketing and communications manager for Michelin Lifestyle Europe. "Michelin Tyre Sealant is extremely effective and incredibly easy to use, so we know there will be really strong consumer demand. Motorists simply apply the sealant through the valve, confident that the tyre will inflate to a safe level, even if the puncture has been driven on for a considerable distance – it's a powerful proposition for the customer."
Michelin's own comparative testing suggests that Michelin Tyre Sealant is "more likely to effectively repair punctures than the leading competitor products." In tests that involved puncturing a 205/55 R16 tyre with a 4mm diameter, 50mm long nail and then running the tyre for 100, 200 or 400 kilometres before removing the nail and applying one-step sealant product, Michelin reports that its sealant was "the only product effective at sealing the hole and re-inflating the tyre to 0.9 bar after 400 kilometres." The nearest competitor product, it shares, could only achieve the same results after being driven for 200 kilometres.