Wheelwright unveils RoadHero space saver spare wheel & tyre kit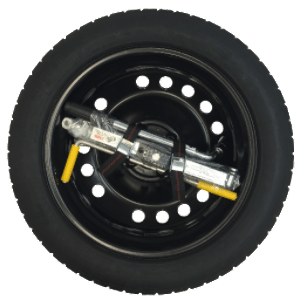 Wheel distributor Wheelwright, whose alloy wheel portfolio includes UK brands Calibre & DRC, alongside German owned AEZ, Dotz & Dezent and Italian designs from Mak, have continued to develop their extensive product portfolio with the addition of the RoadHero space saver wheel & tyre kit for a wide range of vehicles.
Wheelwright have supplied the UK with leading steel wheels from German manufacturer Alcar Stahlrad for over 10 years, often pairing them with a tyre to be used as a spare; but the demand for Space-Saver variants became so great that the development of RoadHero became almost inevitable and unavoidable.
Since 2012, vehicle manufacturers no longer had to supply a spare wheel, instead opting to save weight (and, ultimately pass emissions targets) by supplying a can of 'tyre slime' to help get you home in the event of tyre failure. Most motorists agree this is just not a suitable solution, especially in the event of an unrepairable puncture, blowout, or structural damage to the wheel & tyre unit.
"The demand is genuine and the market has great potential." explained Wheelwright's general manager, James Gray. "This product is already selling well with our trade customers as they see it as a 'need' rather than a 'want', and it fits well within the product portfolios of retailers across the automotive market. From Car Dealerships offering RoadHero as an optional extra / upgrade; to smaller hard parts retailers, MOT stations and tyre bays. Our existing client base of alloy wheel specialists are also grabbing the opportunity to up-sell this product. It really is a fantastic bolt on to our existing business."
The RoadHero kit features a space-saver steel wheel with the correct PCD, offset and centre bore for their target vehicle, pre-mounted with the appropriate tyre to ensure compatible rolling radius. The kit is also supplied with any necessary fixings, a jack (trolley or bottle) and wheel brace, all packaged in a convenient bag. RoadHero is currently available for over 875 vehicle variants, so retailers can be assured there's great car parc coverage.