Domino's gets a slice of the Tyre Safety Month action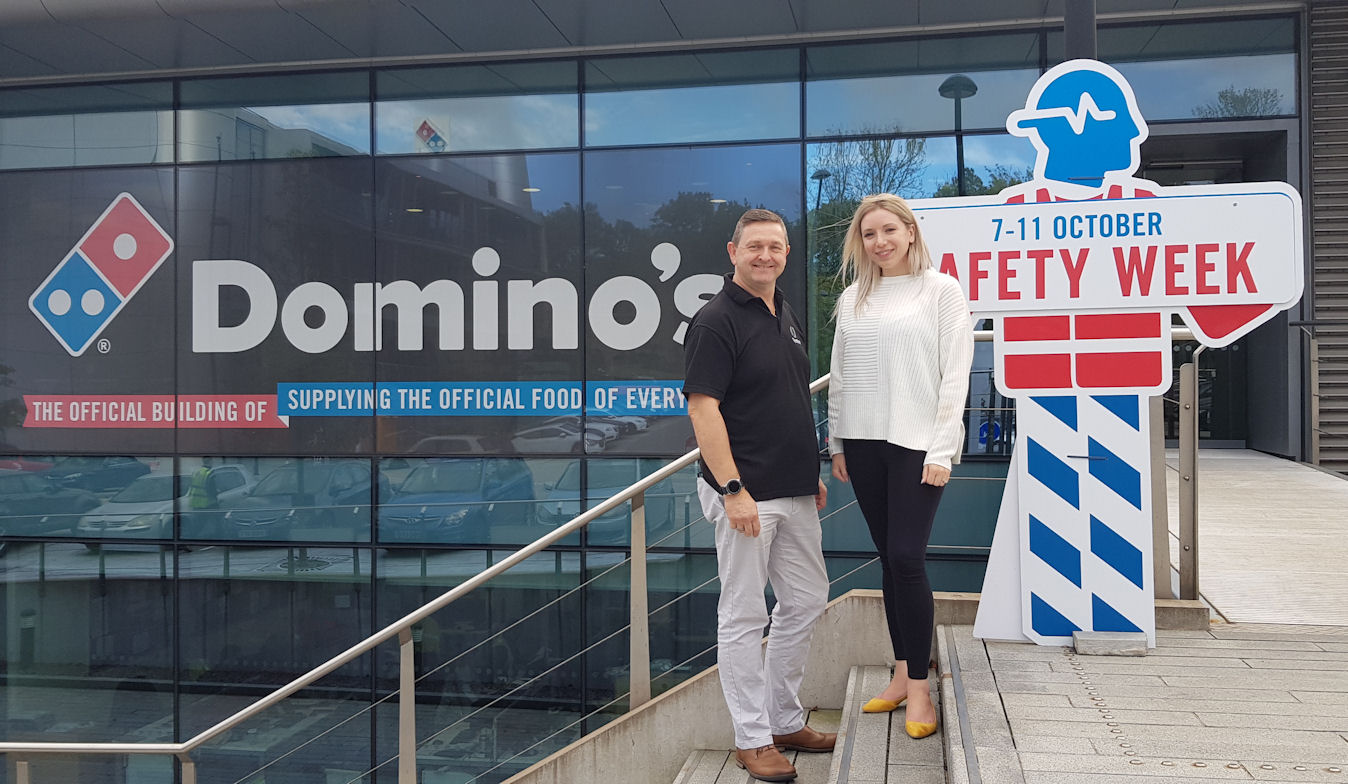 Domino's Pizza Group is teaming up with TyreSafe to make sure that the 'Look Who's Talking' message promoting during this year's Tyre Safety Month is something all its staff can easily take away. The UK's leading pizza brand hosted two consecutive tyre safety days during its Safety Week this month, with the first at the company's head office in Milton Keynes on 8 October and the second at its supply chain centre in Warrington a day later.
All onsite vehicles, including participating Domino's colleagues' personal vehicles, were able to get their tyres checked for free, with the Look Who's Talking message the focus of each day's activities.
In addition, the TyreSafe team was on hand to provide advice for any drivers unsure how to check their tyres' tread depth, judge their tyres' condition or measure their air pressure.
Driving without the correct amount of air in tyres makes a vehicle more difficult to control and reduces the amount of grip it has on the road. Not only that but underinflation leads to increased tyre wear, the likelihood of a puncture or damage and fuel usage. Research by TyreSafe shows that 27 per cent of tyres are already illegal when replaced and one in five car drivers have never checked their tyres.
Other Domino's Pizza Group locations will also be included in the campaign with the support of TyreSafe's campaign materials and locally-led safety sessions to onsite colleagues.
"Safety is a top priority here at Domino's and we want to do everything we can to ensure our colleagues arrive to work and get home safely as well as stay safe on the roads when driving for business," says Jake Moffat, health, safety & environment manager at Domino's. "As the nights draw in and we head into autumn with poorer weather, tyre safety becomes even more important. We hope that by holding two dedicated tyre safety awareness days we help spread awareness of the importance of tyre safety while encouraging our colleagues to carry out regular checks to reduce the chances of a tyre-related incident."
TyreSafe chairman, Stuart Jackson, adds: "We are delighted that a major UK brand like Domino's is as concerned about raising the awareness of tyre safety as we are. By holding two tyre safety awareness days during Tyre Safety Month, Domino's is also making a major statement about how critical this campaign is and by reminding their drivers to make sure they get down and check their tyres not only in October but all year round, this is an excellent example they are setting.
"Tyre-related incidents cause around 1000 casualties a year on our roads, and nearly 200 of these are killed or seriously injured," Jackson continues. "In Tyre Safety Month we are committed, as ever, to reducing these figures through education and awareness. We are indebted to all our supporters, whether new like Domino's, or those who have been involved for the past decade, who work tirelessly to improve tyre safety across the UK."
There are three simple checks that motorists can perform themselves, or any garage will carry out for them with no charge or obligation:
Air pressure: the vehicle manufacturer provides at least two air pressure recommendations – one for light loads and another when fully loaded
Condition: Every tyre should be free of cuts, lumps or bulges
Tread depth: in Britain, the legal limit for a car tyre's tread depth is 1.6mm. Adequate tread helps keep the tyre in contact with the road, especially in the wet, and reduces the chances of aquaplaning
To take part in Tyre Safety Month or for further information on tyre safety, visit tyresafe.org.