TyreSafe award winner makes tyre safety message its New Year's resolution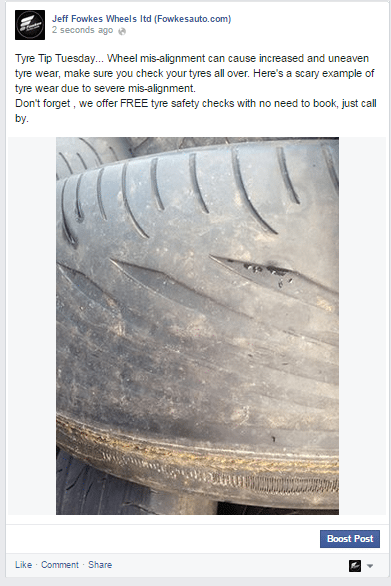 A garage and tyre retailer has made a New Year's resolution to communicate tyre safety messages throughout the year, using its customer database and social media channels as well as relationships with other area organisations concerned with road safety. Ibstock's Jeff Fowkes Wheels won the inaugural 2013 TyreSafe Independent Garage Award, and now the company has pledged to continue its tyre safety campaigning throughout 2015. While these activities will remain focused on October's Tyre Safety Month, Jeff Fowkes Wheels makes the point that the messages communicated to drivers then are valid year-round.
Grace Fowkes, from the family-run company, said: "We have been busy making lots of plans for the 2015 campaign. We plan to partner with lots of local organisations such as the council and fire service along with schools, workplaces and fleets to ensure our receptive audience is as large as possible. We are really excited for the events we have planned throughout this year and already it is set to be very successful."
The first campaign is designed to encourage motorists to make a New Year's Resolution to check their tyres regularly, which has seen several social media posts and an email sent to more than 1,000 people. "Whilst lots of the traditional New Year's Resolutions such as getting fit and saving money are important, so are tyres, yet I had never heard of a regular tyre check as a New Year's Resolution, so I wanted to take the opportunity and make this our first campaign," added Grace.
The company has also launched "Tyre Tip Tuesday", which will see a series of photographs posted on its Facebook and Twitter pages along with a Tyre Tip. "Our first example was as a result of a very bad case of misalignment and we hope that using images such as this will engage motorists more than just with a few words, which can easily be lost amongst the other posts on these sites," commented Grace Fowkes.