Range anxiety, ADAS and unexpected electric vehicle consequences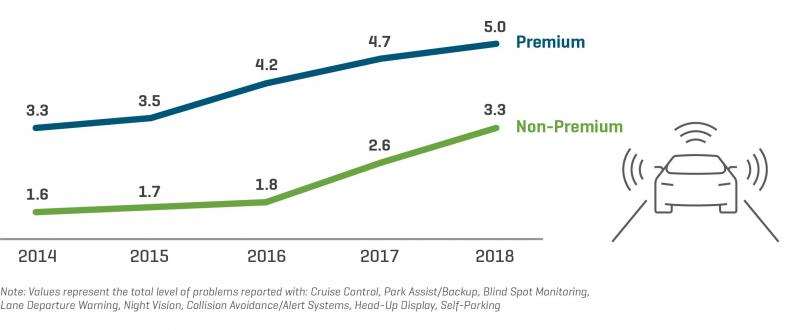 The future is electric and the automotive market is rapidly moving in such a voltaic direction. But the transition is far from complete and the switch to autonomous vehicles is even further off. In the interim we all have to be aware of some of the unexpected consequences that the introduction of new technologies brings. The two clearest examples are range anxiety and ADAS concerns.
Registrations of battery electric vehicles (BEV), plug-in hybrid electric vehicles (PHEV), and hybrid electric vehicles (HEV) totalled 96,600 units across Europe in July. During the period demand increased 29 per cent compared with July 2018. At the same time, electric vehicle market share increased from 5.8 per cent to 7.4 per cent. OK, so UK electric vehicle sales went against this trend and were down 4.4 per cent in July, but – to quote Jato Dynamics global analyst Philippe Munoz – "Even if they still makeup a comparatively marginal part of the overall market, electric vehicles are definitely becoming the industry's bright spot during these challenging times".
At the same time, the number of electric car models in the European market is set to more than triple within the next three years, according to Harry Merrison, Investment Manager at Kingswood: "Currently, around the globe, less than one per cent of vehicles are fully electric, which represents a significant growth opportunity given the inevitability of the technology's future monopoly. The [recent] announcement…from Transport & Environment (T&E) on how the number of electric car models on sale in Europe is forecast to more than triple by 2021 is significant. The future of driving is very much electric, we are witnessing the phasing out of automotive internal combustion engines."
Range anxiety
However, as we approach the transition point, the market is experiencing more and more unexpected consequences and concerns in the consumer base. One such phobia is the so-called "range anxiety". For its part, Midlands-based test centre Horiba Mira is calling on OEMs to address the mismatch between reported and actual ranges of electric vehicles (EV), which is at the root of range anxiety. To this end, a new report produced by Horiba Mira explains how current global testing and evaluation methods for determining the range of an EV are "inadequate and in need of urgent review". EVs are currently tested against a slim set of parameters with the majority at one ambient temperature level, 23°C – an unrealistic reflection of real-world driving conditions. It goes on to outline how extending the conditions under which EVs are tested could produce more accurate range data, raising the credibility of EVs and ultimately boosting consumer confidence and uptake.
Ben Gale, Global Solution Leader at Horiba Mira, commented: "At present, the use of insufficient range data in real world conditions is playing a part in fuelling range anxiety, putting many motorists off making the switch to EVs. Globally, vehicles are tested at just one temperature – one that is considered the 'optimum' for vehicle comfort and Lithium Ion batteries – but when you add in air conditioning or heating requirements, additional battery power is required; depleting the published range of an EV at an alarming rate."
The problem with ADAS
Another cause of frustration for modern motorists is ADAS. The latest JD Power data suggests "there is a cacophony of noise from…the many driver assistance systems on their new vehicle demanding attention, and they don't like it." Driver assistance systems such as cruise control (primarily adaptive cruise); lane departure warning; collision avoidance/alert systems; and blind spot warning are becoming more commonplace in every model on every showroom floor. With each new technology comes added opportunities and complexity for workshops and drivers alike.
Here are some examples of the problems that JD Power identified in its research: Blind spot monitoring penetration is increasing 9-10 percentage points per year, with problem levels increasing by 66 per cent year over year. Collision avoidance/alert system penetration is increasing 12-14 percentage points per year, with problems increasing by 50 per cent year-on-year. Lane departure warning system penetration has increased 14 percentage points per year, with problems increasing 50 per cent year-on-year.
In the short term this means relatively new cars are going to be returning to garages with an alarming degree of frequency. On the one hand this represents and opportunity for garages that are ADAS ready, but on the other hand this scenario represents a customer service car crash waiting to happen, with drivers blaming aftermarket technicians for all the annoying pings their experience when behind the wheel.
The problem is that increased deployment of ADAS is an indispensable stepping stone to full-autonomous functionality. So, it is not going anywhere. And, therefore, both the problems and opportunities associated with it will only increase. Such are the unintended consequences of the market's wholesale moves towards electric and autonomous vehicles.