Bloodhound entrepreneur Noble keynote speaker at IAAF Conference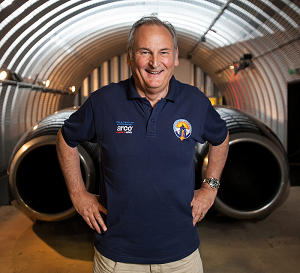 The Independent Automotive Aftermarket Federation (IAAF) is delighted to announce that record breaker and entrepreneur Richard Noble OBE will be the keynote speaker at its 2019 Annual Conference on 5 December, due to take place for the third year running at DoubleTree by Hilton, Milton Keynes.
Motivational speaker Noble, who was founding Director of The Bloodhound Project, is known for developing high-risk ventures, including the Thrust2 programme which brought the World Land Speed Record back to Britain in 1983 and the 1997 Thrust SSC first-ever supersonic land speed record programme.
His life story, described as a gripping roller-coaster of the unexpected and the unbelievable, is also a tale of great struggles and success mixed with disappointment and failure. As a risk taker, he has lived life on a precarious edge, submerged in debts and battling to make ends meet, counteracted by his resilient gung-ho enthusiasm, determination and ingenuity to achieve world records that were deemed to be impossible.
That same grit and visionary approach saw him establish the Bloodhound project in 2008 – to build and develop the world's first 1000mph car.
Noble will share his inspiring story and unique insight with delegates attending the conference, where technology will play the central theme. He joins an impressive list of top industry speakers, due to be announced shortly.
Wendy Williamson, IAAF chief executive said: "We're delighted to have secured Richard for this year's Conference; our members will no doubt be gripped by his extraordinary achievements as a pioneering explorer and the incredible stories around developing the Bloodhound Project. He is part of what is going to be an extremely impressive line-up of speakers from across the industry, and the audience will be treated to a thoroughly absorbing and enjoyable day."