Gulf and Porsche roll back the clock to win Spa 24 hours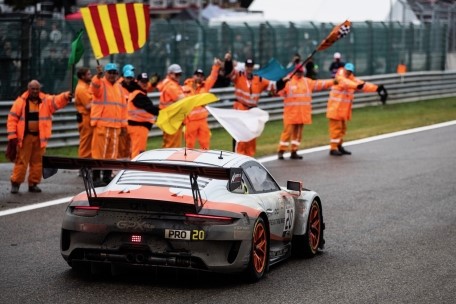 Gulf and its Heritage Partner, ROFGO, are celebrating an incredible win at the world's foremost GT race, the Spa 24 Hours. The Porsche 911 GT3R, run by the GPX race team for ROFGO, was entered for the race relatively late in the day, with support from Porsche itself, who supplied three factory drivers specially for the event.
The Gulf-liveried car beat off 71 other entries to win this classic endurance event. This year's Spa 24 Hours was largely run in incredibly testing, wet conditions – and was even stopped for several hours, as the organisers deemed it too dangerous to race. The driving team of Kevin Estre, Michael Christensen and Richard Lietz was superb throughout. The light blue and orange number 20 moved up from an impressive 11th on the grid to run in or around the top-three for the majority of the race – hitting the front with around three hours to run and never being headed after – except for pitstop periods.
The race was extremely closely fought, however, and generated intense excitement with the second-placed car challenging throughout the final run-in – finishing a mere three seconds behind the Gulf Porsche at the end of the 24-hour race.
The last time a Gulf-Porsche won a race at Spa was in 1971, when Pedro Rodriguez and Jackie Oliver took victory in the Spa 1000km – and it is fitting, therefore, that on the 50th anniversary of the 917, a car that did much to script the legendary status of Gulf in motorsport, a Gulf-Porsche should once again triumph at one of the world's truly great race tracks.
"Everyone at Gulf send heartiest congratulations to ROFGO and its GPX-run Porsche team on this superb achievement," enthused Gulf Oil International Vice President International, Frank Rutten. "The race was breath-taking and the battle with the other Porsches, Audis and Ferraris was epic. A huge thank you must go to ROFGO owner, Roald Goethe, for making this possible for Gulf and Porsche. It is a great victory, and one that that once more solidifies the Gulf brand in motorsport."