Autocar partners with Summit for tyre buying site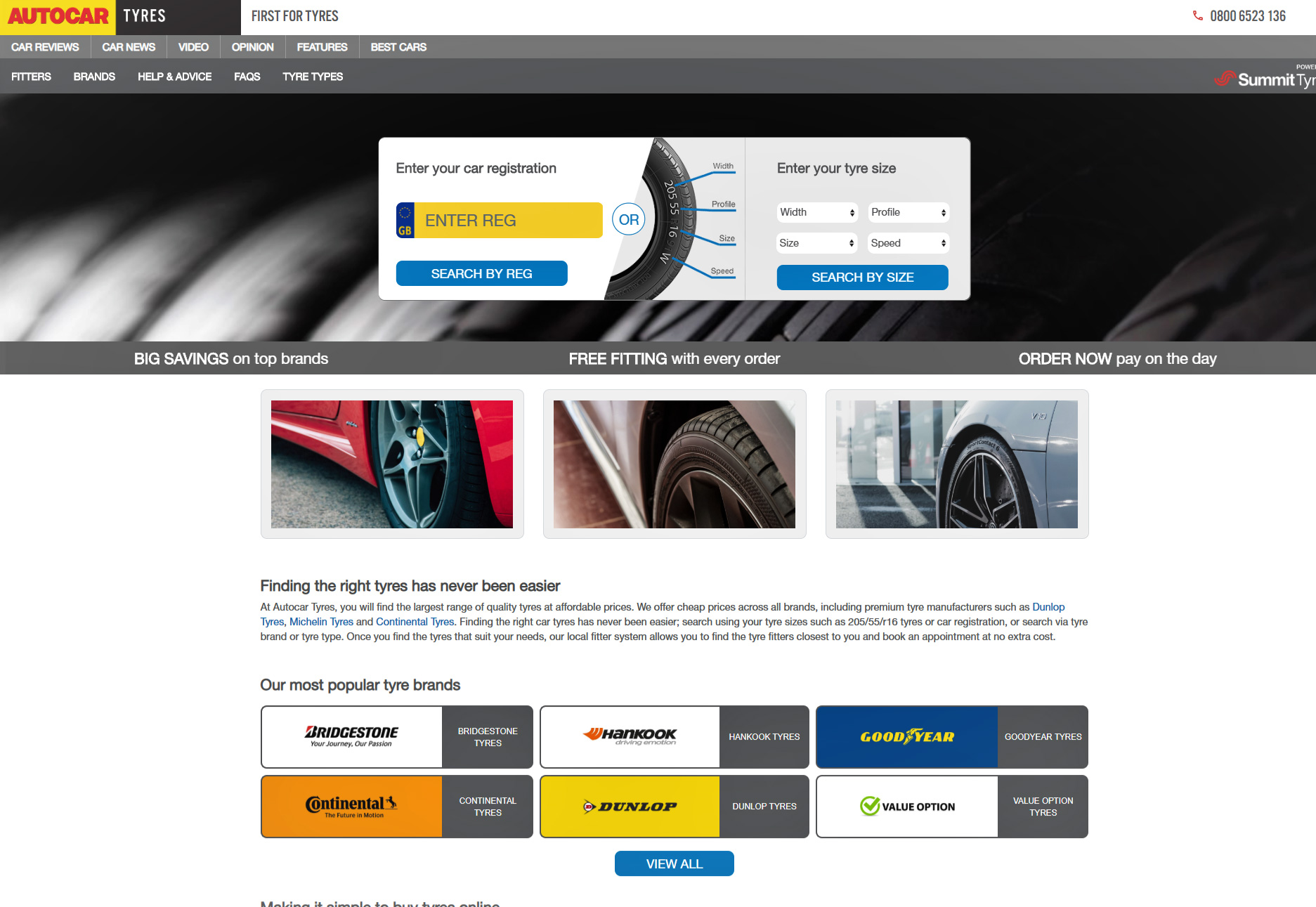 Summit and Autocar have partnered to create a tyre-buying website. The website (www.autocar.co.uk/tyres) promises to deliver "excellent value, quality of service and consumer choice to UK motorists".
The price of the tyre you select is fixed and there is nothing to pay until the tyres are fitted. And there is no charge for tyre fitting.
Autocar Tyres stocks thousands of tyre types and sizes, across all levels of tyre brands from premium to budget. To make it simple, the site presents users with budget, mid-range and premium tyres so consumers can see the fitted prices with confidence. The site can also filter by brand, grade and much more to find the ideal tyres for any car.
Once a selection has been made, users then enter their postcode to find the nearest tyre fitter and select a date and time that suits best. After confirming the order, the final step is to take their vehicle to the tyre fitters where the new tyres will be fitted free of charge. There is no haggling or price changes, customers simply pay for the tyres at the guaranteed fixed price once they are fitted.
Luke Tidy, partnerships manager at Haymarket Publishing said: "We have partnered with Summit as they have the expertise to create an excellent platform for consumers to be able to buy a high range of tyres at highly competitive prices, with consumers being able to get a free fitting at their local fitter. I see this a great alternative to what already exists in the marketplace and this why we want to work with them on this offering."
Alex Leith, commercial director at Summit, believes Autocar are the perfect brand to team up with to launch this website Partnership: "We're delighted to team up with Autocar to launch Autocar Tyres. They're a wonderful brand and perfectly encompass everything we love about motoring, demonstrating a passion for the industry that we represent at Summit."
"This is Summit's first retail website Partnership, and it also represents the launch of the Summit Partnerships programme; helping large brands and audiences monetise their traffic with relevancy and reach, providing ecommerce ecosystems that create value for both brands and their customers."