Goodyear Proactive Solutions wins at International Bus Sustainability Awards 2019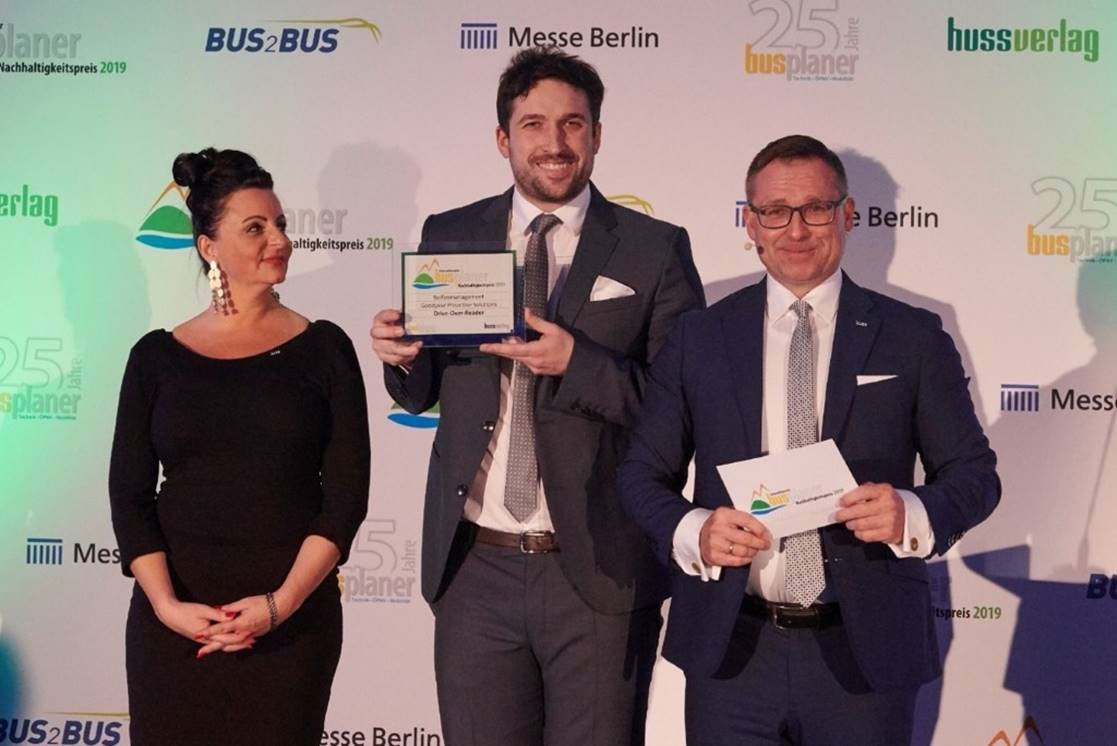 The Goodyear Drive-Over-Reader, an automated tyre analysis and control system, has won first place at the International Bus Sustainability Awards in the 'Tyres and Tyre Management' category. The awards honour innovative companies and products that address the challenges of global sustainability. Thomas Sauer, marketing specialist for Goodyear Proactive Solutions EMEA received the award for Goodyear at the award ceremony in Berlin on 18 March, 2019.
"The team is very proud to receive this prestigious award. It recognises Goodyear's technology leadership marked by a fully trusted tyre range, in combination with an added value suite of digital solutions for tyre and fleet management," said André Weisz, managing director of Goodyear Proactive Solutions EMEA.
Goodyear Drive-Over-Reader Technology 
The Goodyear Drive-Over-Reader is a ground-mounted sensor, which measures and analyses important tyre and vehicle information within seconds, including inflation, remaining tread depth, axle load, and total weight data.
The technology provides real-time tyre data and alerts can be automatically sent to the fleet manager, service technician and the driver. This data supports in proactively monitoring the tyre and the efficiency of the fleet. It further enables fleet operators to maximise uptime, forecast maintenance when the vehicle is not in service and establish a long-term tyre replacement plan. Identifying potential tyre issues at an early stage helps to maximise the performance and mileage of the tyre and the fleet.
"The Goodyear Drive-Over-Reader is particularly suitable for public transport companies. Every time a bus enters the depot it will drive over the sensor and the system will precisely identify and resolve tyre-related issues before they even happen," explains André Weisz.