Design awards for Hankook Kinergy 4S², concept tyres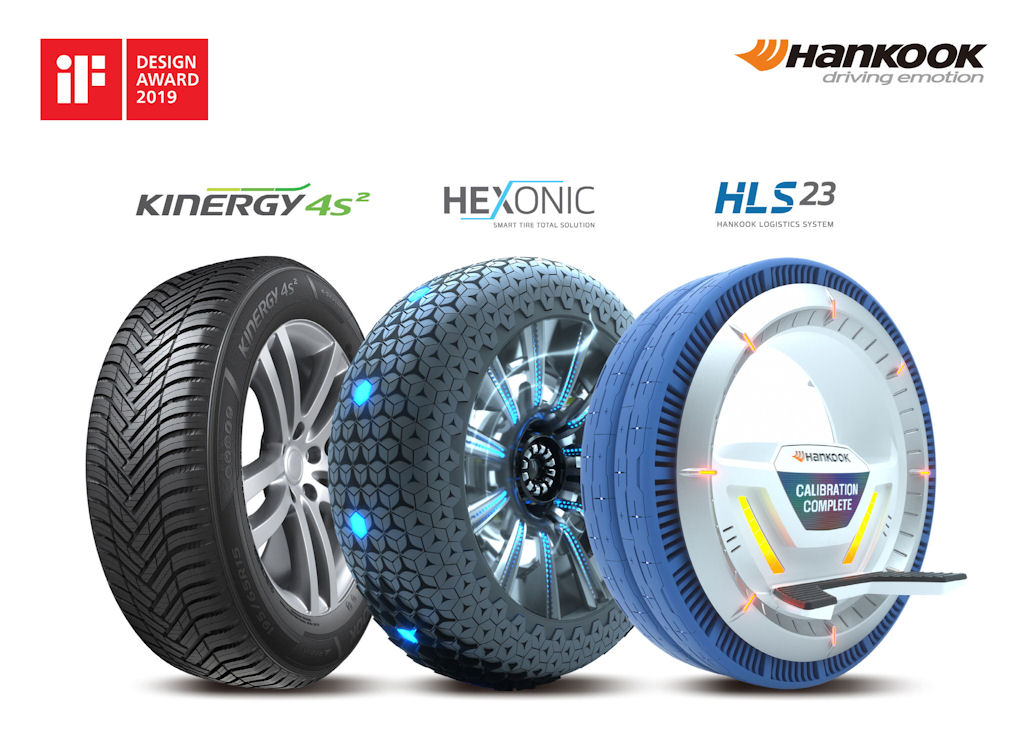 Hankook Tire has been named a winner in two categories of the iF Design Award 2019. We won't know all the details until the awards ceremony is held on 15 March, however the tyre maker says it is receiving three awards in total in the 'Professional Concept' and 'Product' award categories for its work on the Hexonic and HLS-23 concept tyres and its Hankook Kinergy 4S² all-season car tyre.
The Kinergy 4S², a winner in the Product category, was launched last year. The two concept tyres were developed in collaboration with students from the Royal College of Art (RCA) in London. Hexonic is a tyre for fully-autonomous vehicles used in car sharing applications; it utilises smart sensors to provide optimised driving solutions. The HLS-23 presents a concept of how a sustainable future logistics transport system can be guaranteed through road-coordinate recognition and self-charging.
"It's an honour to be awarded the iF Design Award," states Hyun Bum Cho, president and chief executive officer of Hankook Tire. "We set out to create the most practical yet attractive tyre design and are proud to be recognised by one of the world's most prestigious design awards." He adds: "Hankook Tire will continue its commitment to building the most innovative high-performance products."
The iF Design Award is presented by German marketing consulting firm the International Forum Design. Each year, iF Design Award entries are classified into seven disciplines, – Product, Packaging, Communications, Interior Architecture, Professional Concept, Discipline Service Design and Architecture – which are then categorised into 72 sub-categories. Entries are assessed on ten evaluation criteria, including innovation and elaboration, functionality, aesthetics, responsibility, and positioning. This year, around 6,400 entries from 50 countries were presented.