Awards for Hankook's 'climate change' concept tyres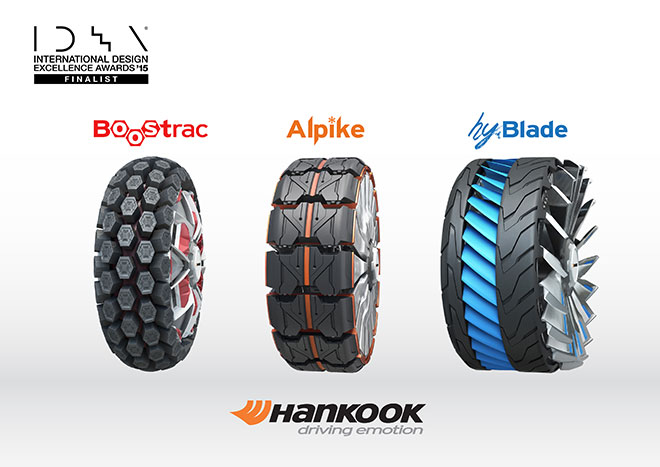 Hankook Tire reports that several concept tyres it developed in collaboration with Germany's Pforzheim University have landed 2015 Red Dot Design Award and 2015 IDEA (International Design Excellence Award) honours.
The tyres were produced by Hankook Tire and Pforzheim University as part of the 2014 Hankook Tire Design Innovation project. The challenge was to develop concept tyres capable of performing in extreme driving conditions, the kind of environments that may occur as a result of climate change caused by global warming.
Students from the university's schools of design, engineering and business teamed up with Hankook Tire to create three concept tyres – they came up with the Boostrac, a tyre with a variable tread block structure that can expand when required, leading to improved traction on steep inclines and in rough, desert-like conditions; the Alpike, which is designed with "tyre circumference expansion capabilities" that raise ground clearance for use in heavy snow; and the hyBlade, a tyre equipped with waterwheel treads and side spikes for efficient water draining and improved steering control in heavy rain.
The first of this trio was designated a 'Best of the Best' product at the 2015 Red Dot Award. Hankook notes that it is the first tyre company to win a Red Dot Award in the Mobility category. All three concept tyres have also received awards at IDEA 2015.
"We are immensely proud to be recognised by the world's top three design awards including Red Dot and IDEA for two straight years," said Mr. Seung Hwa Suh, vice-chairman & CEO of Hankook Tire. He went on to say that "Hankook Tire will continue to improve its top-of-the-line technology and design by investing in R&D. We believe that the advances we make will further enhance our competitiveness as a leading tyre company."
The Red Dot award ceremony will take place on 25 September at the Red Dot Design Museum in Singapore.