Goodyear shares fall 12% after trading update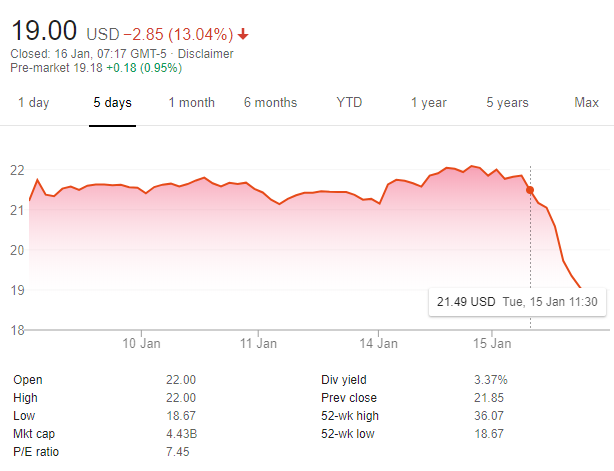 Goodyear's share price fell 12 per cent after the company published a trading update with the US stock market Securities and Exchange Commission ahead of Detroit Motor Show presentation scheduled for 15-16 January 2019.
According to the filing, The Goodyear Tire & Rubber Company will publish fourth-quarter 2018 tyre unit volumes figures that show a decline of approximately 3 per cent due to slowing demand in China and India, specifically the OE environment in those countries.
In addition the company expects declines the European winter tyre market "late in the quarter" as well as "supply constraints on volume for high-value-added consumer and commercial truck tyres in the United States".
Price/mix was described as "positive" during the fourth quarter of 2018 but was less than anticipated.
As a result, Goodyear expects full-year 2018 net income is to be "slightly below" the company's previous guidance of approximately $1.3 billion.
According to the Financial Times, Goodyear's share price went from a 0.7 per cent increase to 4 per cent drop following the publication of the news, before registering a 12.3 per cent total decline for the day – the worst one-day fall since 2011. Cooper Tire shares also fell 6 per cent on 15 January, but a day later they were back in neutral territory.
The latest big premium tyre manufacturer share price drop was in October 2018 when Michelin predicted that demand was softening. However, by December 2018 some analysts were suggesting that Goodyear shares would pick up in value.