Proflow range extended to further support modern Land Rover and VAG Group vehicles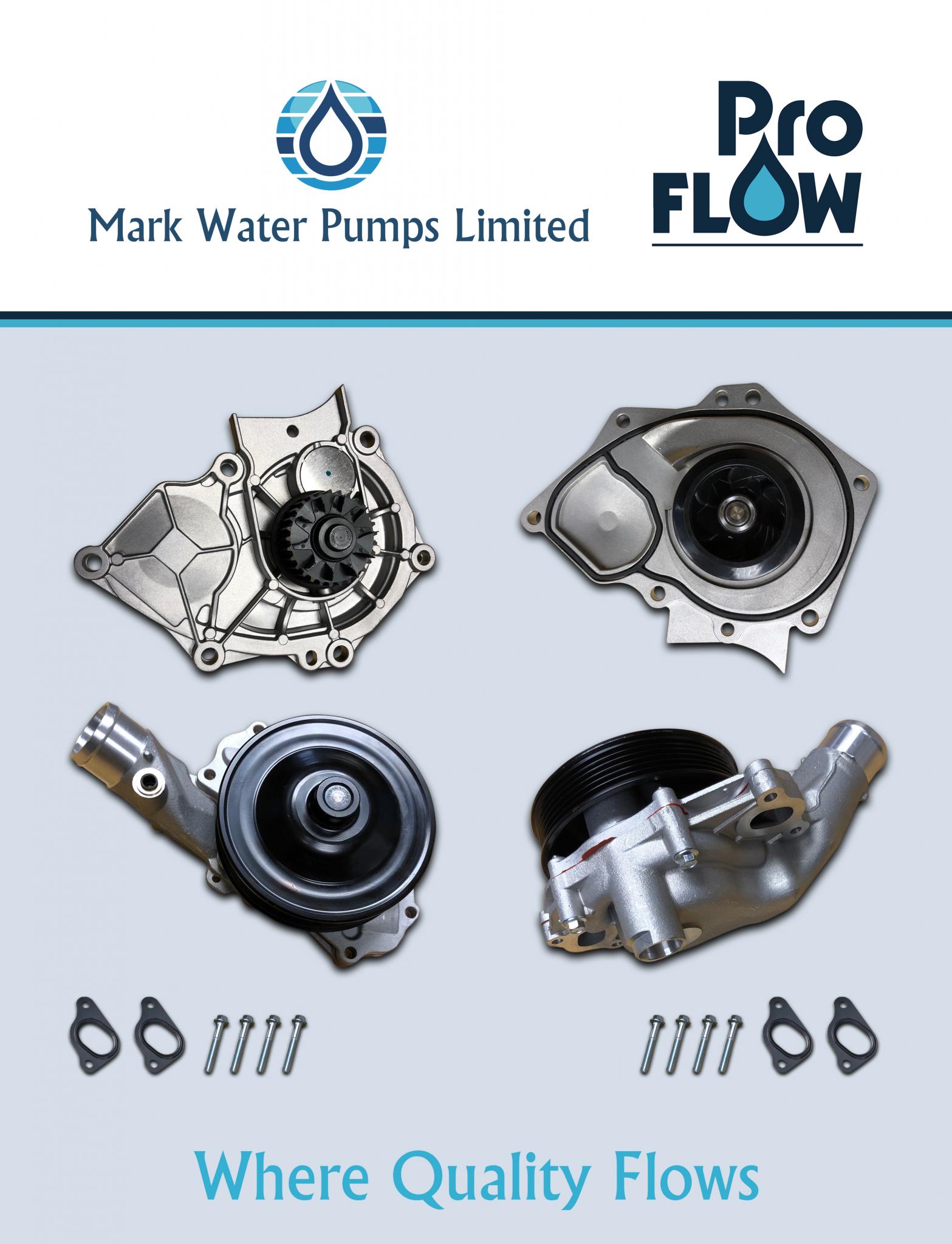 Mark Water Pumps Limited (MWPL) has added two new part numbers to its Proflow range of high-quality automotive water pumps, boosting support for modern Land Rover and VAG Group applications. As a major water pump supplier to OEMs, users can be confident of a component that offers a long service life and OEM levels of performance.
The first new water pump (MWP3865) is aimed squarely at modern Land Rover and Range Rover applications, supporting the Discovery IV and Range Rover IV, as well as the 5 litre Mk III Range Rover and all models of the surprisingly dynamic Range Rover Sport from 2009 onwards. This pump is based on the later OEM 2-piece casting, a much more reliable water pump design than the initial 3-piece Land Rover design. MWPL is a supplier of OEM water pumps to Jaguar Land Rover, so customers can be sure they are receiving an optimum part.
The next addition (MWP3868) is aimed squarely at VAG applications, including a huge range of Audi, Porsche, Seat, Skoda and Volkswagen cars. Audi models covered range from the A1 to the A7, also including the Q3, Q5 and Q7 SUVs, as well as the TT and a number of the 'hotter' S models. The pump is also a perfect fit for the Seat Alahambra, Ibiza and Leon TSI/Cupra. Suitable Skoda's include the latest Octavia and Superb saloons or estates. Volkswagens are also extensive, with the Jetta, Passat, Polo, Scirocco, Sharan Touran, T-Roc and Golf (including the pocket rocket GTI and R models) utilising this component. Finally, the pump also fits the Porsche Macan 2-litre compact SUV.
MWPL regularly releases new parts to market, which is aided by the business' in-house capabilities. Combining design, manufacturing and testing facilities at its headquarters in Colwyn Bay, Wales, MWPL offers a consistent approach to quality due to its integrated methodology from initial design to final market release. The business' prestige in delivering quality components is illustrated by the fact the business supplies its range of Proflow water pumps to OEMs such as Volvo, Aston Martin and Jaguar Land Rover.
Those ordering from MWPL can also be sure of a responsive service, due to its streamlined logistics service and in-house warehouse capacity. Instead of waiting on a container to make it to port, MWPL customers can gain the benefits of a localised supply chain in the UK, offering consistent lead times on orders of almost any quantity. This is particularly pertinent to customers operating just-in-time component delivery strategies, which can be supported by MWPL, drawing on its extensive experience in supplying to leading automotive OEMs.
David Lewis, plant manager at MWPL, commented on the new component additions: "The two new pumps we've added to the Proflow range are aimed specifically at premium modern cars, which demand high quality replacement components to preserve the driving experience. Our existing range holds over 500 product references, covering a wide range of applications. Ultimately, we want to provide our customers with a blend of quality and choice, while offering short lead times across the range."