Three-way success for Mark Water Pumps at Automechanika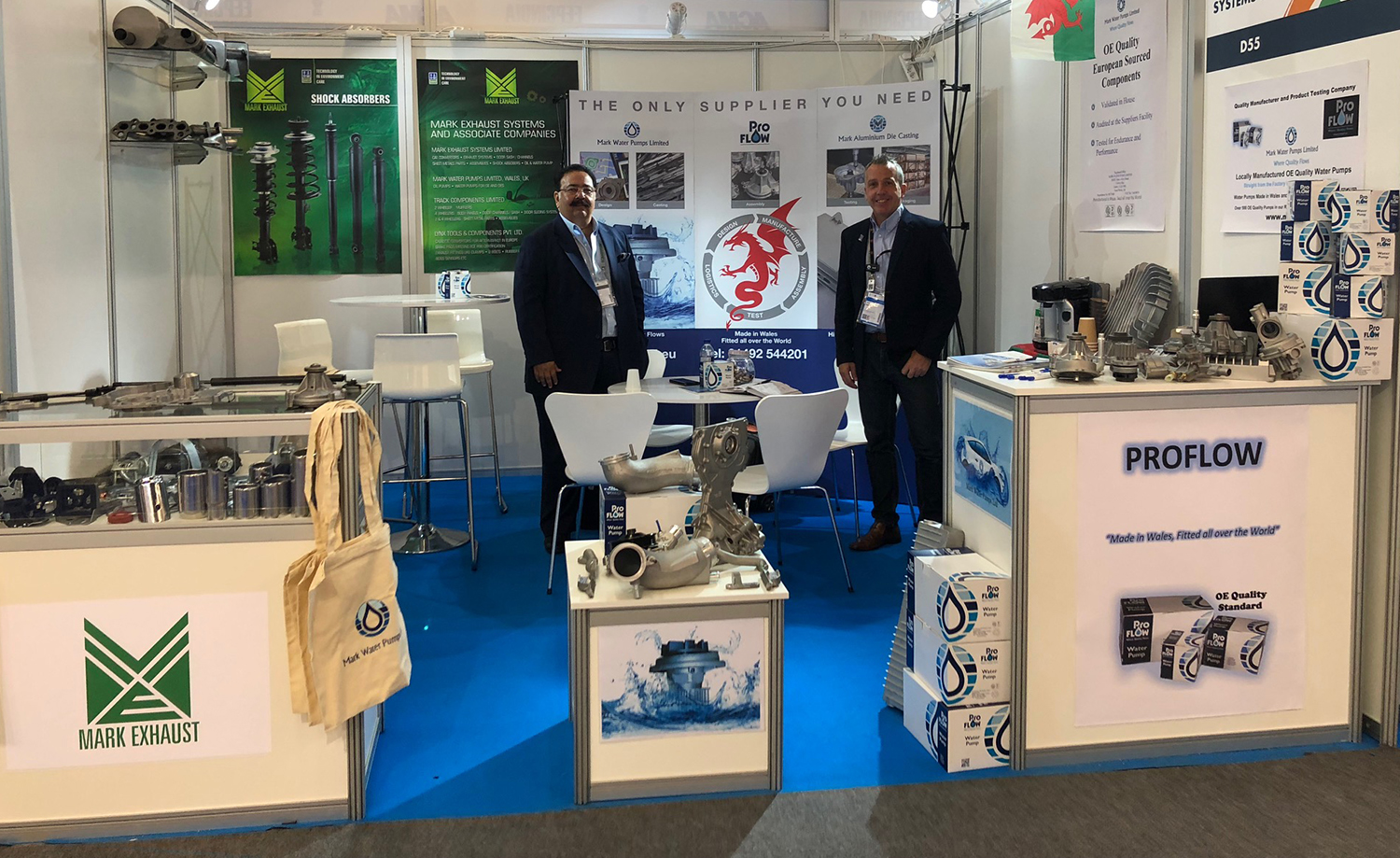 Making headway in key overseas markets, increased interest at home and totally new opportunities were all evident to Mark Water Pumps Ltd from its stand at the recent Automechanika exhibition in Frankfurt.
David Lewis, plant manager for MWPL, says: "We always promote the fact that we are a quality UK manufacturer of Original Equipment parts. We do our own casting, machining and assembly in-house in our North Wales plant, as well as having a full design capability. This message certainly paid off at Automechanika this year as many potential new British customers are looking for domestic suppliers for 2019 and beyond."
Lewis says the MWPL stand was sought out by many automotive and aftermarket companies, from Britain and also around the world, who are trying to find robust supply chain partners from next year. Importantly, they need manufacturers who are flexible and able to react quickly on a right-first-time basis, criteria MWPL is able to meet because of its comprehensive in-house facilities.
Also of note, was the number of stand visitors from North Africa and the Middle East. "Currently we have only a few customers in each of these regions," he says, "but we have been working hard to promote our products and services.
"Perhaps it is only to be expected, but one of the main interests from these regions is for our Jaguar/Land Rover (JLR) aftermarket products. Both regions have a lot of tough terrain so four-wheel drive vehicles are almost the de facto choice and our JLR range fits many makes."
There were also more enquiries than expected for new opportunities, including non-automotive use of MWPL's pumps and high-quality aluminium die castings, which are typically used as housings for customers' own products.
David says the global map for manufacturing in changing. "Ten or fifteen years ago, it seemed that the UK, Europe and the West were becoming post industrial economies and all manufacturing was moving to China or its neighbouring countries. However, issues like quality control and long-distance logistics have led to a swing back the other way. MWPL is increasingly being seen as a preferred supplier by many customers.
"Our design, manufacturing, delivery and support services are all world-class, and our responsiveness to changing customer requirements means we can become far more than simple parts suppliers," he says.
Automechanika is the world's biggest trade fair for the automobile aftermarket and supply chain, playing host to nearly 5,000 of the industry's leading suppliers and welcoming visitors from around the world. Mark Water Pumps Ltd (MWPL) is a regular exhibitor and says this was one of the most exciting years yet.
Mark Water Pumps Ltd designs, manufactures and tests water pumps and cooling pumps for Original Equipment, Original Equipment Service and Aftermarket applications all from one UK site, where it also holds large stocks of popular parts. Its design team is adept at rising to new challenges and developing solutions for an increasing wide range of applications.