First Line introduces new water pump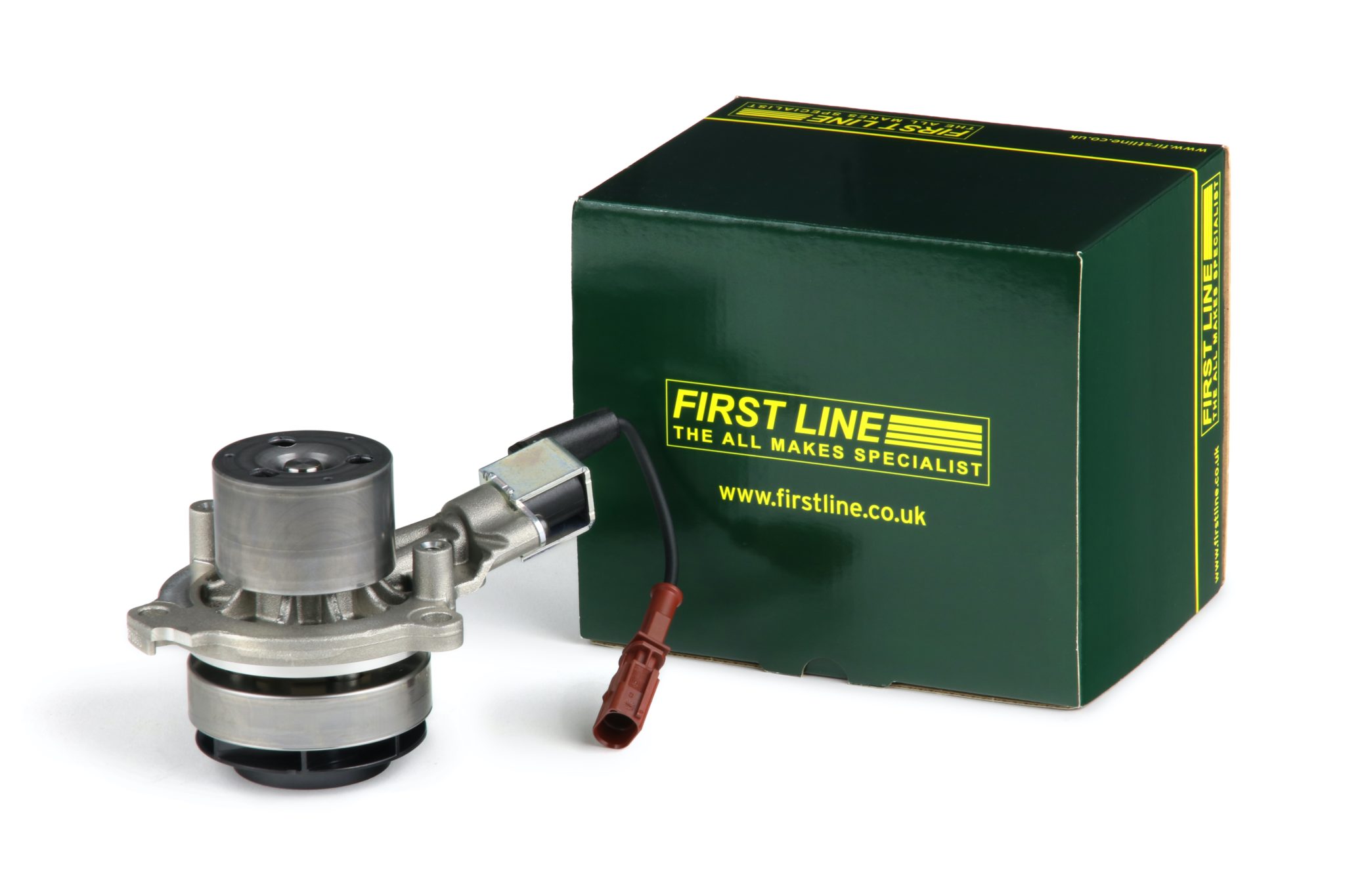 First Line has recently introduced a replacement water pump with an electric valve to accommodate a range of VAG vehicles equipped with stop/start technology that have this specialised component fitted as standard. The pump, with the First Line reference FWP2352V, fits Audi A1, A3, A4, A5 and Q3, Seat Leon, Škoda Octavia, VW Passat, Golf, Tiguan and Transporter 1.6TD and 2.0TD 2012 applications.
The new water pump was introduced by the vehicle manufacturer (VM) to maintain greater control of the engine temperature, particularly on initial start-up and following prolonged periods of rest during the start/stop process, which helps the vehicle's emissions stay lower than they would be with a traditional pump.
At initial start-up, when the engine is cold, the valve restricts the flow of the coolant to allow the engine to warm as quickly and efficiently as possible, before working as a conventional unrestricted pump once the engine reaches its normal operating temperature.
However, when the vehicle restarts after the start/stop technology has cut the engine at traffic lights for example, the pump is able to control – via the vehicle's ECU – the coolant flow through its valve, to ensure the engine temperature does not drop below a pre-determined level, which allows the vehicle to be kept at its optimal running temperature, thus keeping the emissions down. This is particularly useful if the vehicle is constantly starting and stopping in heavy traffic, has had a prolonged stop or if the ambient temperature is low.
Being a common replacement part for the aforementioned applications, demand has also created a need for an alternative replacement for the more price conscious motorist, however this pump is without the electric valve and is not recommended, as this is not what the vehicle was originally fitted with. This is available from First Line as well, (FWP2352) however it is always advised to supply the pump with valve as this is the OE specification replacement product.
Global marketing director, Jon Roughley, said: "This electric valve water pump is an exciting VM development, specifically designed to help reduce emissions and it's the responsibility of the workshop to ensure these standards are retained following the service and repair of these vehicles. We pride ourselves on providing the aftermarket with a comprehensive and reliable replacement solution across a broad range of product groups and this water pump is the latest example of how we constantly introduce the products that workshops need, to allow them to do so."