First Line launches online returns portal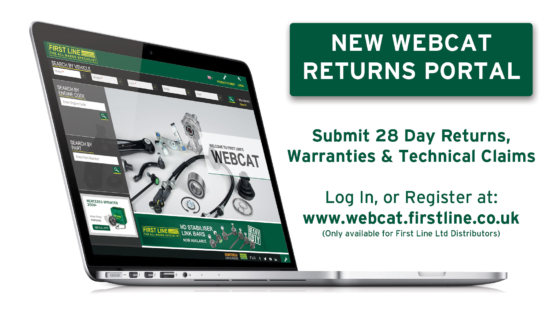 Auto component supplier First Line is committed to providing its customers with the best service and support possible, which is why the company has introduced a new online portal that gives them a simpler, more efficient way to process their returns and warranties claims.
Customers can access the portal through First Line's market leading WebCat and once logged-in, which simply requires them to register, they will see a dashboard where they can submit a warranty claim or monitor the progress of one that is already in process.
Once registered for WebCat, users simply need to email info@firstline.co.uk with their username and customer account number, requesting access to the Portal and the company will complete the set up process.
By completing claims online and submitting supporting images, they will be processed more efficiently, as this cuts out the logistical movement and physical handling of the parts, thereby enabling First Line to assess the cause of the problem online and, if accepted, process credits more quickly. Some parts, where necessary, will still be returned to First Line if a more detailed inspection is required.
Global Marketing Director, Jon Roughley, said: "We've been developing this portal for a while to ensure it's working perfectly and is easy for customers to use, as well as asking them to test the system before we officially launched it. Now it's live, and particularly because of the COVID-19 pandemic, they are relying on it even more than we initially expected, but so far we've had great feedback about how easy it is to use and efficient it makes the process.
"It's now important for customers to ensure they are set up and familiar with the new system, to fully benefit from the efficiencies the software provides. This is a positive step forward and reinforces the hassle-free relationship our customers value when buying products from First Line.