Falken's urban truck tyre proving itself in waste & recycling sector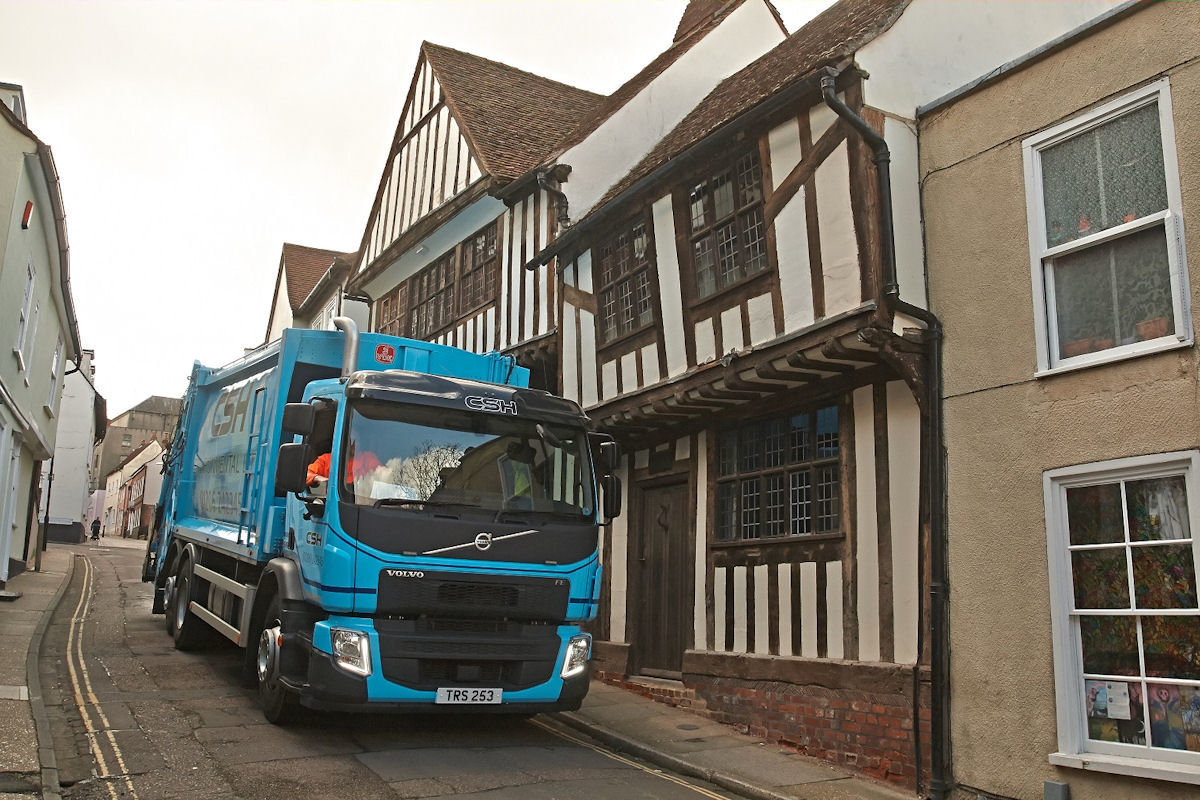 Following the introduction of new high-load models, Falken Tyre's RI151 regional tyre is proving its performance and durability in one of the harshest commercial environments, the waste and recycling sector.
Demand is high for greater load-bearing tyres, and in response Falken boosted the index rating of its RI151 steer axle tyre, making it suitable for loads of up to eight tonnes. Amongst the companies benefiting from the tyre's upgraded index rating is family-run waste management contractor CSH Environmental, which operates a fleet of more than 30 trucks and company vehicles. With three decades of industry experience, the Essex-based business has been putting the RI151 through its paces on one of its 26-tonne Refuse Collection Vehicles (RCV).
RCVs, skip trucks and truck-mounted vacuum sweepers operate in some of the toughest conditions of any commercial vehicle. Falken notes that the particular RCV chosen for the test is employed on one of the company fleet's most challenging routes. Driver Chris Percival operates in the oldest part of the historical town of Colchester, navigating narrow and busy streets to service the town's retail units and hotels, which are often further restricted by the presence of parked cars near the waste and recycling containers.
In this environment, kerbs and traffic calming measures are a tyre's greatest enemy. "In the waste and recycling industry, tyres don't typically tend to wear out, they generally fail prematurely due to sidewall or puncture damage," explains Garry West, depot manager at CSH Environmental. "Continuously mounting and dismounting kerbs, as well as traffic calming measures, means that the tyre sidewall is put under a lot of stress. It needs to withstand regular contact with high kerbstones and endure crushing as the RCV navigates tight streets and parked cars."
This is the most important criteria for CSH Environmental when looking for suitable tyres for its fleet, West states: "Although we want a tyre to deliver good mileage and have even wear, the priority criteria for us is to have a durable sidewall and be resistant to punctures to ensure longevity."
Although used for 130 collections a day, six days a week, the Volvo FE 280/VDK Incomol 'Pusher 4000' RCV driven by Chris Percival has only clocked up around 20,000 miles since it arrived. However, in that time it has got through five drive axle tyres through premature failure as a result of kerb damage.
Tyre failure isn't something that CSH Environmental takes lightly. The collection fleet has a tight schedule to keep and customers to service; any delay can have significant costly consequences for the company. "Downtime is something that we really want to avoid," Garry West stresses. "Each of our drivers has a packed schedule, so unexpected down time and delays can have a real knock-on effect on the service we provide. Additionally, an out-of-action RCV on the side of the road in Colchester can cause substantial traffic issues as the roads are narrow and easily blocked."
In addition to durability, West's ideal tyre must tick other boxes: "Tread pattern is a consideration as we need to operate in all conditions throughout the year, but we don't need big treads as most of our vehicles are road-going. Trips to landfill are scarce now and even on construction sites there are compounds for refuse, so our fleet doesn't need to go off-road. We obviously need to ensure the tyre meets the appropriate load index, and ultimately be a cost-effective solution for our business."
Over the years, CSH Environmental has experimented with at least six different tyre brands. "As a company, we spend a lot of money on tyres, so we need to make sure we have the most effective solution on the market. We've spent a lot of time seeking the best performing and most cost-effective solution for us."
CSH Environmental is currently trialling Falken's newly-uprated RI151. Percival's Volvo has been shod with Falken rubber for the past six months and has received positive feedback. "The Falken RI151 is performing well. Our driver, Chris, has given us positive reports and is very happy with the performance," shares West. "The tyres have been well and truly challenged as it's one of our worst routes for tyre demand and there has certainly been less sidewall issues than we've had with several other brands, so we are impressed."
The compound used in the Falken RI151 was developed using Advanced 4D Nano Design. This high-end materials research simulates the complex interactions of the tyre compound at the nano-level to ensure excellent traction, wear and high mileage, while also delivering an outstanding long-lasting casing with the ruggedness and durability to withstand the high demands of commercial vehicles such as RCVs.
The tyre bears the Three-Peak Mountain Snowflake (3PMS) as evidence of traction capability in all weather conditions, including icy and snowy roads, while stone ejectors in the tyre pattern prevent foreign bodies being lodged in the grooves and damaging the tyre.
The technology behind the tyre is proving effective: "The Falken tyres are wearing well and evenly. They are absorbing the terrain well, so there is little vibration in the cabin. They're spongey going up and down the kerbs, making for a comfortable ride, too. Ultimately, the driver is very happy with the Falken tyres, which is important for us," adds West.
CSH Environment is now looking to trial Falken tyres on other fleet vehicles, including those where mileage is higher and wear resistance thus more important. "We have vehicles that cover more distance, doing 70 to 80 pick-ups a day in more rural locations. They're in operation for ten hours, six days a week, and we're looking forward to seeing how Falken tyres perform on these vehicles."
Falken's new high-load RI151 is now available in sizes 295/80R22,5, 315/60R22,5 and 315/70R22,5. In addition, Falken has introduced new high-load versions of its GI388 tyre for regional transport and construction-site use (13R22,5 and 275/70R22,5, and low-loader size 265/70R19,5), along with a high-load version of its SI011 winter truck tyre for steering axles (315/70R22,5).