Continental adds features to ContiConnect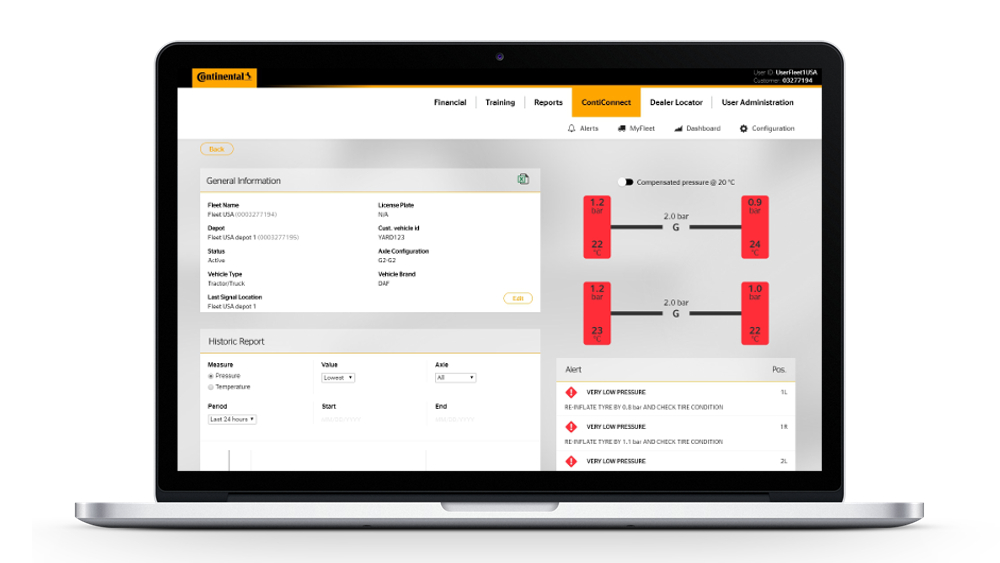 The first update made to the ContiConnect digital tyre monitoring platform has gone live. Continental has added further functions to the web portal and refreshed its look. The new features also link ContiConnect services directly with fleet operations, enabling digital monitoring data to be used during tyre maintenance.
The key new features available for all ContiConnect users as of 25 October are:
• Individual notification rules regarding tyre temperature and pressure with custom thresholds
• New filling assistant supports precise tyre inflation regardless of the tyre's temperature
• Printable task lists with open to-dos for efficient overview of maintenance tasks for workshop employees
• Data export enables individualised analyses and allows for processing in further systems
• Manual tyre data upload to the web portal, called ContiConnect Light, enables tyre monitoring without a yard reader station or telematics integration
The new features were created on the basis of customer feedback. "Customer feedback is very important for our further development of ContiConnect and its features according to fleet operators' needs," notes Karim Fraiss, head of marketing and operations, digital at Continental Commercial Vehicle Tires. "In the future, we want to put even more focus on our co-creation approach in order to maximise the value we can deliver to customers using our digital tyre monitoring platform."
These latest features add to a range of fleet tools that initially came to market with ContiPressureCheck in 2013. Since then, Continental has evolved its offer, and the tyre monitoring system for individual industrial vehicles is now integrated into solutions from more than 35 telematics providers worldwide. A complementary solution for monitoring the tyres of multiple vehicles, ContiConnectYard, was released in 2017 and is already available in 15 markets. This solution transmits data directly to fleet managers, sending notifications when issues arise.
A further evolution was presented at the IAA Commercial Vehicles 2018 show. ContiConnect Live, which will be available from the second quarter of 2019, informs truck and bus fleet operators immediately if a problem with the temperature or pressure of a tyre is detected, even when the vehicle is on the road.