All-rounders take top honours in ams winter tyre test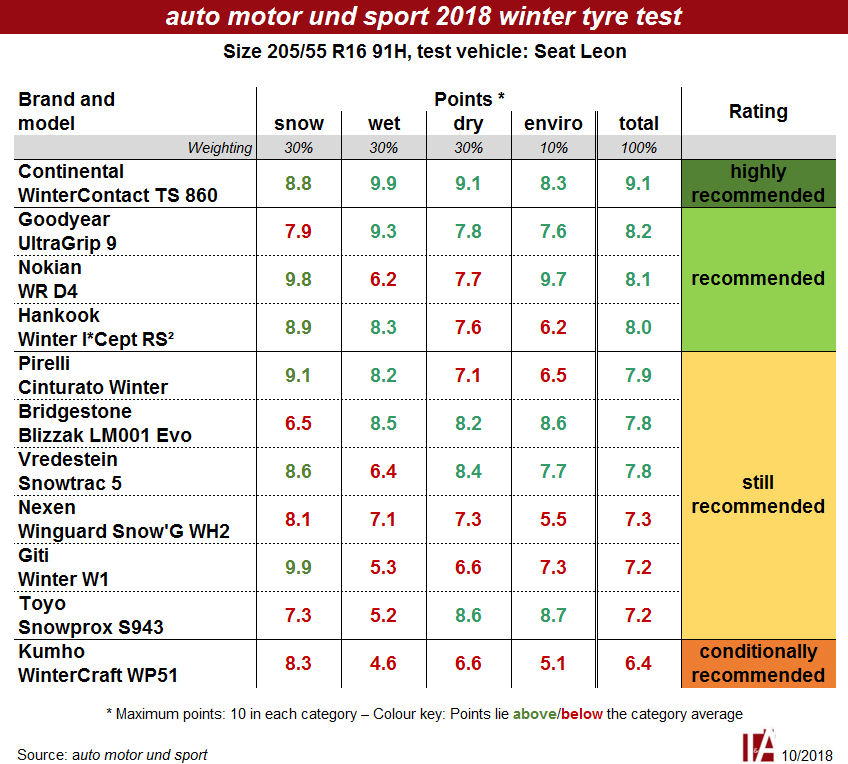 Debuting in 1946 and featuring US army runabout the Jeep in its first issue, auto motor und sport (ams to abbreviation-happy Germans) has grown into one of Germany's leading motoring publications and a regular feature in the tyre testing landscape. After publishing its 2018 all-season test in the first half of September, ams has turned its attention to winter tyres.
The same, popular 205/55 R16 H fitment tested by the ADAC has been selected for the ams treatment, with 11 tyres called upon to defend their honour. The candidates were fitted to a Seat Leon and evaluated for winter, wet and dry performance (each criterion worth 30% of the total score) as well as rolling resistance and tyre/road noise (10%).
Continental WinterContact TS 860
Continental's flagship winter product has proven the star of this year's winter tyre tests so far. Ams found the WinterContact TS 860 easy to control on snow and perfectly tuned to ESP systems. The Continental tyre also gave "phenomenal wet performance" and was "active but sure on dry surfaces." The testers observed that while traction could sharply drop off on snow, the WinterContact TS 860 nevertheless offered good steer angle reserves. For its efforts, the tyre gained a rating of 'highly recommended'.
Goodyear UltraGrip 9
Joint winner of the ADAC test for this tyre size, Goodyear's UltraGrip 9 had to accept second place here. The team at ams judged its performance slightly below that of the Continental tyre in all disciplines, and for this reason the Goodyear tyre's total score only sufficed for a 'recommended' rating – still an enviable result. The UltraGrip 9 offered good snow traction, albeit with weak lateral control, and was "precise and easy to control on wet and dry roads." The testers at ams weren't as keen on the tyre's overall performance in snow conditions, however, and noted a lack of balance there. Other criticisms included an "imbalance between longitudinal and lateral grip" as well as a "lack of lateral control in the dry."
Nokian WR D4
Another point of difference between the ADAC and ams tests is the Nokian candidate's evaluation. While the motoring association placed the WR D4 halfway down its league table, after ams tested the same tyre dimension it invited Nokian onto the victors' podium. Scoring just a tenth of a point less than the Goodyear tyre overall, the WR D4 gave the best snow performance and lowest rolling resistance of the group. The testers found it "precise, easy to control and reliable" and noted that its performance in the dry was also "acceptable." On the flipside, the tyre showed "shortcomings in the wet," in particular during braking. Ams also described the WR D4 as "somewhat blustery." Rated 'recommended'.
Hankook I*Cept RS²
Absent from the ADAC test, the I*Cept RS² from Hankook received a 'recommended' rating from ams. "Very reliable, precise and with plenty of traction on snow, sure and easy to control in the wet, with an equally safe tendency towards understeer in the dry," wrote the motoring publication's testers. The Hankook tyre didn't win any friends with its dry braking performance, though – stopping distances were considered comparatively long – and rolling resistance was also quite high.
Pirelli Cinturato Winter
Further praise for the Pirelli rubber's behaviour in the wet. Ams found handling on wet road surfaces, as well as on snow, "sure and balanced." Mechanical comfort was also good. The down side? "Performance on dry roads is undistinguished and handling less than clear," wrote ams. The testers also noted a humming noise in curves as well as raised rolling resistance. The Cinturato Winter was rated 'still recommended'.
Bridgestone Blizzak LM001 Evo
"A very neutral tyre to drive and grippy in the curves," writes ams. Steering was also considered spontaneous and sure during lane changes in dry conditions. The Bridgestone tyre's snow performance was less impressive – ams reports that the Blizzak LM001 Evo offered "weak traction, a light tendency towards oversteer and poor lateral control on snow." A weakness during curved aquaplaning testing was also noted.
Vredestein Snowtrac 5
The Snowtrac 5 has a reputation for good winter performance, something confirmed by ams. They found the Vredestein tyre to offer "good traction" and "harmonious winter characteristics with the exception of braking." Furthermore, performance in the dry was "above average," yet wet performance was viewed as just "acceptable" and wet braking as "weak." The Snowtrac 5 gained the same 'still recommended' rating given to its rivals from Pirelli and Bridgestone.
Nexen Winguard SnowG WH2
The testers from ams were satisfied with how the Nexen tyre performed in the snow tests and they also considered its wet braking good. Yet handling in the wet wasn't so well-balanced, and the testers described the Winguard SnowG WH2's protection against aquaplaning as "bad." A lack of balance in the dry weather disciplines was also observed, and rolling resistance was high. Rated 'still recommend'.
Giti Winter W1
The Giti brand's winter offering was praised for its "phenomenal and reliable snow performance." Unfortunately, the snow disciplines only accounted for 30 per cent of the total score, and the Winter W1 was penalised for its limited ability to prevent aquaplaning as well as "little grip and a strong change of load response in the wet, low steering precision, weak control and imbalance in the dry." Also rated 'still recommended'.
Toyo Snowprox S943
The final tyre to gain the 'still recommended' rating was the Snowprox S943 from Toyo. It was "very precise" and easy to control in dry cornering tests, and ams comments that the Toyo tyre "harmonised perfectly with the vehicle's control system." The fun stopped with less than impressive snow performance and "very weak wet braking" as well as "strong change of load response and oversteer when cornering in the wet."
Kumho WinterCraft WP 51
Ams reserved its red 'thumbs down' symbol for the WinterCraft WP 51 from Kumho. The testers found the tyre's winter characteristics fairly good and commented that tyre/road noise levels were low; however, they also noted a number of issues. These included a lack of balance in snow driving and a disharmony between forwards and sideways grip. They also found the Kumho tyre "weak on wet and dry surfaces" and reported "very high rolling resistance." The WinterCraft WP 51 was given a 'conditionally recommended' rating.
Conclusion
In its test summary, ams stresses the importance of a winter tyre being a good all-rounder rather than – as with some lower-ranked tyres – delivering exceptional performance in just one discipline. The publication points out that while winter tyre development tended to focus on snow and ice characteristics in past years, manufacturers are increasingly placing a greater emphasis on cold wet performance and driving in the dry – conditions European (and British) motorists are more likely to encounter during everyday driving. At the same time, they're striving to push tyre/road noise and rolling resistance towards summer tyre levels. In other words, the gulf between winter and all-season tyres is narrowing.
"The challenge for developers is to combine all these requirements in a single tyre," writes ams. "The result: a compromise that, we believe, the Conti developers have, ahead of Goodyear, succeeded in at a very high level. Not with top performance in individual disciplines, rather with constant good performance on all surfaces."
The publication also warns motorists of the risk involved in buying (typically online) grey market winter tyres intended for other regions: "These are frequently offered at affordable prices. But these tyres are inappropriate for Central European asphalt and temperatures." Ams comments that grip on wet and dry roads are a low priority for these tyres and the use of soft compounds means their treads "melt like ice in the sun" when driven at higher speeds. Tyres intended for the harder winters of Scandinavia or Russia can often be identified by the use of words such as Ice, Arctic or Viking in product naming, a low speed rating such as S or T and a sidewall marking indicating that these are 'studdable' tyres.