Maxam introduces MS708 solid OTR tyre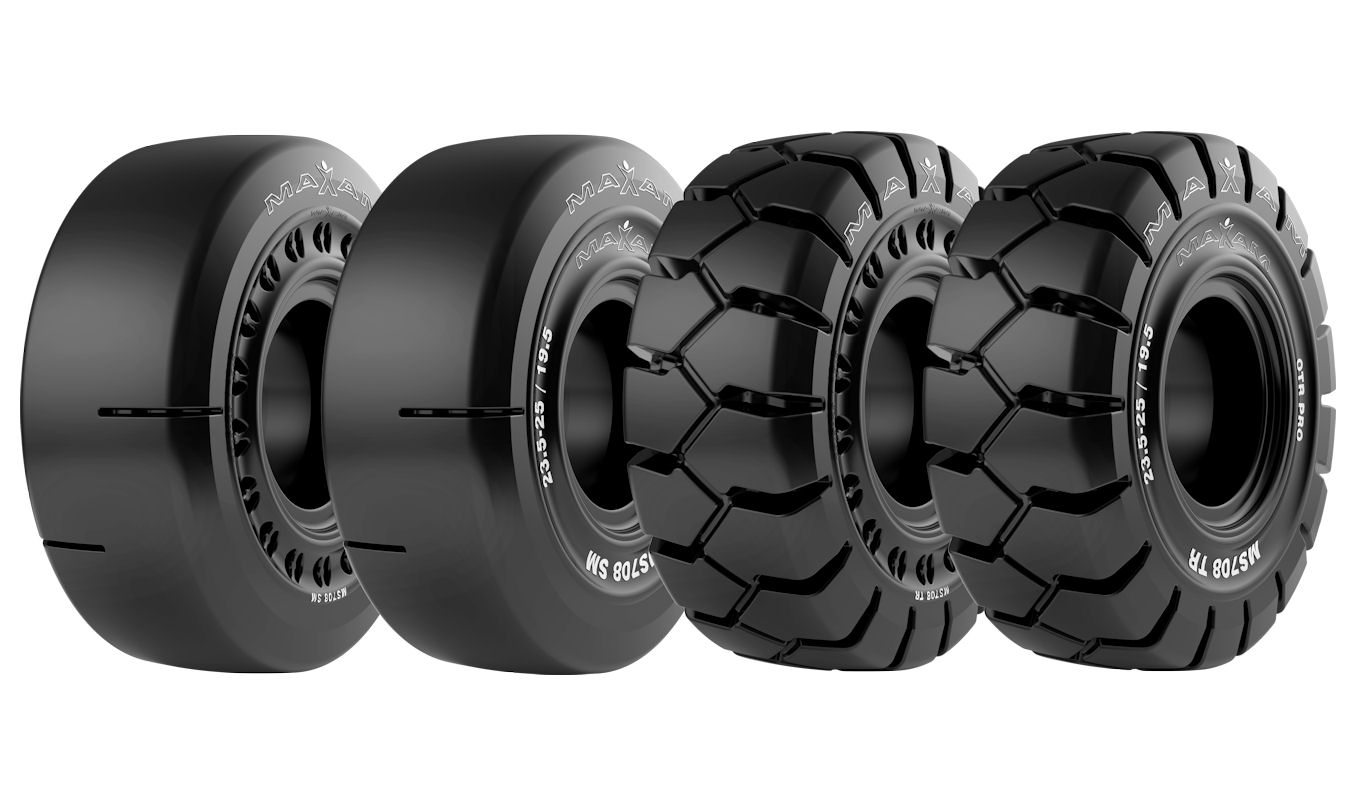 Birmingham headquartered OTR, industrial, construction, and agricultural tyre supplier, Maxam has created what it calls a "first of its kind", the MS708 solid OTR tyre. The MS708 features "zero maintenance" solid construction, long tread life, high heat resistance, superior wear and cut resistance, softer ride, self-cleaning tread and mounts on standard multi-piece earthmover rims.
The need for consistently reliable and indestructible 'flat proof' tyres in extreme applications like waste transfer stations, recycling plants, scrap metal yards is increasingly vital in an effort minimise downtime and improve productivity. Maxam says the MS708 solid OTR is engineered for the most severe waste, recycling, scrap, and mining applications. It adds that the tyre is gaining popularity in a wide number of field applications because of extreme durability, superior ride quality and significantly advantaged cost-per-hour performance. The design properties of the MS708 results in zero maintenance, uninterrupted productivity, no flats, no machine downtime, no delamination, no checking air pressure and no foam fill related costs.
Maxam has also developed its line of Agrixtra agricultural tyres. The range now comprises five different product lines covering a vast range of farming applications: Agrixtra 85, Agrixtra 70, Agrixtra 65, Agrixtra XL and Agrixtra H. In addition to these tyres, the range is complemented by the Flotxtra – the MS961R offers optimum soil protection, excellent lateral stability, durability, excellent mileage performance and safety.
Maxam also offers a specialist field service to enable end-users to specify tyre solutions for their business. The company, which also has American offices in Danvers, MA, has a dedicated team of skilled product, application, and manufacturing engineers, who design tyres, while developing manufacturing processes, using state of the art facilities and equipment, to produce the entire Maxam line. Since 2011, Maxam has been part of the Sailun Jinyu Group – one of the Top 20 leading tyre manufacturers in the world.