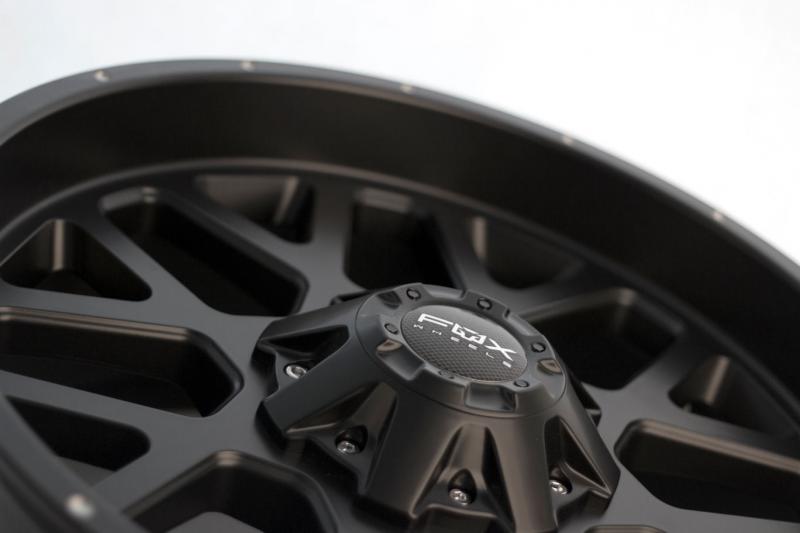 The Fox Ranger will fit a large percentage of pick-up/SUVs available in Europe
The company isn't a household name, and that is no bad thing – what is much more important for M-Sport Wheels is that its four wheel brands have established a name for themselves in the UK and European alloy rim markets. New additions in 2018 are poised to further extend the ranges' popularity.
The four 'house brands' that make up the M-Sport Wheels portfolio are Fox, Riva, F.X and Novus. As explains Craig Austin, managing director of M-Sport Wheels Ltd., each of the quartet plays a specific role within the range.
Fox Wheels is one of the longest-established brands in Europe and has belonged to the M-Sport Wheels collection since the company was established in 2014. Austin comments that the brand was already in a good place four years ago, and since then his firm has "continued to build one of Europe's favourite alloy wheel brands." Today's Fox range begins with 14-inch rim diameter sizes and goes up to 20-inches, thereby providing coverage for much of the UK and European car parc. Five colour options are available. Dedicated Fox rims for commercial vehicles are also offered under the Fox Viper name. The managing director shares that the four current Viper designs are incredibly popular models. Available in sizes for 15- to 18-inch rim diameters, all feature XXL weight ratings and ultra durable finishes.
Riva was a pioneer in the original equipment segment, and this legacy is clearly visible today – every single model in the Riva range is designed with particular car marques in mind. Availability covers 17- to 22-inch sizes, with some models featuring OE size centre cap fittings and wider, more aggressive-looking concave rear axle dimensions.
Described as a premium collection, the F.X brand offers track-derived designs in sizes starting at 14-inches and going up to 20-inches. All models in the F.X range can be obtained in satin black, hyper silver or matt carbon finishes, and two of the three designs offer the option of wider, concave rear fitments.
Austin points out that Novus is the Latin word for new, and thus is a fitting name for the latest brand to join the M-Sport Wheels portfolio. Novus was introduced in 2016 and brought with it something 'novus' – while the three other brands are made using the cast production method, the Novus range is "fully dedicated to flow forming." All three models in the range are produced using this method, and this results in rims that are up to 25 per cent lighter and 30 per cent stronger than those made from standard production. "This production technique, combined with cutting-edge designs, has seen the Novus range become a very popular addition to our collection," the managing director adds.
In addition to the four house brands, M-Sport Wheels also produces brands for others. "In our role as producer, people come to us as we offer a highly professional service, top quality and good prices," comments Austin. He adds that the company's own in-house technical and R&D teams accompany customers through the product development process, from conception and consultancy through to delivery. "All of this is done behind the scenes, for want of a better phrase."
An exciting year
Every single product in the M-Sport Wheels catalogue is designed, made and tested by the company, and all designs and brands are exclusive to M-Sport Wheels worldwide. This naturally also applies to all products arriving in the collection this year, including a pair of new releases that appear in the wheel specialist's V3.0 catalogue.
Austin states that, with several new models planned, "2018 is an exciting year for us." Pick-up and SUV drivers should keep a lookout for the new Fox Ranger; the first promo shots for this rim had just been released when we went to print. The Ranger is available for 20-inch, six-stud applications in a satin black finish. "This design has received some incredible feedback. As a dual drilled pcd (pitch circle diameter) wheel, this model will fit a large percentage of pick-up/SUVs available in Europe," shares Craig Austin.
Another recently-released design joins the Riva collection. This new model is called the BVA and represents what Austin says is a "little sidestep from our usual Riva designs." He adds that M-Sport Wheels wanted a model that "looks completely different" from the OE models in the range yet would "look at home on a variety of vehicles." The BVA is produced in 17- to 20-inch sizes and available in silver, black, grey and black/polished finishes. All dimensions feature an XL weight rating and OE centre cap fittings.
OE, aftermarket choice will grow
The alloy wheel market is very much driven by fashion, and varying tastes in different markets keeps M-Sport Wheels on its toes. Products that are well received in the UK, such as a recently-launched 20-inch XXL rim for the Ford Transit, may be met with very little demand in some other countries, and therefore M-Sport Wheels must work closely with its brands' importers to monitor market trends. "We want our portfolio to be as current as it possibly can be and we aim to have products for every vehicle on the road today," comments Craig Austin.
"The automotive aftermarket industry has had a turbulent few years to say the least, particularly the alloy wheel market," the managing director adds. Vehicle manufacturers have placed a greater emphasis upon accessories over the past few years, with most cars now delivered with alloy wheels as standard and with multiple upgrade options available. As for where the market is heading, Austin predicts that a greater number of OE designs dedicated to single marques will be introduced over the next few years: "This will result in a wider choice of both OE & aftermarket models for the end user, which ultimately of course is a good thing."
Category: Product News