CITExpo 2018: still room for small-medium Chinese players, though times are tough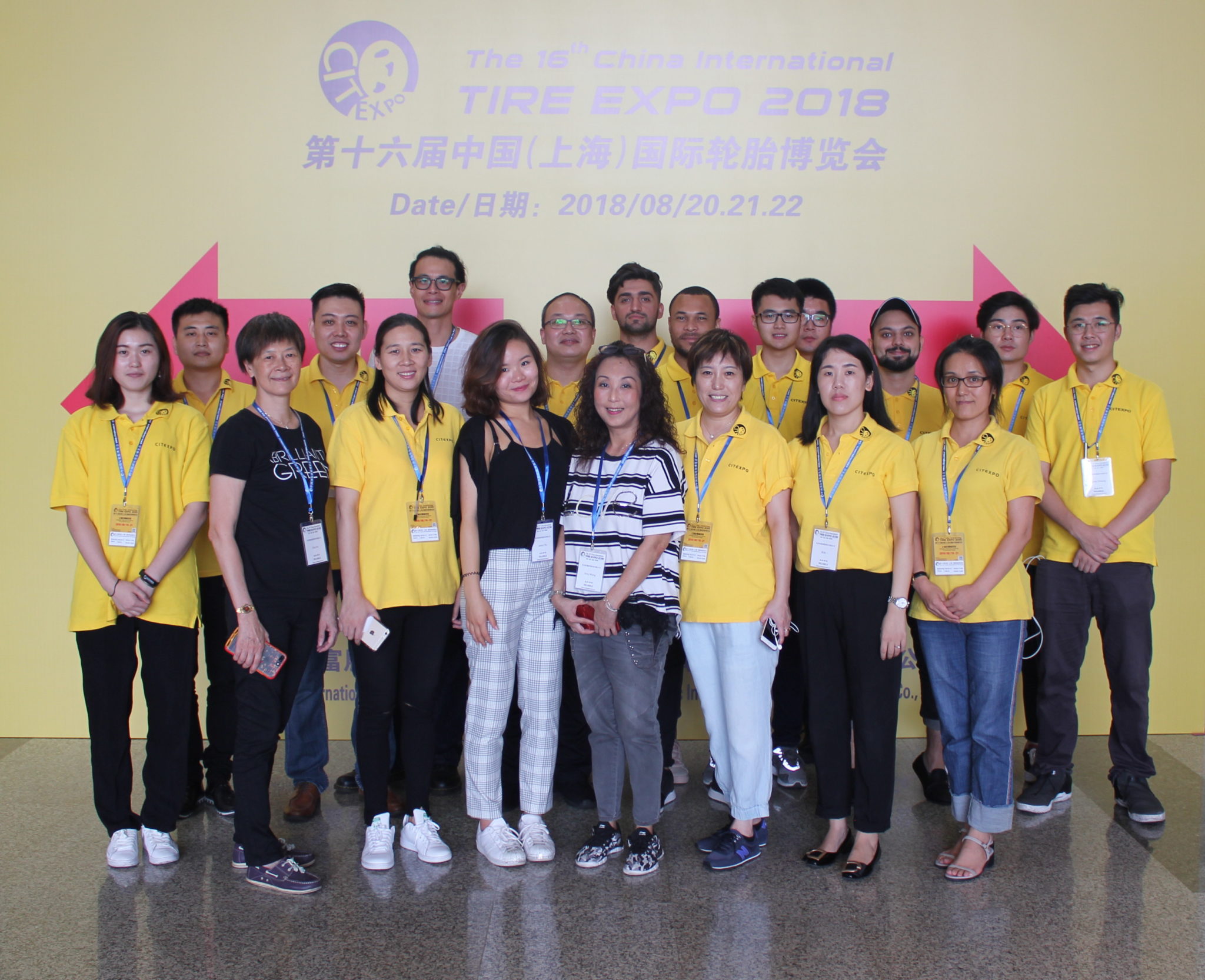 Annual show provides snapshot of the medium-sized players in the Chinese tyre industry and their attitudes towards current market trends
Visiting CITExpo in 2018 had the potential to be a gloomy affair. A trade show that has specifically targeted medium-sized tyre Chinese manufacturers as a gateway for raising global interest, the trading environment in major export markets in Europe and North America have not been the most hospitable, with tariffs or anti-dumping duties affecting various product segments. In the UK, we heard from a major Chinese truck tyre importer that business had effectively been put on hold with the announcement that the EU was imposing tariffs in May. Pressure had also been mounting domestically, as the Chinese government moved to bring a halt to production at factories it considered to be too polluting, which led to upstream supply chain problems, as raw materials suppliers to the tyre industry were among those affected.
Another consideration at the forefront of Tyres & Accessories' mind going into CITExpo was the growing momentum behind consolidation in China's tyre manufacturing sector, symbolised in particular by the bankruptcy of the Yongtai group – a company that was not only large enough to make it into 32nd place in T&A's global tyre company rankings, but which had also forged visible links with UK companies, such as its role as primary manufacturing partner of World Rally Championship tyres for British rally tyre brand Dmack – a position since handed to Cooper Tire Europe and its Melksham factory in Wiltshire – the foundation of a UK sales division for its Durun brand, and the joint investment with UK tyre wholesaler Treadsetters in the automotive supplier Covpress, which itself entered administration in 2016. Yongtai's entrance into administration, confirmed in early August just weeks before CITExpo 2018, was also preceded by news of senior managers arrested in China on fraud charges relating to suspected falsified loan materials, and the auctioning of 58 of Shandong Yongtai Group's trademarks in November 2017. More news on the group's fate is expected shortly after this magazine goes to press, as a creditor meeting is scheduled for the middle of the month in Dongying City.
While Yongtai's particular circumstances catch the eye, its rapid growth and overcapacity are far from uncommon features among businesses exhibiting at CITExpo; T&A spoke to many players with similar production profiles to that of Yongtai (6 million radial car tyres, 1.5 million radial truck tyres). The move towards protectionist reactions to Chinese exports in important markets such as Europe is the latest speed bump on an increasingly bumpy road for the mid-level Chinese tyre manufacturers that make up the bulk of the show's exhibitor profile.
So what the effects of such a context be on CITExpo itself? The show completed a successful transition from its old location, the Shanghai Everbright Convention and Exhibition Center, to the more modern Shanghai World Expo Exhibition & Convention Center several years ago, consolidating its position as the most well-established show of its kind in China. It has maintained small increases in visitor and exhibitor numbers, while the quality of displays was noticeably upgraded. At the 2018 show, organiser Reliable commented that exhibitor and visitor numbers appeared similar to the 2017 edition, an impression that was largely echoed in the two halls. Once again, exhibitors commended the show for the quality of visitor it attracted, and most were satisfied with the business they had done and the leads the show had generated. The difficult trading context had not resulted in doom and gloom in CITExpo's halls this year.
One reason for this could be found in the internationalism of the visitors; while exhibitors continue to value North American or Western European guests on their stands, the participation of other parts of the world is more or less equally attractive to many. Asking about tariffs and how they are affecting various exhibitors' businesses, many told T&A that CITExpo was helping them to connect with customers all over the world, an opinion backed by Reliable's own data about where CITExpo visitors come from. While North America and Western Europe account for 10 and nine per cent respectively, the Middle East (16 per cent), East Asia (22 per cent), and Southeast Asia (28 per cent) all top those numbers. Antipodeans and non-EU Europeans also feature in significant proportions, while many commented this year that South American and African interest in the show has increased.
Shandong Huasheng Rubber Group brings in Durun, Goldway
While few were willing to countenance being among those companies being  consolidated, Chinese manufacturers were also willing to acknowledge the need for some reorganisation in tyre manufacturing, and an example of the way these changes are being embraced by CITExpo's exhibitor base was very visible on the prominent Shandong Habilead Rubber Co stand, a subsidiary of the Shandong Huasheng Rubber Group. The Dongying City company most prominently displayed its latest brands, acquired from Yongtai, Durun, Goldway, and Banners, alongside its own existing Habilead brand. The company's promotional literature detailed 21 patterns in the Durun PCR range and 22 in Goldway, with ultra-high performance, SUV/4×4, and light commercial vehicle tyre segments all represented.
While this is just one particularly noticeable case, the move to bring former Yongtai brands into the Huasheng stable is a neat example of the wider consolidation trend that has been bubbling under the Chinese industry for a few years now. When Yongtai went into administration, T&A predicted that there would be a complete re-shaping of tyre manufacturing landscape in Dongying, Shandong and beyond as tyre manufacturers collapse and consolidate. Initiatives like the "Guangrao Tire Industry Integration Fund", established at the end of 2017 with funds of 10 billion yuan and the backing of local government, tyre makers and investment banks look set to accelerate this trend.
Huasheng representatives claimed to T&A that its production facilities have capacities of 25,000 PCR tyres and 15,000 truck tyres per day, adding that the company is currently investing in a new, heavily automated truck tyre production line. They added that around 50 per cent of its TBR production is exported, while that figure rises to 75 per cent of its PCR production.
Medium-sized players eye international production footprint
One way in which Chinese tyre manufacturers might increasingly guard against protectionist measures is by internationalising their manufacturing footprint. Indeed, the largest Chinese players in this sector, such as ZC Rubber and Sentury Tire, have been successful in achieving this already, with Thailand or Vietnam-based ventures able to reduce their reliance on producing tyres to their tariff attracting domestic market. CITExpo exhibitor Maxtrek, a brand and subsidiary of Zhaoqing Junhong, provides an example of a smaller-sized tyre manufacturer moving in this direction too; Junhong incorporated Maxtrek Tyre Manufacturing Malaysia Sdn Bhd in 2017 for an industry 4.0 factory in Pahang State. The plant is due to begin trial production in the first quarter of 2019, with full capacity expected to reach 6 million PCR and light truck tyres, as well as 500,000 truck and bus tyres.
Maxtrek representatives told T&A that Junong is pursuing a technology-led growth strategy. Its base in Malaysia is inspired not just by the production advantages it can give the brand, but also by the research and development opportunities there. The move has been incentivised by the Chinese government, as the facility will also carry out important raw materials R&D, in particular rubber substitutes, Maxtrek told T&A.
In terms of current supply, Maxtrek produces 6-6.5 million PCR tyres. The brand supplied 1.13 million tyres to domestic original equipment manufacturers in 2017, while its export channels include distribution into Europe via S&H Tyres in the Netherlands. The brand has also worked with Walmart in the USA. Its product line-up includes PCR, SUV, and light truck fitments, as you would expect, but eye-catching new developments include nearly 20 runflat sizes for its flagship car tyre, Maximus M1, and a new all-season tyre with a v-shaped tread, the Relamax 4S.
Another exhibitor building overseas production is Guizhou Tyre. The company, best known for its Advance and Samson commercial tyre brands, had already announced its plans to build production in Vietnam in 2017, and as a manufacturer of tyres for almost every segment other than PCR, its greater exposure to current Chinese commercial tyre tariffs in the EU is greater than others – though having said that, Guizhou's representatives told T&A that "more than 90 per cent" of its 7 million tyres per year capacity has been utilised this year.
Announced with an initial investment figure of 270 million dollars, the Vietnam plant on the Long Giang Industrial Park in Tien Giang Province is due to complete its first phase by the end of 2019, at which point it will produce 1.2 million TBR units per year. The company has since increased its projected investment in the site to close to half a billion dollars, with which it will add a second construction phase, due to finish in "two to three years", bringing the production of around 500,000 OTR and agricultural tyres to the same site.  It will also look into the possibility of rubber storage facilities at the same site.
Guizhou's representatives told T&A that Vietnam is attractive due to a number of reasons. With costs rising in China, Vietnam is seen as a lower cost production base, not just related to production costs, as its proximity to the sea helps to reduce logistics costs compared to an inland tyre plant; it is also close the Guizhou's domestic market, and also represents a chance to navigate the current trading environment. As an example of how tariffs have affected Guizhou in the USA, the company told T&A that exports to the country have fallen from 800,000 units two years ago to 500,000 units today.
A more extreme case of this drop in trading was presented by the Windforce brand, which sends around 1.5 million tyres to Europe – 50 per cent of its total exports. While its PCR business is continuing, its TBR exports have effectively been "postponed",since the introduction of tariffs, the company told T&A. Before that decision it was shipping 50-60 containers per month, equating to around 14,500 tyres, but since the EU tariffs, it has paused TBR exports to Europe altogether, pending the final decision.
The Kinforest PCR brand, once distributed by Micheldever in the UK, has also  faced a bumpy ride recently, with manufacturing briefly paused due to issues at the factory, in addition to the ongoing reorganisation of the Sailun Jinyu group, in whose Jinyu factory they are manufactured. US antidumping has also affected the brand. While it has invested in building a brand ready for the mature western markets, it has found the trading environment tough, and representatives told T&A that it is not easy to see its brand investment realised in alternative markets. The company is also steeling itself for further antidumping to be introduced in Europe on PCR tyres, a measure it anticipates coming in "sooner or later". Better news may be coming, though; Kinforest was in discussions with a major UK wholesaler during the show.
Wanli truck looks to markets outside traditional focus
When T&A spoke to Wanli, the company's representatives were realistic but sanguine about what US and EU tariffs have meant for the manufacturer's commercial tyre exports. The US represented a very large share of Wanli's commercial tyre exports – up to two-fifths according to Wanli – but that has now been stopped by tariffs. Likewise, the company is "pausing" sales of the products to the EU for the same reason. The timing is unfortunate for Wanli, having invested in a new industry 4.0 commercial tyre plant in Hefei City in 2015.
Wanli's representatives made the case that improvements made to its products in order to tackle mature market requirements mean that it is not easy to transfer sales of these products to developing markets. Instead, Wanli has been developing special partnerships in smaller countries to increase sales there. Wang gives the example of Uzbekistan, where Wanli is now exporting 8,000 tyres per month, making it a leading supplier in the country, according to the manufacturer. The focus on "small, atomised marketing efforts" is resulting in "strong business partnerships in smaller regions," Wanli states.
Controlled scaling up
Another way in which this year's show differed from previous editions was in the attitude to increasing capacity displayed by manufacturers. Duratti Rubber Corporation, which manufactures the Rydanz brand in addition to its eponymous range, was established in 2011, before starting production at its factory in 2014. It has a capacity of 15 million PCR tyres, but has so far held off on planned moves into TBR., a decision understandably informed by current trading conditions.
The manufacturer's representatives told T&A that it wants to "focus on product quality" in order to differentiate itself from similarly sized manufacturers. The company commented that it had seen "expansion increase too quickly at other factories" so its own upscaling was proceeding at a slower rate – although it also said that investment for upscaling was less forthcoming than previously experienced too. One reason for this could also be its customer base; the brands are currently exported in the order of 70-80 per cent of production into Asia, Africa, the Middle East, and South America, where markets are generally more volatile. Having said this, Duratti also has a well proportioned and planned product range, featuring 10 models in UHP, car, on- and off-road SUV patterns.
Marcher celebrates 20th anniversary
It's perhaps a measure of the current mid-tier tyre manufacturing landscape in China that a company celebrating 20 years in business is notable – this is what Qingdao Marcher used its stand to communicate. The construction, OTR and agricultural tyre supplier, whose Marcher and second line Roadhiker product lines are fully compliant with European manufacturing regulations,  currently has an annual production capacity of 800,000 solid tyres, 200,000 agricultural tyres, including 50,000 radial and 10,000 forestry tyres, 400.000 construction and industrial tyres, including 10,000 radials, and 100,000 OTR tyres, including 8,000 giant tyres and 20,000 radials. Located in the Qianlou Rubber Industrial Park in Qingdao, China, its 93,000sqm facility incorporates an R&D department and 62,000sqm production facility. The company's major European markets are Spain and Italy, while it also distributes products in Ireland, though less so in the UK.
Reliable's Sam Lai talks CITExpo development
There was also a change at the top of the show organisation this year, as Reliable appointed Sam Lai to take over from previous CITExpo head, Wilko Fong. Lai has an international background, having grown up in the USA. He is the nephew of the founder of Reliable, who stayed in China while his brother moved to Miami, Florida in 1976. Sam Lai studied engineering, before moving to California to pursue a career in technology. He then moved to Hewlett-Packard, which sent him to Taiwan to help build the R&D centre. Staying in Asia, Lai reconnected with his uncle, and was working on electric car software before moving to Reliable for new business experiences.  As a result, Lai is interested in following how the car of the future will affect the tyre industry, especially considering China's potential to be a leader in future mobility trends.
At this year's CITExpo, Lai acknowledges the importance of the theme of internationalisation, explaining that Reliable reached out to developing territories via international interns. At the same time, Lai thinks CITExpo's domestic market could rise in prominence, providing new directions for the show in future years: "I think our show [as the longest running tyre show in China] has seen the development and growth of Chinese tyres in the last 15 years, from a focus on budget to the situation last year, where companies were looking to develop internationally. This year it's a bit different, as there are more companies holding back a little bit, though you can still see the ambition there. In a few years, maybe some of [the current exhibitors] will become the big guys."
T&A asked whether Lai thought CITExpo would seek to attract the country's largest "Chinese tier-one" manufacturers in future years, given the period of consolidation apparent in the industry at the moment. "I think it depends on the situation," Lai responded. "The focus of our show is actually two things: trading and connecting.  For tier-one players, they are doing pretty well in trading, so maybe they underestimate our show a little bit. One emerging thing that is actually helping us, is that China could be the biggest market in the world. So I think next year's strategy is actually China, because the market wants foreign, premium brand tyres – that's one thing the larger domestic manufacturers would like to change.
"We want our show to be a marketing platform, rather than just a trading platform – not just domestically, of course; internationally too."
Lai predicts that consolidation in the market will extend to the trade shows currently available in Southeast Asia over the next few years, suggesting that there is something of a "bubble" currently. "There were a lot of shows last year, but a lot of them were empty too," he adds.
"We want to encourage our exhibitors to show off new products," Lai concludes, suggesting a way for CITExpo to develop beyond its status as a trading platform only. "In the end, if you want to be an industry or technology leader, you have to show your innovations." This appears a difficult evolution to pull off, but Lai argues that this difficulty is typical of the kinds of changes in market context that need to be negotiated.