July peak month for tyre-related incidents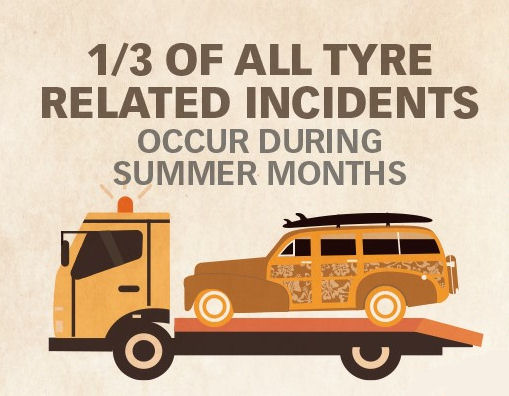 Its summer holiday time and for many this means a long car trip. For some this also means tyre problems – Department for Transport data shows July to be the month when tyre-related incidents are at their highest. Indeed, one third of all tyre-related incidences in the UK occur during the summer months.
Road safety charity TyreSafe is running a campaign raise awareness of the need for driver diligence over the summer, and its work is being supported by partners such as Continental.
"As part of our Vision Zero initiative which aims for zero accidents, injuries or fatalities on our roads – we are keen to make motorists aware of the small steps they can take to make their journey safer this summer," says Continental's Mark Griffiths. "With a spell of good weather, it is easy to get a little complaisant in a way motorists might not be in the winter when they are braced for rain, snow and ice.
"It is vital that, whatever the season, people remain alert to changes in conditions and ensure that their tyres are in top condition," Griffiths continues. "With school's about to break up, and more than half of Britons planning on taking their 2018 summer holiday in the UK, these simple checks can help reduce the risk of an unwanted disruption."
A particular message from Continental is stopping distances in the wet. While temperature records have been broken in 2018, in the UK it rains an average of 156.2 days of the year, meaning drivers risk being caught off guard when braking counts in a critical situation. On summer tyres, braking distances on wet roads at 60mph increase by as much as 15 metres – making it vital that drivers remain vigilant, checking they have adequate tread depth and correct inflation.
TyreSafe has published a number of pertinent facts in a graphic – this Guide to Summer Motoring takes an informative approach to educating motorists about the essential checks they should carry out. A full set of dedicated materials for the TyreSafe summer campaign is available at www.tyresafe.org.