Garage of the year winner announced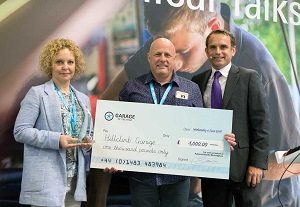 Automechanika Birmingham, in partnership with Garage Wire, has named Hillclimb Garage as 'Garage of the Year' for 2018, with the High Wycombe-based workshop picking up the prize of £1000.
Hillclimb was up against five other finalists, all of whom had been chosen from 38 shortlisted contenders across six categories and announced at a special evening dinner held in the Director's Lounge, Aston Villa Football Club on Tuesday 5 June.
The winning garage won the battle for top spot after much deliberation by the judging panel, James Onions (Garage Wire), Andy Savva (The Garage Inspector), Stuart James (Independent Garage Association) and Simon Albert (Automechanika Birmingham).
Nicola Wakeling, owner of Hillclimb Garage, said: "We are absolutely thrilled to be the winners of 'Garage of the Year' at Automechanika Birmingham 2018.
"When we started the business, we wanted to do things differently. Our philosophy has always been to put the customer first and offer customers expertise, transparency and most importantly trust.
"This year's show has been fantastic, particularly with the increased offering for garages – it has been great to see such a high number of technicians and garage owners all taking time out from their businesses to experience the opportunities such a show offers."
The Buckinghamshire workshop, an established family business, offers a range of benefits to the local community and customers further afield, all of which helped it to secure the win. These include MOTs, which can be booked online, a wide range of approved used cars, a valeting service available six days a week and, a service department offering a full video report and free health check for customers' cars.
Simon Albert, managing director of Automechanika Birmingham, said: "We were overwhelmed by the number of entries and the quality businesses that entered made it difficult for us to narrow it down to just six finalists.
"After much deliberation by the judging panel, Hillclimb is a well-deserved winner. The business' entrepreneurial drive, impressive customer-friendly
website, willingness to invest in new equipment and commitment to delivering first-class customer service helped the garage secure the award. Many congratulations to the team."
The GOTY event was sponsored by the Independent Garage Association, Elta, EDT, AA Garage Guide, Autologic, Launch UK and The Parts Alliance, with Hillclimb being presented with the prize cheque of £1000 during the show on Wednesday, after being announced the winner.