Wheely-Safe launches Michelin aftermarket TPMS solution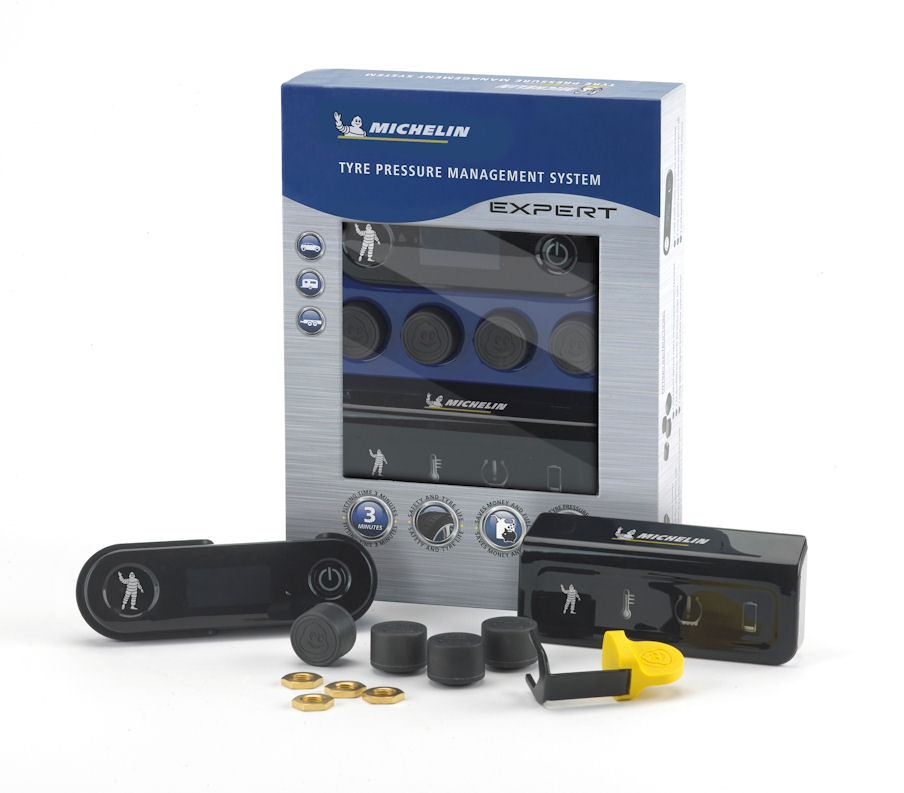 UK technology company Wheely-Safe has released a new easy-to-fit tyre pressure management system (TPMS) for car, van, minibus, plant and trailer operators. This new product, it says, is designed to make it simple for both drivers and fleet managers to keep on top of tyre pressures.
The company claims its first fleet-focused product, Wheely-Safe Light, is the industry's answer to the 60 per cent of UK motorists (based on UK data from Michelin) who routinely drive on underinflated tyres, half of which are underinflated by more than 8psi.
Wheely-Safe Light – a licenced Michelin product – is promoted as an intuitive, low cost, and extremely effective retrofit system suitable for use on tyres with pressures from 22 to 86 psi. It comprises a set of TPMS sensors that replace the traditional valve caps and auto-pair with a small solar-powered windscreen display to alert the driver of any tyre in distress through loss of pressure, fast leakage or an increase in temperature – often the sign of an impending tyre blowout. It also includes a contactless tyre pressure checker which, when held next to the sensor, displays the exact pressure via the digital readout, without the need to connect a pressure gauge to the valve.
"This is the perfect system for fleets as there are no batteries to change in the sensor or display unit, no cables to route and no complicated set-up. It's literally plug-and-play and can be fitted by anyone in just a few minutes – with options available for linking it to on-board telematics systems," says Steve Jackson, managing director of Wheely-Safe. "Our patented 'search and assign' technology also means you can hook up to a trailer with our sensors fitted, and move sensors between different wheel positions, without any reprogramming required. The sensors can also be fitted to vehicles with different tyre pressures on different axles."
Aftermarket TPMS technology has to-date mostly proven too expensive, bulky or complicated to catch on, and many original equipment systems in modern vehicles can be slow to notify of a pressure leak, often only alerting drivers to losses of more than 25 per cent. They also lack a simple method of routinely checking pressures without getting your hands dirty and losing air from the tyre.
Jackson adds: "Wheely-Safe Light provides instant driver alerts as soon as a tyre is underinflated by 15 per cent, plus we've made it quick and easy to routinely check pressures in just a few seconds. This takes the hassle out of pressure maintenance for fleets, and supports road safety, duty of care and the environment – with the potential for fleets to unlock healthy commercial returns."
The display unit provides early low-pressure warnings via a flashing icon every 20 seconds if a tyre becomes underinflated. An audible alert is added when the pressure either drops by 25 per cent, or should the tyre be overinflated by 35 per cent or more. For fast leakage (at least 2 psi per minute), all icons flash in addition to a beeping alarm, alerting the driver to pull over. A flashing light on the relevant TPMS sensor will then indicate the affected tyre position, allowing the tyre to be re-inflated. Once completed, the receiver reverts to reporting mode.
A Wheely-Safe Light kit with four TPMS sensors is priced less than the cost of a typical fleet tyre and the system can monitor up to 12 tyres per journey. Additional TPMS sensors can be purchased individually, for light commercials with twin rear wheels or for use on trailers. The system comes with a 12-month warranty.
Wheely-Safe is an official global licensee of Michelin and will launch a combined TPMS and early-warning wheel loss sensor for heavy commercials later this year.