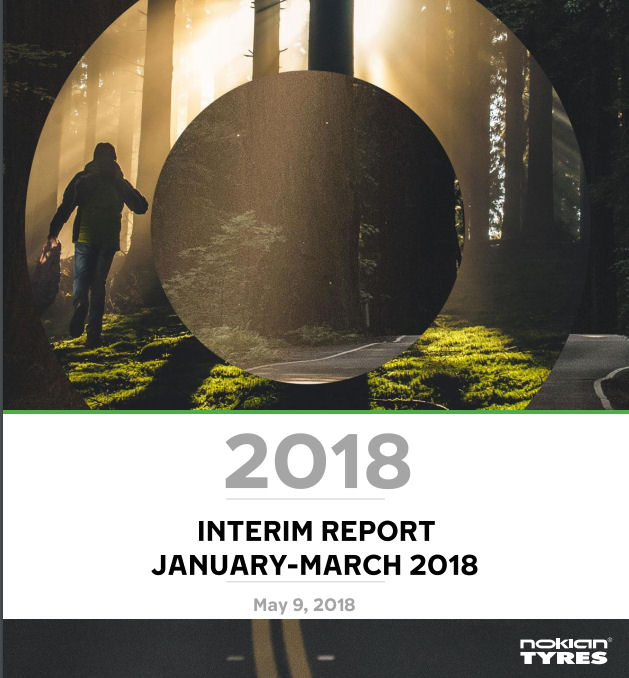 Although held back by exchange rate effects, net sales at Nokian Tyres were higher in the first three months of 2018 than a year earlier. Sales were up 3.1 per cent to 336.0 million euros; had the exchange rate effect been neutral, the tyre maker estimates that net sales would have increased 9.3 per cent year-on-year. Nevertheless, Hille Korhonen, president and chief executive officer of Nokian Tyres, referred to the result as "a good start of the year."
Operating profit in the three months to 31 March 2018 rose 4.0 per cent to 61.2 million euros, with the operating margin climbing a tenth of a percentage point to 18.2 per cent. Profit for the quarter was up 2.8 per cent to 46.6 million euros or 0.34 euros per share.
Korhonen reports that sales volumes and prices in local currencies, together with product mix, improved in the company's Passenger Car tyres business; Nokian's market share improved in all market areas. Sales of agricultural and forestry tyres increased within the Heavy Tyres business, however sales within Vianor were impacted by the weather-related delay to the start of the summer tyre season.
Nokian Tyres' financial guidance for 2018 remains unchanged. Net sales and operating profit are expected to grow compared with 2017, assuming current exchange rates.
Further details of Nokian Tyres' Q1 2018 financial results can be read here.
Category: Company News