Nokian Tyres: Strong Heavy Tyres performance maintains sales in 2019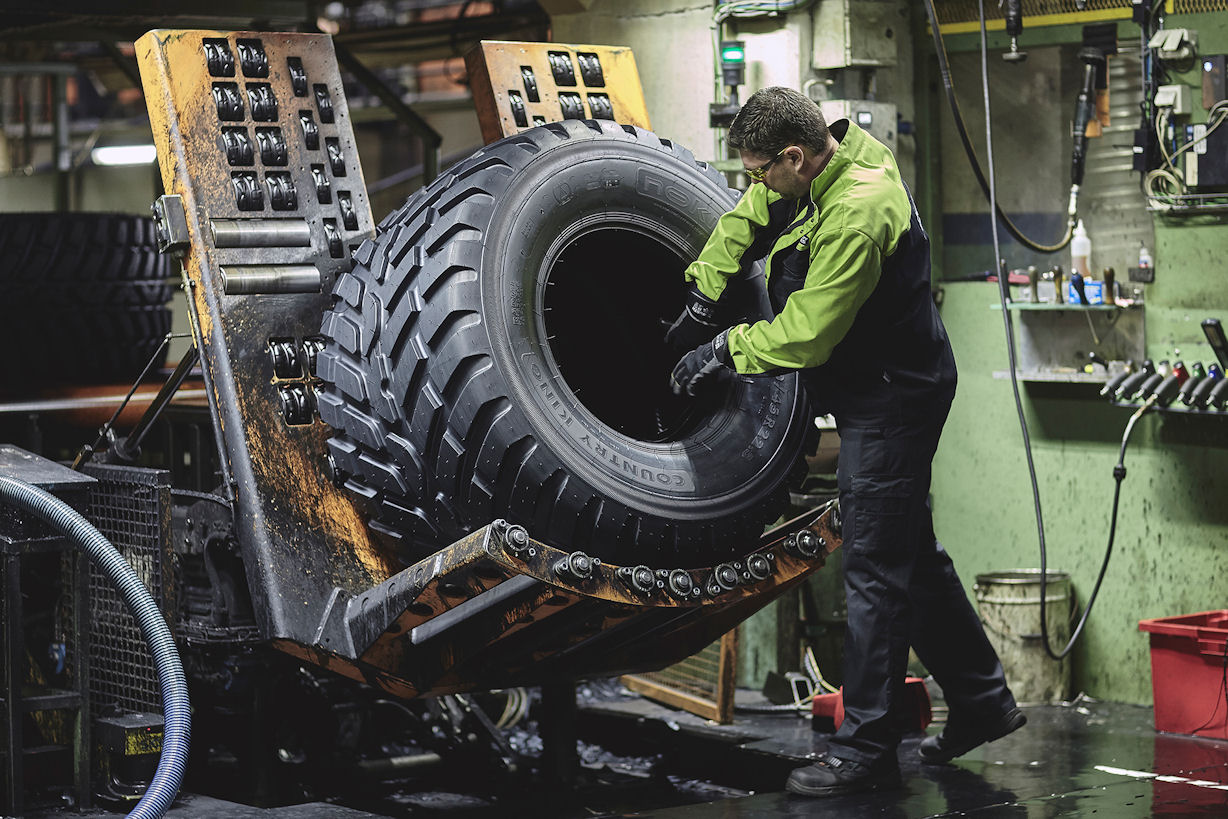 In spite of what it calls a "soft" market for car tyres in Europe last year, Nokian Tyres maintained its level of net sales throughout the period. Operating profit was lower year-on-year, and profit considerably increased. Operating profit is expected to take another tumble in 2020.
Net sales between 1 January and 31 December 2019 came to 1,595.8 million euros, 0.3 per cent lower than during the 2018 financial year (when looking at comparable currencies). A 2.2 per cent year-on-year comparable currencies decrease in sales within Nokian Tyres' Passenger Car Tyres business unit (to 202.7 million euros) was counterbalanced by an 8.0 per cent rise in sales within the Heavy Tyres unit (to 35.7 million euros) and 1.5 per cent increase for company-owned Vianor operations (to 336.5 million euros).
Salient features of Nokian Tyres' 2019 include a year-on-year decline in sell-in for car tyres in Europe, the result of weaker car and tyre market within the region. In Russia, inventories of summer tyres in Russia decreased compared to the previous year but were still higher than normal after the season. Winter tyre inventories there are "clearly higher than in the previous year" due to a combination of increased sell-in and decreased sell-out.
Sell-out of Nokian Tyres' B segment winter products in Russia decreased due to overall weak demand coupled with healthy availability of tyres, as well as aggressive pricing and sell-out support from competing brands. The company intends to reposition these products – the Nokian Nordman range – in Russia this year.
Winter tyres accounted for 71 per cent of overall sales within Nokian's Car Tyres business (2018: 69%), summer tyres 19 per cent (21%) and all-season tyres ten per cent (10%).
Operating profit & profit
Operating profit for the year was 316.5 million euros, 15.0 per cent lower than in 2018. This result was affected by costs of around 20 million euros associated with costs of ramping up the new Nokian Tyres plant in the USA as well as approximately 7 million euros of currency effects.
Profit rose 35.5 per cent year-on-year to 399.9 million euros. This positive development resulted from the rulings made on tax disputes for the years 2007 to 2011. These added 149.6 million euros to Nokian Tyres' bottom line. Earnings per share amounted to 2.89 euros.
"In 2019, the car and tyre markets continued to be soft in Europe, which resulted in tightening competition. Winter tyre demand in October-December was negatively impacted by the warm winter in Nokian Tyres' key markets. During the year, the Russian market declined against expectations, driven by low new car sales and consumer spending," comments Hille Korhonen, president and chief executive officer of Nokian Tyres.
"Our net sales were on the previous year's level and operating profit decreased due to the weaker markets and increased expansion costs of approximately 20 million euros in Passenger Car Tyres in the US. Heavy Tyres and Vianor continued to perform well."
Guidance for 2020
Demand for car tyres is expected to mirror last year's level in all regions where Nokian Tyres is active, except for Russia where a slight decrease is anticipated. Within the Heavy Tyres segment, demand is also expected to reflect last year's level.
Nokian Tyres expects net sales (with comparable currencies) to decline year-on-year in 2020 and operating profit to be "significantly below" what it achieved last year. The company is targeting further growth in Russia, Central Europe, and North America. It nevertheless expects net sales and operating profit in Russia to "decline substantially" due to "changed market dynamics" there.
Operating profit in 2020 will include costs related to the North American expansion and other investment programmes to support long-term growth that were announced in 2018.
A balanced portfolio will aid long-term performance
"In line with our strategy, we are targeting growth in Russia, Central Europe and North America. In 2020 however, net sales and operating profit in Russia are expected to decline substantially, which will have a negative impact on Passenger Car Tyres in 2020 especially during the first and second quarters of the year," adds Korhonen. "Carry-over stocks in the distribution in Russia are on a high level, and in 2020, our focus in Russia is on increasing our sell-out and decreasing distributors' stock levels. In addition, our B segment winter products in Russia will be repositioned in order to make them more competitive.
"In 2020, growth in Central Europe and North America will be supported by several new product launches and related go-to-market activities. We have actions in place to grow with existing and new customers both in the summer and all-season segments in addition to our core business in winter products.
"In the short term, we are facing headwind in Russia. Nevertheless, in line with our strategy, we continue to build a more balanced portfolio across the Nordics, Russia, Central Europe and North America, which will lead to a sustainable, positive impact on our long-term performance," Korhonen concludes.
Further information about Nokian Tyres' 2019 financial results is available here.