New Philips EcoPro lamp range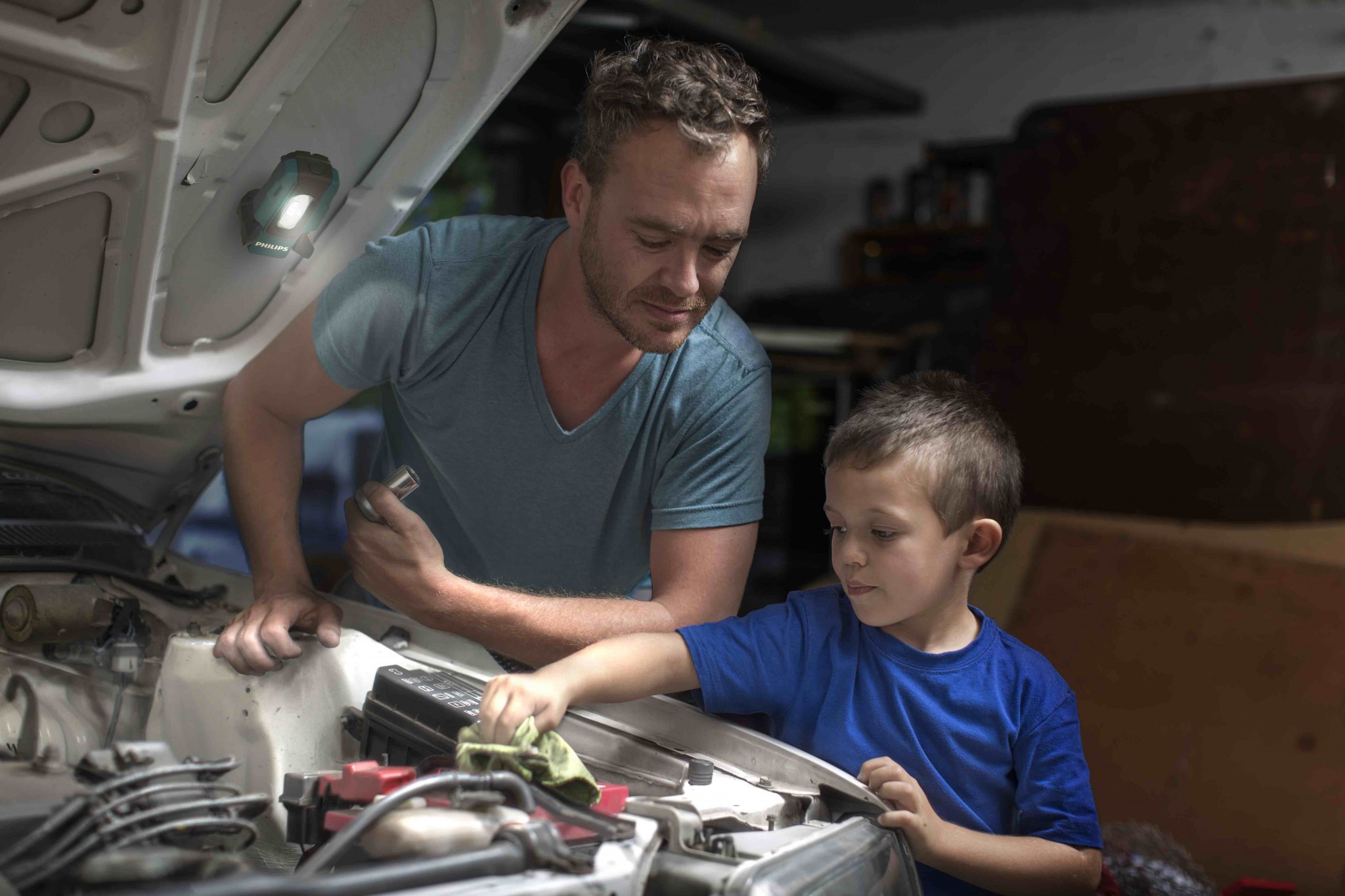 Lumileds has launched the new Philips EcoPro range of LED work lights. Equipped with high-quality LEDs and hands-free features, the EcoPro range also provides the powerful bright light (6,500 K) needed to get the job done, making the lamps perfect for everyday use in automotive workshops.
The Philips EcoPro50 provides a portable and powerful rechargeable projector lamp, which lights up large dark areas when working on vehicles. The EcoPro50 is highly durable, with its long-lasting battery providing up to six hours of continuous use. Delivering up to 1,000 lumen (10W) in boost mode, it gives off a super wide beam of consistently bright light. If more battery life is required, simply switch to a 500 lumen (5W) Eco mode, there is also a battery life indicator that shows exactly how long before a recharge is necessary.
The Philips EcoPro50 also comes with a magnetic mounting accessory. Attach it to the handle to be able to mount the projector on any metal surface, ideal for use in a garage or in the engine compartment. Tested in 3-meter drop tests, the work lamp is proven to survive a drop from height, it is also resistant to water.
The Philips EcoPro40 provides a powerful bright light. It has a non-slip grip, and it is lightweight and versatile, making it an ideal work lamp for everyday use. With a powerful main beam of up to 300 lumen (3W), it lights up those hard-to-see details. The EcoPro40 is also fitted with a handy spotlight on the top of the lamp, delivering up to 100 lumen (1W), so mechanics can see even into the narrow dark corners of the vehicle – such as deep inside an engine or into larger spare parts. Once fully charged, the Philips EcoPro40 delivers bright white light from its main beam for up to three hours. If using the spotlight only, the battery will last up to eight hours in continuous use.
For hands-free work, Philips EcoPro40 comes with three magnets to make it easy to mount the lamp on any nearby metal surface, such as on the underside of a car bonnet. It also features two 360° retractable hooks and it will survive a drop to the floor.
The Philips EcoPro20 is a small rechargeable work lamp that slips easily into a pocket. Fitted with hands-free features, it is perfect for quick inspection jobs, when working in a garage. Delivering up to 220 lumen (2W), the EcoPro20 provides strong light so users can see even small details. With 6,500 K color temperature, the natural white light produced is also comfortable on the eyes. Equipped with a 180° pivoting base, the light beam can also be directed exactly where it is most needed.
Once fully charged, the Philips EcoPro20 delivers bright white light for up to three and a half hours of constant use, but with occasional use, the lamp could last days before the battery needs charging. The Philips EcoPro20 is also designed for easy hands-free use. Wherever the user is working, they can use the in-built 360° retractable hook to hang the lamp, or use the strong magnet built into the pivoting base to attach the lamp to a nearby metal surface.
Richard Armstrong from Lumileds said: "Without work lights, it becomes really difficult to perform intricate mechanical tasks, especially in dimly lit areas. That's why everyone should have a range of good quality work lights in their garage.
"Philips EcoPro work lights have been designed for everyday use in garages and benefit from Philips quality for durable and powerful work lights."
As a leading lighting solutions company for the automotive industry, Lumileds is licensed to use the Philips brand for its automotive lighting and accessories product portfolio.