Check those filters – First Line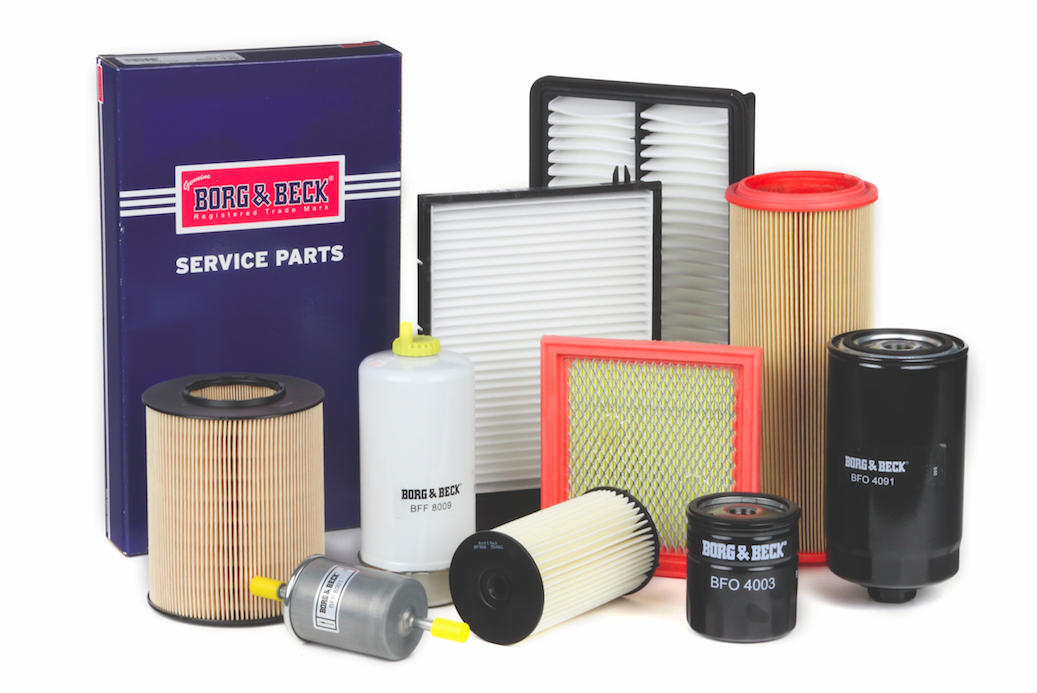 When a vehicle enters the workshop for a service, it is important to make sure that all components are functioning properly before heading back out on to the road. Filters are one of the components that must be replaced in line with the manufacturer's schedule, as they are vital in maximising the longevity and efficiency of both the vehicle and the comfort of its occupants.
These components have several major elements to ensure that they function correctly and in the case of Oil, Air and Fuel Filters, will preserve the life of the engine, which is why, in keeping with Borg & Beck policy, the entire range is manufactured to its exacting standards and undergoes rigorous product testing to ensure the consistency of performance that is expected with a premium product.
During any service, all four Filters should be considered and replaced if necessary. During the Spring/Summer months, when the pollen count is high, it is particularly important to ensure that the Cabin Filter is functioning properly, especially as it would have already worked hard over the winter. Therefore, the added pressure of filtering out the harmful particles and contaminants could lead to decreased heater/air conditioning performance, unpleasant odours and safety issues, as the windows may not be able to clear properly, especially when raining, affecting the vision of the driver.
A sure sign that the Cabin Filter needs replacing is if the windscreen begins to mist or takes a long time to de-mist. To prevent these potential health and safety issues from occurring, technicians should be recommending Filter replacement and, irrespective of these known problems, Cabin Filters should be automatically replaced every 12 months.
With this in mind, First Line Ltd, under the Borg & Beck brand, has continued to add to its extensive product portfolio and in the last 12 months alone, the company introduced more than 300 new-to-range (NTR) Filter references. Highlights include the Cabin Filter (BFC1252) to fit multiple VAG applications such as the A3, TT, Leon, Octavia, Golf, Passat and many more, the Air Filter (BFA2516) to fit PSA Berlingo, C3, C4, 2008, 208, 308, 3008 and Partner, and the Oil Filter (BFO4245) to fit Vauxhall Astra, Insignia, Meriva, Mokka and Zafira Tourer.
Whilst the car is in the workshop, technicians should take the opportunity to check the condition of the wiper blades. The wiper blades would have worked hard during the winter months as they were exposed to drastic weather conditions and temperature changes during this time, the rubber blades will inevitably deteriorate, and visibility could be affected and become dangerous. Being able to see clearly in all conditions is crucial, therefore it is strongly recommended that the wiper blades are replaced annually. To help technicians relay this important message to their customers, First Line Ltd has designed a fantastic poster to be placed in work shop reception areas.