More versatility for John Deere '6' tractors with STARCO wheel solution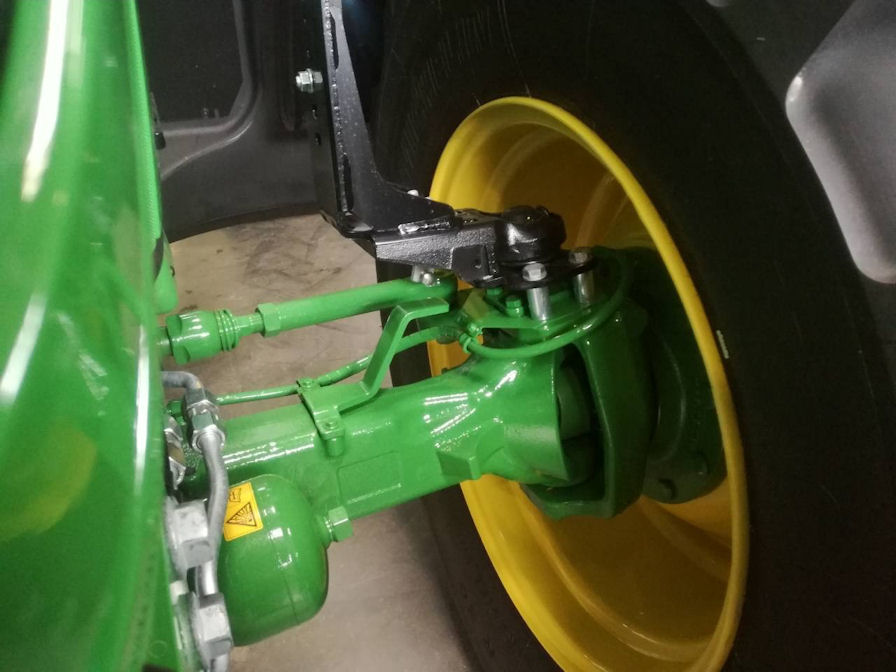 After more than a year of testing in the fields of Lithuania together with local John Deere distributor Dojus Group and distributor Bohnenkamp, STARCO says it can now offer a replacement wheel solution for the John Deere 6 tractor series. This new solution enables the fitment of non-standard wheels and tyres of different widths as well as dual mount wheels.
"Standard wheels have the obvious downside of simply being too standard. With a special solution, farmers increase the usage of their tractor and reduce soil compaction," comments Dmitry German, technical product manager at STARCO. The ability to fit non-standard wheels and tyres enables farmers to use the same tractor for both preparing the soil and seeding as well as row cropping and harvesting.
"Dual wheels mounted on the standard wheel on a John Deere 6000 risk breaking in certain working conditions due to a very high stress on the welding of the mother wheel," adds German. "Our solution is to bolt instead of weld the wheel, using a new flange. This redirects the stress on the mother wheel to ensure that the wheel never breaks. The reinforced flange is the only solution where the wheel can be bolted and used for both single and dual wheel mounting, therefore providing a multi-functional solution."
The STARCO solution utilises the company's patented clamp-on system. Field tests using dual wheels were conducted between December 2016 and December 2017 prior to the start of serial production. While this particular solution is designed for John Deere tractors, STARCO adds that the concept can be applied on other larger tractors.
"We now bring a new solution to the market that gives various new combination opportunities for tractors," says Thomas Ballegaard, chief commercial director of STARCO. "The new combinations differ completely from the original tractor set-up that was produced in the production line. In STARCO, we have created a flexible solution that improves the performance of the application – just like what we have delivered for Kubota's compact tractors for many years."
Ballegaard highlights that as an OEM-partner, STARCO develops solutions together with the OEM, but also develops solutions that integrate with the original application and improve it during its lifetime.