Higher sales, earnings at Yokohama Rubber in Q1 2018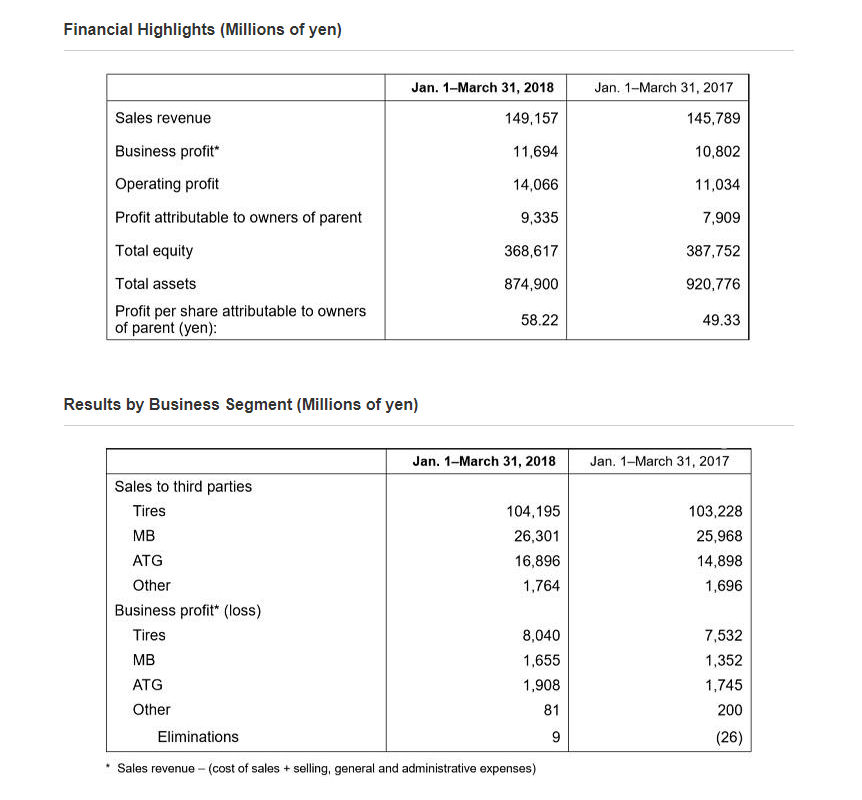 The Yokohama Rubber Co. Ltd. posted an 8.3 per cent increase in business profit (a measure basically equivalent to operating income and calculated as sales revenue less the sum of cost of sales and selling, general and administrative expenses) to 11.7 billion yen (£78.6 million), and a 27.5 per cent increase in operating profit to 14.1 billion yen (£94.8 million) in the first quarter of 2018. The company's sales revenue in the three months to 31 March 2018 increased 2.3 per cent to 149.2 billion yen (£1.0 billion), the highest sales total ever reported by Yokohama Rubber.
In the company's Tires segment, sales revenue increased overall, led by strength in the original equipment business in China and in other Asian markets outside Japan. Sales revenue declined overseas in replacement market tyres, reflecting surges in sales in some international markets in the first quarter of 2017 ahead of impending price increases. Japanese business in replacement tyres benefited from strong growth in sales of winter tyres.
Sales revenue increased overall in the MB (Multiple Business) segment, led by business expansion in high-pressure hoses and in industrial materials. The overall sales growth occurred despite declines in Hamatite-brand sealants and adhesives and in aircraft fixtures and components.
In the ATG segment, sales revenue increased on the strength of gains in original equipment business, reflecting a recovery in demand for agricultural machinery.
Further information about Yokohama Rubber's Q1 2018 results can be read here.