Yokohama gives BluEarth-4S all-season tyre its global debut in Geneva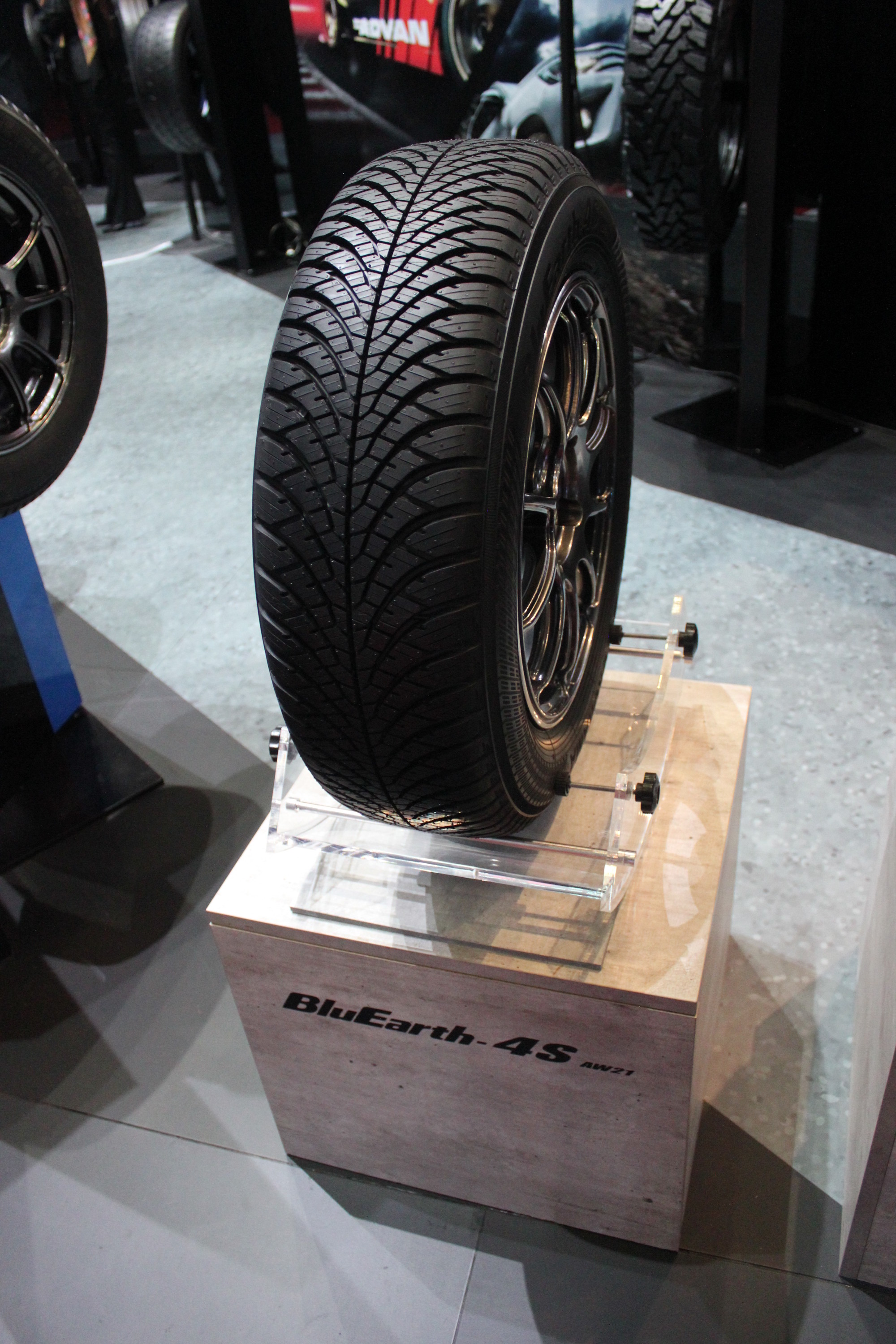 In what was a world premiere for the company, Yokohama launches the BluEarth-4S AW21 at the 2018 Geneva Show. The tyre is Yokohama's first European market all-season tyre and will be available from Autumn 2018. The tyre will initially be available in over 30 sizes, ranging from 255/50R19 107W to 175/65R14 82T and the company plans to gradually expand the line-up of available tyre sizes.
Yokohama places its BluEarth-4S AW21 in the winter-tyre-with year-round performance side of things. This is, of course, as opposed to out-and-out European winter tyres and Nordic winter tyres as well as in contrast with the snowflake symbol-equipped summer category that has emerged in the last couple of years. According to Yokohama executives, this is because of the new year-round tyres particularly strong performance in snow conditions.
According to Yokohama, the BluEarth-4S AW21 incorporates Yokohama's latest winter-tyre technologies to provide drivers with outstanding performance on icy and snowy winter roads as well as excellent dry and wet performance under more normal driving conditions. The tyre also features a newly developed tread pattern that features an optimal balance of edge area and surface contact area. The use of several advanced technologies, such as Divergent V-grooves and Crossing Narrow Grooves, deliver superior performance on ice, snow and wet road surfaces. In addition to its wide tread width, the tyre's large shoulder blocks and all-season sipes deliver reliable performance on dry roads as well.
The tyre's use of a silica end-locked polymer compound reportedly also enhances its performance on wet and snow-covered roads. In addition, its wide and flat profile contribute to its excellent dry performance and wear resistance. As you would expect, the tyre also bears the 3PMSF "snowflake mark" awarded by the ASTM International (American Society for Testing and Materials, the world's largest standards organization) in recognition of its performance in the most severe cold climates.
Yokohama HPT Ltd is the UK distributor of passenger car, 4×4 and motorsport tyres from Japanese manufacturer Yokohama, the oldest Japanese and world's eighth largest tyre manufacturer who celebrated its centenary in 2017.
Yokohama Geolandar M/T G003 in Europe
In addition to the global launch of the BluEarth-4S, Yokohama's Geolandar M/T G003 also made its European debut. This mud terrain tyre is being introduced to specific country markets sequentially, but will be available from the Spring in 23 sizes ranging from 20-inches to 15-inches with POR (Professional Off-Road) stamped on the tyres' sides, which means the tyre has been exempt from the need for a European Tyre Label. The same tyre has been sold in the USA since July 2017.
According to Yokohama, the Geolandar M/T G003 seeks to provide off-road driving enthusiasts with tyres that deliver "the ultimate performance for every off-road scene, from mud to rock, dirt and gravel". In addition, the firm has sought to extend the tyres' useful life by enhancing their durability and wear resistance.
To this end, the Geolandar M/T G003 is a total upgrade from its predecessor, featuring a new tread pattern, side design, profile, construction and rubber compound, all based on technological feedback received from participants in the most-demanding off-road races around the world.
Tread pattern and the side block are particularly important parts of off-road tyres. The tread pattern of Geolandar M/T G003 includes large mesh lug grooves and sequential sipes that help the tyre achieve excellent traction on various off-road surfaces. In addition, the Geolandar M/T G003 has a thickened side with an aggressive side block in the upper part of the tyre's side. This side block increases cut and wear resistance.
The Geolandar M/T G003 development team's dedication to creating a design that strengthens the vehicle's off-road image has resulted in an aggressive-looking tyre that fulfils users' needs to enjoy off-road driving in a dressed-up vehicle. On-road performance was not overlooked, and the Geolandar M/T G003 maintains the road ride comfort achieved by its predecessor.
The introduction of the Geolandar M/T G003 is reportedly aimed at expanding sales of higher-value-added tyres that are increasingly the choice of today's drivers of SUVs and pick-up trucks.
Yokohama also launched a new studded winter tyre during the course of the Geneva show. For further details of this as well as the firm's latest all-season offering look out for the April edition of Tyres & Accessories or search online at tyrepress.com.
Look a little closer and you can see that BluEarth-4S AW21 features Yokohama's sharkfin aerodynamic technology