Pirelli presents Cyber Car sensor integration solution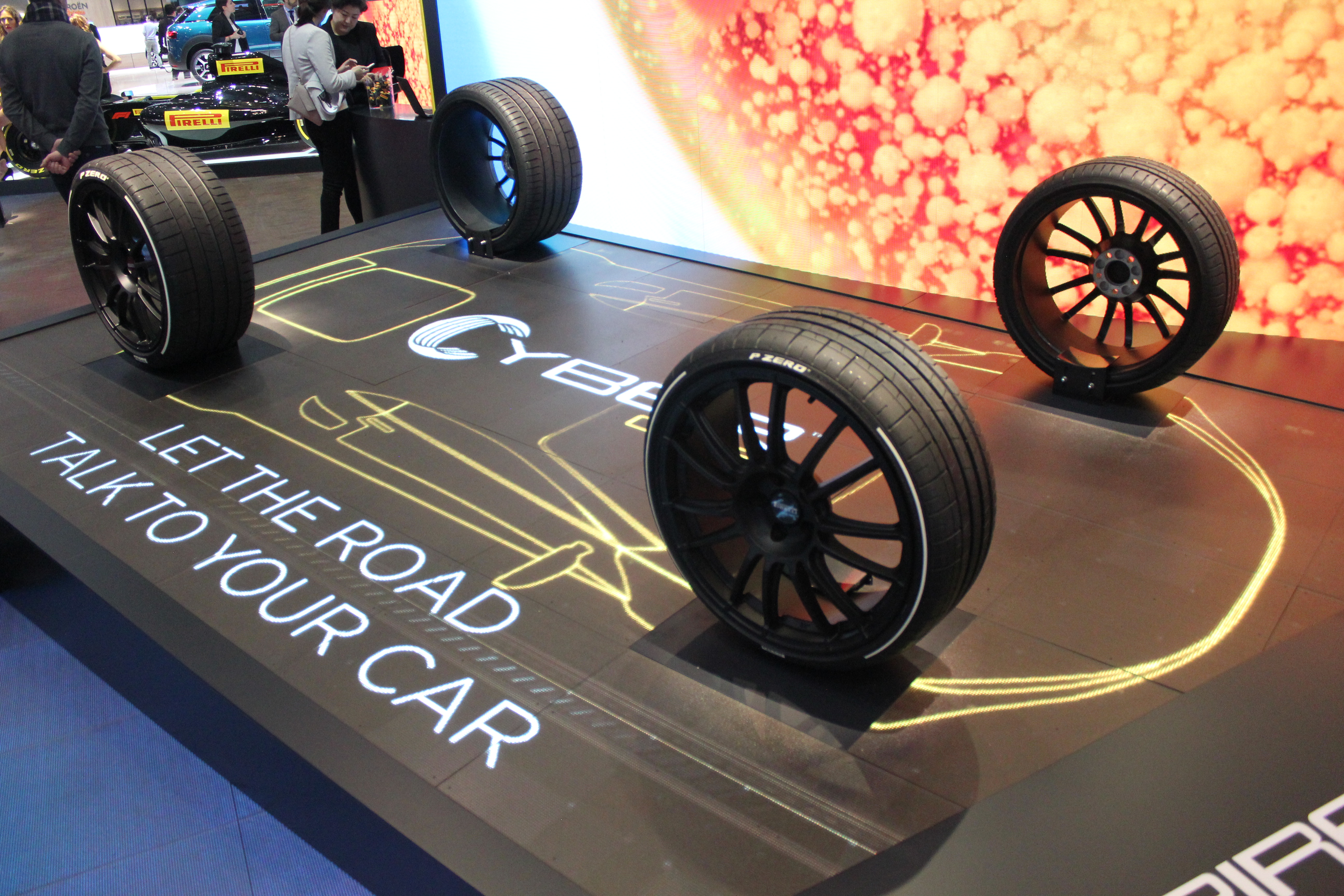 Last year Pirelli presented the Pirelli Connesso system in Geneva, this year the tyre make is taking the technology behind that aftermarket tyre sensor integration solution to the next level with an OE-orientated version that the company calls Cyber Car.
In Pirelli's words Cyber Car is a new smart tyre system aimed at OEMs and designed in close collaboration with car manufacturers themselves. The idea is that, up till now (with the exception tyre pressure being measured by TPMS), no information has been collected from the tyres and then transmitted to the car. By doing this Pirelli says Cyber Car will work with existing driver aids, improve performance, economy and environmental impact.
Cyber car will collect tyre ID, pressure, temperature and vertical load data. With this information, Pirelli says it can use its own bespoke calculation to calculate wear. This data can be relayed to both the driver and – like the aftermarket version show last year – connect with the tyre dealer.
The system also has the capability to intervene and activate systems such as ABS and stability control. For example, by reading the tyre ID the vehicle can alter its set-up in order to make the drive safer and more comfortable.
Vertical load is another important element for the future and especially for electric cars. The residual autonomy of battery packs is currently calculated using standard parameters, whereas with Pirelli's Cyber Car, the on-board electronics can supply more precise information more regularly. By knowing the car's accurate weight, the vehicle's central control unit can calculate more exactly just how many kilometres can be driven before recharging.
Speaking of batteries, while the technology – like all systems of their kind at the moment – the cyber car in-tyre sensors require batteries to power. However, Pirelli confirmed to Tyres & Accessories that the company is looking into regenerative power technologies that could generate enough electricity from the deformation of the tyre casing to power the data sent to the car.
Cyber Car can additionally enable access to a suite of bespoke services that can be further personalised to suit individual needs, such as car valeting, roadside assistance, and servicing.
The first models fitted with Cyber Car will arrive this year, with "a number of manufacturers already at an advanced stage of integrating Pirelli's technology into their own systems".
The next evolution will be the Cyber Tyre system capable of collecting even more data, transmitting information to the car's on-board systems with every rotation of each wheel. Even though this technology isn't on sale yet, its initial application is already in action on the Ferrari FXXK: the 1000-horsepower development hypercar that is only for track use.