New VP for IAAF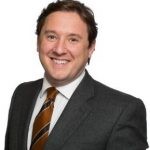 The Independent Automotive Aftermarket Federation (IAAF) has appointed Terry Knox as its new vice-president, further adding to its wealth of industry expertise.
Knox has been a member of the IAAF Council since 2016, and is managing director of CD Group in Ireland, a third-generation family business with previous managing directors, grandfather Stuart Knox and father Ken Knox. The company was established in 1963, with Knox joining in 1999 to help establish the company's operations in the Republic of Ireland.
CD Group's largest trading name, Component Distributors, is a warehouse distributor, supplying motor factors throughout Ireland. Headquartered in Belfast, Northern Ireland, the company employs close to 200 people.
Knox said: "I had no concept of the depth of work undertaken by the IAAF until I joined the council. The work that the Federation does is to be championed. They work tirelessly on topics that are purely focused on the automotive aftermarket. Wendy's involvement on a European level, with FIGIEFA, best serves all our interests in a constantly changing industry.
"I look forward to working with Wendy and the council to ensure we are best placed to continue to flourish in a world where autonomous and electric vehicles will continue to have a growing influence. Targets set by government may seem on the horizon, but it is the hard work done now that will allow us to have a strong future in the aftermarket. Connected car data transfer is a real threat to our industry and the IAAF will continue to press for a fair and open future for the automotive aftermarket."
Wendy Williamson, IAAF chief executive, said: "With such strong credentials and his ambitions clearly in line with the IAAF's, Terry seemed the natural choice to become vice-president. We will relish working closely with him and seeing what a positive influence his role will have on the Federation."