Goodyear launches Eagle F1 Asymmetric 3 SUV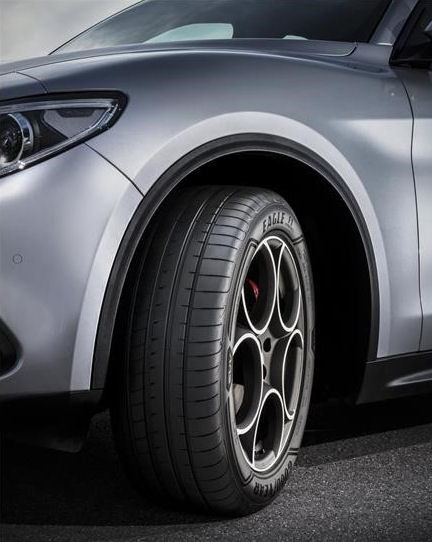 Another tyre has joined the Goodyear Eagle F1 Asymmetric range. This new addition is the Eagle F1 Asymmetric 3 SUV, a product Goodyear says was developed with a focus on optimised braking and handling in all conditions. The first size, 255/50 R19 107 Y XL, was released in February, and further dimensions will be added from next month. A total of 28 sizes for 18- to 22-inch rim diameters should be available by January 2019.
Goodyear says a key feature of the new Eagle F1 Asymmetric 3 SUV is its Active Braking Technology. When braking, the tyre's contact surface with the road, and thus its grip, increases. Another grip-improving feature is Grip Booster Technology, which consists of an adhesive compound that works to increase stickiness with the road's surface.
Tests commissioned by Goodyear and conducted by TÜV Süd, comparing the Eagle F1 Asymmetric 3 SUV with the Bridgestone Dueler H/P Sport; Michelin Latitude Sport 3 and Pirelli P Zero Rosso (size 255/50 R19 107Y), are said to confirm the tyre's key strengths. Goodyear reports that on dry and wet roads, the Eagle F1 Asymmetric 3 SUV showed a shorter braking distance of 1.2 metres compared to its next-best tested competitor.
Engineers at Goodyear worked to improve the tyre's tread design with the help of the new SUV-Optimized Construction Technology. The cords used in the construction's different layers are said to help improve vehicle handling at higher speeds, optimise cornering stiffness and decrease tread wear. To reduce the tread wear further, the Eagle F1 Asymmetric 3 SUV's cavity and pattern have also been optimised. These features are combined with the UHP Cool Cushion Layer, a technology that improves handling while reducing rolling resistance, resulting in better fuel efficiency.
"Braking is one of the most important aspects of a tyre, especially on wet roads. That's why we are delighted that tests show that our Eagle F1 Asymmetric 3 SUV has such a significant shorter braking distance on wet and dry roads compared to our main competitors," said Mike Rytokoski, chief marketing officer for Goodyear Europe.