British car manufacturing in decline, based on sustained domestic demand fall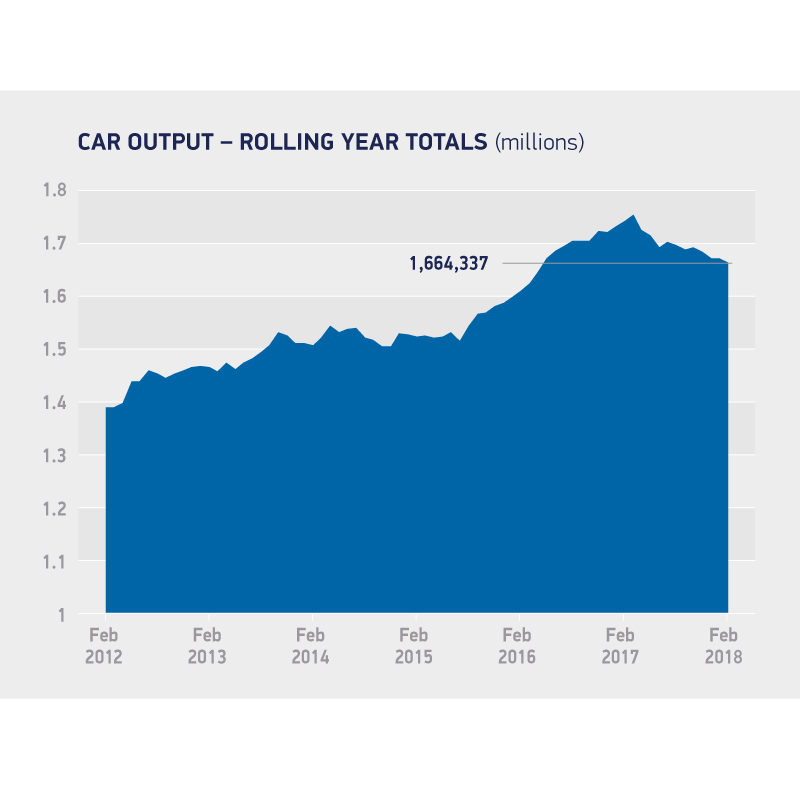 The Society of Motor Manufacturers and Traders has announced a -4.4 per cent decline in British car manufacturing, as production for the home market fell by double figures. Exports declined in the month too, but only by -0.8 per cent, with 117,139 vehicles shipped overseas, accounting for more than 80 per cent of output.
February production for the UK fell by -17.0 per cent to 28,336 units in the seventh consecutive month of decline at home. In total, 145,475 units were produced, 6,757 fewer than in the same month last year.
Overall year-to-date output declined 2.3 per cent, with 292,956 units rolling off production lines in the first two months of 2018, while domestic demand fell -11.9 per cent and exports were steady, up 0.3 per cent on 2017.
Mike Hawes, SMMT chief executive, said: "Another month of double digit decline in production for the UK is of considerable concern, but we hope that the degree of certainty provided by last week's Brexit transition agreement will help stimulate business and consumer confidence over the coming months.
"These figures also highlight the scale of our sector's dependency on exports, so a final deal that keeps our frictionless trade links with our biggest market, the EU, after December 2020 is now a pressing priority."
KPMG urges manufacturers to take advantage of export opportunities
Justin Benson, head of Automotive at KPMG in the UK, comments: "With one year to go until the UK leaves the EU, domestic demand continues to fall. Like most manufacturers, consumers are waiting to see how the economy develops over the next 12 months. However those looking to buy shouldn't wait too long, as now is a good time to haggle with dealers currently offering good deals.
"For manufacturers there is opportunity in the numbers. Exports remain robust at historically high levels. 80 per cent of vehicles made in UK are exported, and with strong overseas economies such as the USA and China, our automotive manufacturers can take full advantage of their great brands and the value of the pound to continue to grow robust sales overseas."
'Painful transition'
Alex Buttle, director, car buying comparison website Motorway.co.uk, added that Brexit and consumer uncertainty about the futures of diesel and electric cars mean that the car industry is "stuck in a painful transitional period."
He states: "Whilst Brexit uncertainty is clearly a contributory factor to falling UK car production, it's not the sole cause.
"With consumer confidence on a knife edge, people aren't buying big ticket items, such as a new family car, until the economic picture becomes clearer…
"Consumers are being put off new diesel cars by new car tax rates and potential toxin taxes down the road, while the choice of electric and hybrid cars is limited with a lack of infrastructure holding off rapid growth in sales. The government has also been slow to define its cleaner air strategy, compounding the problem.
"The UK car industry has its work cut out to regain the confidence of a consumer confused by the automotive options available and unsure of the likely economic impact on their finances of any car purchase choice they make."